Finally, a permanent solution for a broken wing that only elevates on one side or does not extend all the way.  Don't risk Pentosin® fluid leaks into the engine bay or rear quarter panels. We offer the only PERMANENT SOLUTION for the overly complex and troublesome factory hydraulic mechanism. Your Porsche® dealer wants $30,000 to replace the hydraulic mechanism!
LOOKS AND FUNCTIONS EXACTLY THE SAME as the factory's overly complex elevator mechanism. The world's ONLY patented, economical and permanent solution for a fully functional wing! The Carrera GT eRam Kit™ consists of two self-contained electric rams that replace the unrebuildable hydraulic cylinders within each wing upright. The entire hydraulic system is removed to save precious weight. The eRam Kit™ includes all necessary parts and illustrated step by step instructions. Upgrade from the troublesome factory hydraulic mechanism to the safer, simpler, lighter and more robust eRam Kit™ system.  NO MORE HYDRAULICS!™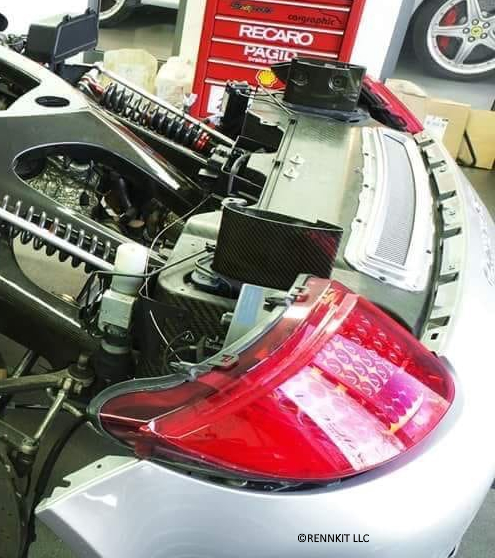 This is the overly complex and troublesome factory mechanism (note left elevator does not go up):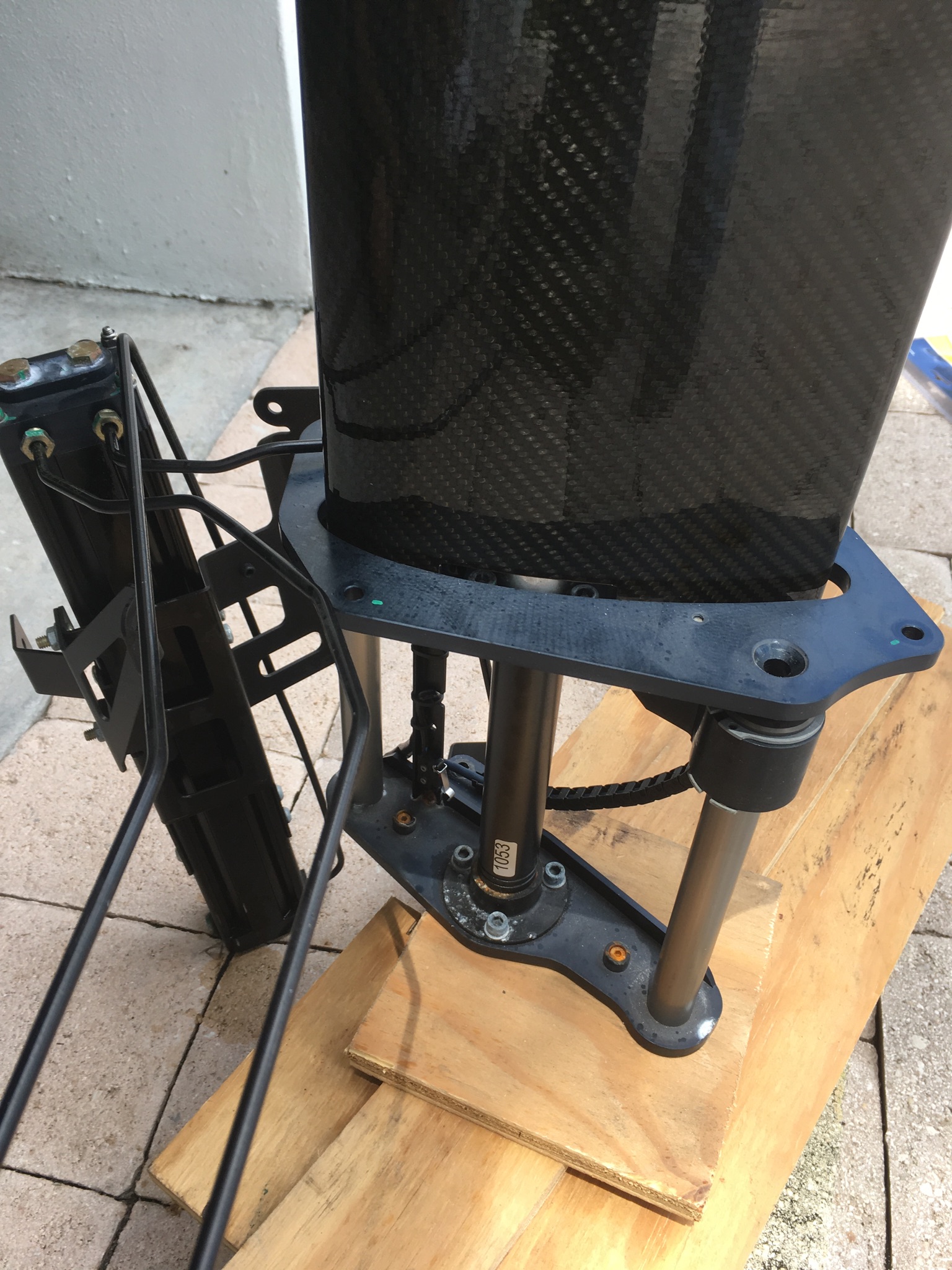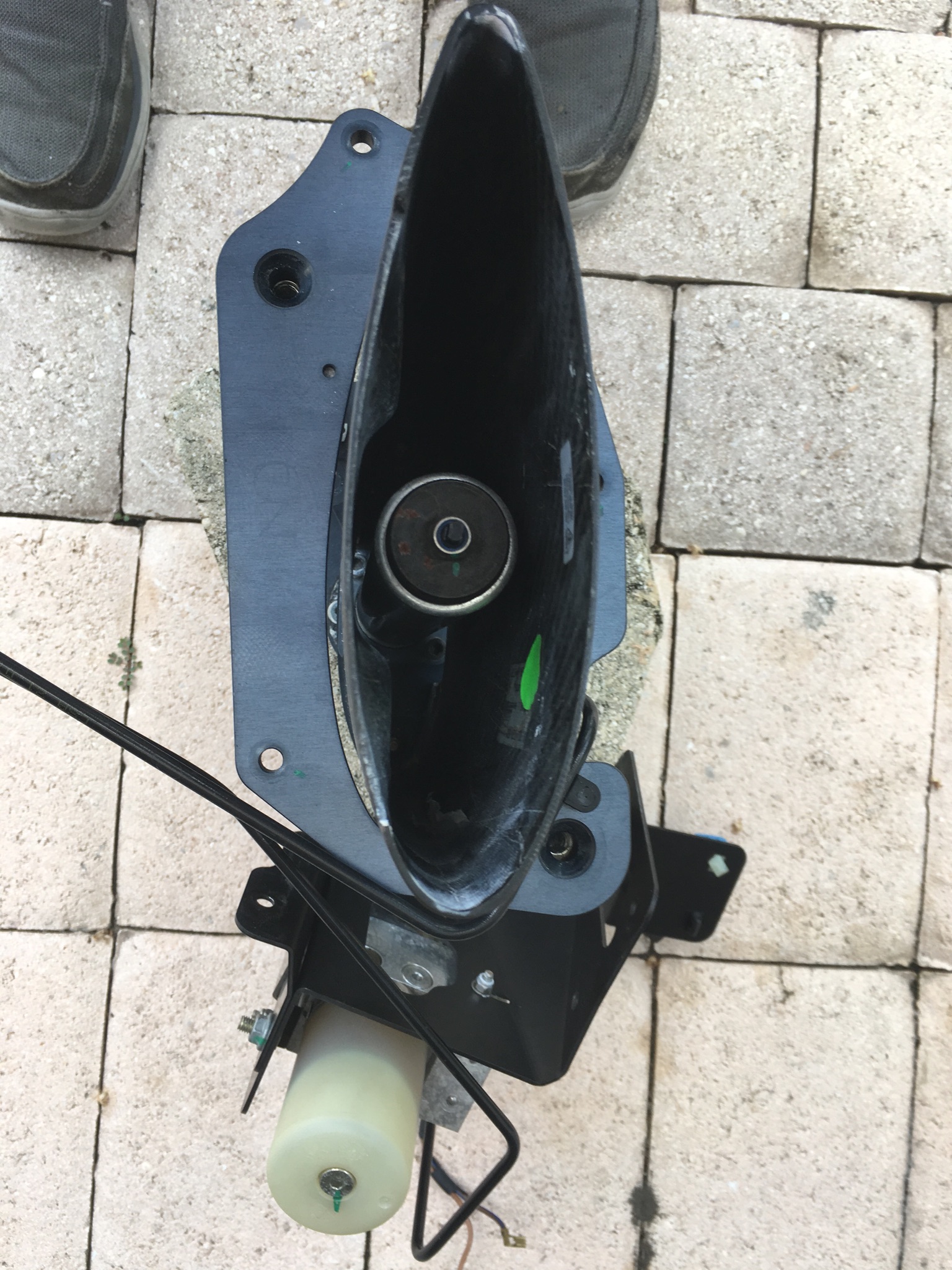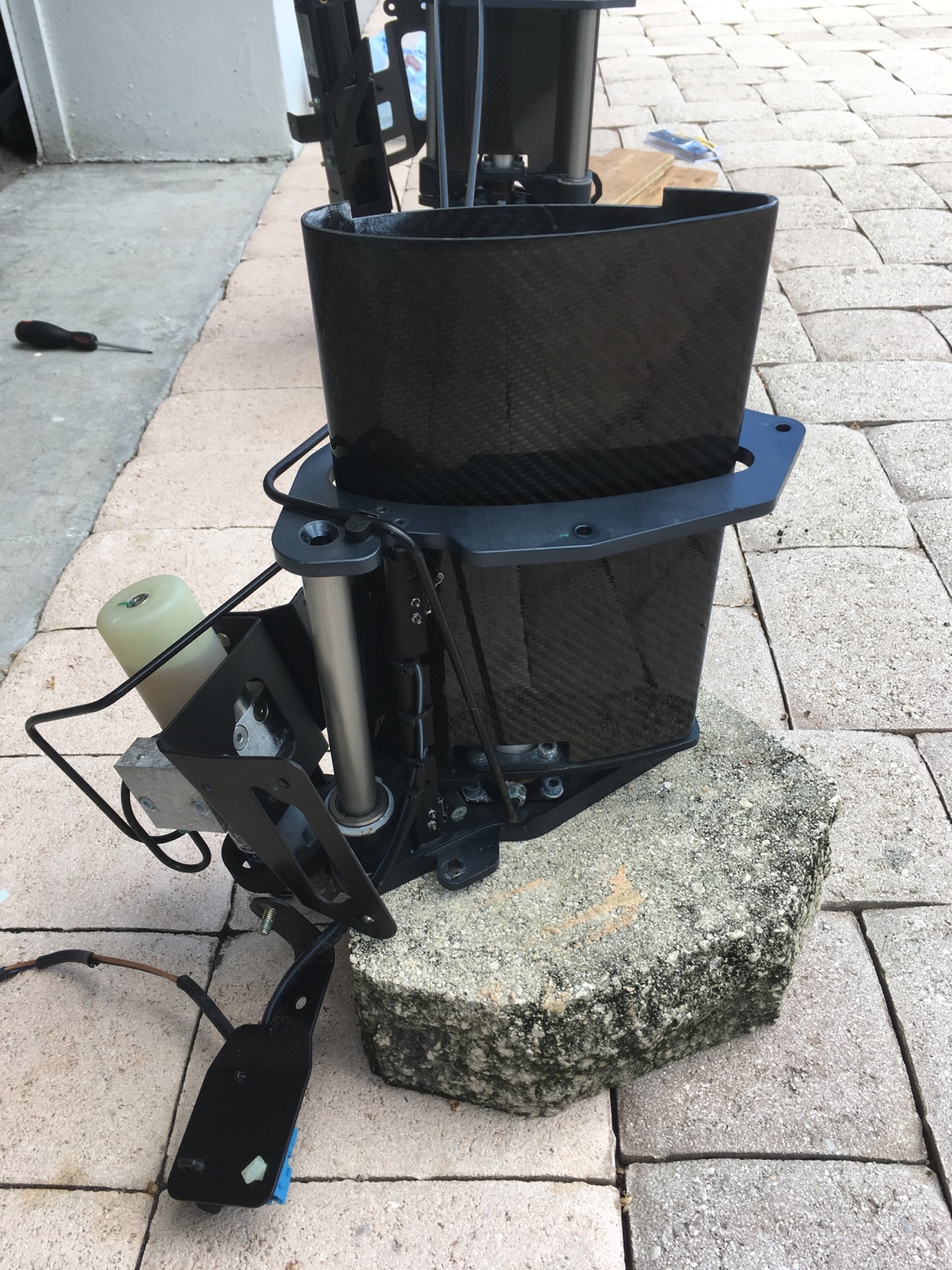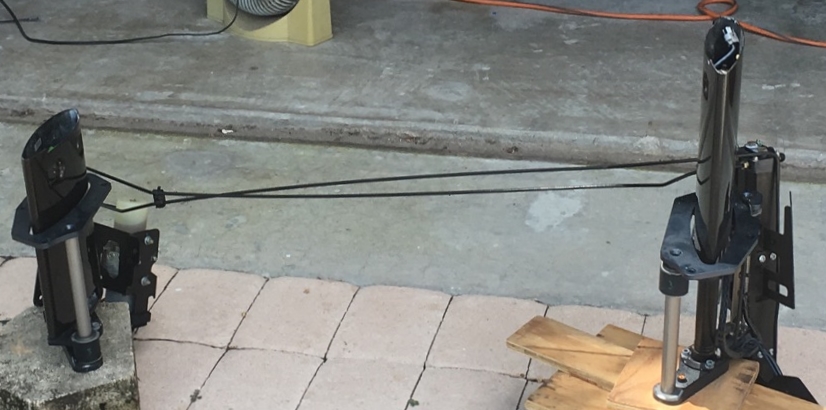 All of this is replaced with our lighter, more robust and unique electric eRam Kit™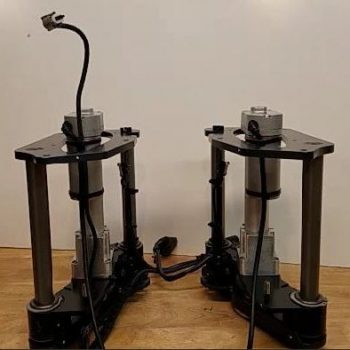 The Carrera GT eRam Kit™ comes with two self contained electric rams, fittings, fasteners and electrical connections.  The center sliding plates are slightly modified – but this does not prevent return to the hydraulic rams in the future.  Easily maintained – no special tools needed – eRam Kit™ parts are no problem to replace or fix.  We do recommend you hold on to the old hydraulic setup – put it in a waterproof plastic container – include it with the sale of your Carrera GT should you ever sell the car!  We will return your elevators to the hydraulic rams should that be a requirement to sell the vehicle – AT NO CHARGE!  That is how confident we are with the eRam Kit™.
HEAVY DUTY, yet light weight eRam Kit™ has two built-in limit switches within each electric ram – greatly reducing the risk of failure. Functions exactly like the factory system; extends by using the dash switch or once reaching the wing up speed. Retracts with the dash switch, or upon slowing to the wing down speed. If any factory limit switch fails (as they do) – the electric ram has a back up switch!
COST EFFECTIVE – the eRam Kit™ is far less expensive than a new factory set ($24,500) – and will NEVER leak or fail due to the multiple problems associated with the hydraulic OEM mechanism. We have carefully identified over 13 failure mechanisms, which can be reviewed HERE. Installation of the eRam Kit™ is straight forward. No electrical modifications – simply plugs into existing electrical connections.
SIMPLER – MORE ROBUST – LIGHTER – SAFER
World's ONLY PATENTED all-electric wing actuation system.
Cost Effective! – The dealer wants $30,000 to replace the OEM hydraulic elevator system!
Robust – the self contained rams are designed for desert duty and have a duty cycle equivalent to stroking every 6.5 minutes for 10 years!
Works EXACTLY like the factory system:  Up at 75 MPH, down at 37 MPH, or by using the dash switch to raise and lower.
Lighter Weight – Saves PRECIOUS WEIGHT at the very top and back of the Turbo – 1/3 LIGHTER compared to the OEM hydraulic mechanism.  Reduces center of gravity at the very back of the Turbo!
 No Worries – two year limited warranty – see bottom of PURCHASE page for details.
eRam Kit™ Specifications
Cycle Time Carrera GT eRam Kit™:  ~4 sec.
Input Voltage:  12VDC
Current:  < 5A at full load
Load Capacity:  22 lbs./ 100 N / 10 Kg
Duty Cycle:  25%
Operating Temp.:  -26°C to 65°C
Limit Switches:  Built in to each electric ram – user non-adjustable – back-up for the factory limit switches
IP Class:  IP65
Clamps and Flanges – Billet Aluminum 6061 T6
Calculation of Duty Cycle
The patented eRam Kit™ is designed for fairly harsh environmental conditions.  If you used your car as a daily driver 5 days per week, and took 4 trips per day on a highway so the rams cycle 8 times, that would be 2,000 cycles per year, or on average 0.23 cycles per hr on average.
The eRam Kit™ has a very conservative 25% duty cycle.  Thus, you would be able to safely cycle the wing 300 times per hour.  In effect, there is a 1300:1 safety factor on an already conservative duty cycle.
High Speed Testing
Rennkit™ has been providing the eRam Kit™ for over 5 years to the delight of Porsche® owners around the world. The eRam Kit™ performs as designed at many high speed track trials (over 200 MPH in a modified 997 Turbo)! Many eRam Kit™ installation are on Turbos that are tracked. Wing operation is stable with smooth and precise actuation. Street or track, operation is exactly the same.
Center Sliding Plate Modification
The bore has to be minimally modified on one side of central hole.  This does NOT affect re-installation of the hydraulic rams in the future. Rennkit™ can modify the bore, or you can take to the sliding plates to your shop for modification using our CAD prints. We offer either solution!
OPTION 1:  COMPLETE SOLUTION INCLUDING MACHINING
Remove 2 hydraulic lines and ship both elevator mechanisms to Rennkit.  We machine (completely reversible back to factory hydraulics), assemble, bench test and ship back the entire assembly with the eRam Kit™ installed – ready to mount in the car. Complete illustrated step by step installation instructions sent with order.
$7995
Approximately 3 to 5 week turn around for this service.
Elevator Shipment Instructions – click HERE
OPTION 2:  DIY METHOD
eRam Kit™ sent to customer.  Customer has hole on center sliding plate bored out per Rennkit™ CAD drawings.
$7595
Approximately 2 to 3 week turn for this option 2.
---
This site is in no way associated with Porsche Cars North America, Inc.
Porsche is a registered trademark of Dr. Ing. h.c. F. Porsche AG.