RENNKIT™ Cal*Cool™ / Girodisc 2-Piece Rotors
Cal*Cool™ Caliper Cooler Kit for 996 Turbo or Carrera 4S with Larger 350 mm Rotors (not PCCB)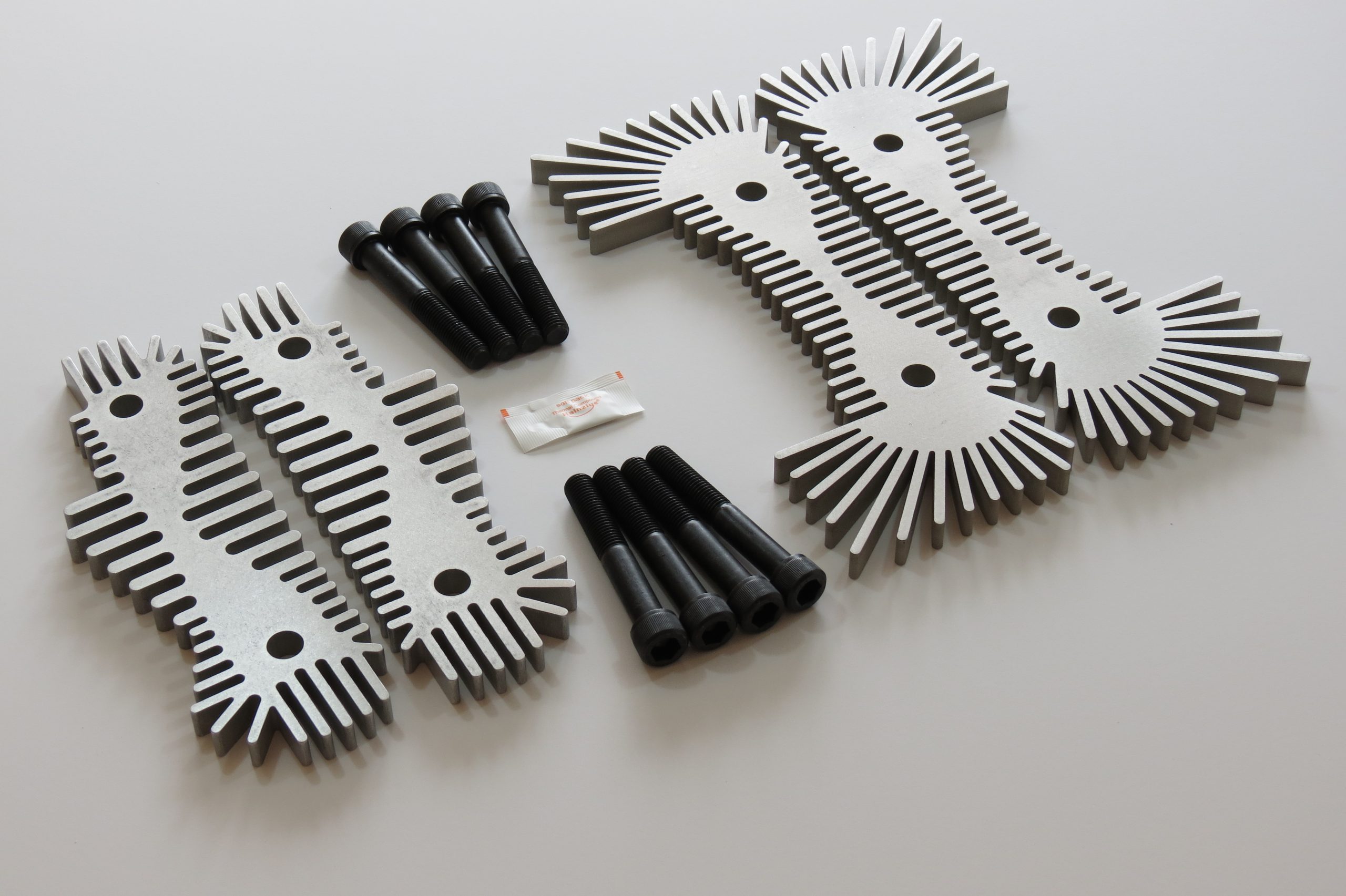 A popular upgrade to the 996 Carrera 4S and Turbo are larger diameter rotors – swapping out stock 330 mm rotors to larger 350 mm rotors like those on the 997 Turbo.  This change provides better braking action and feel.
A known problem is brake calipers over-heat and cook the brake fluid during high speed track use: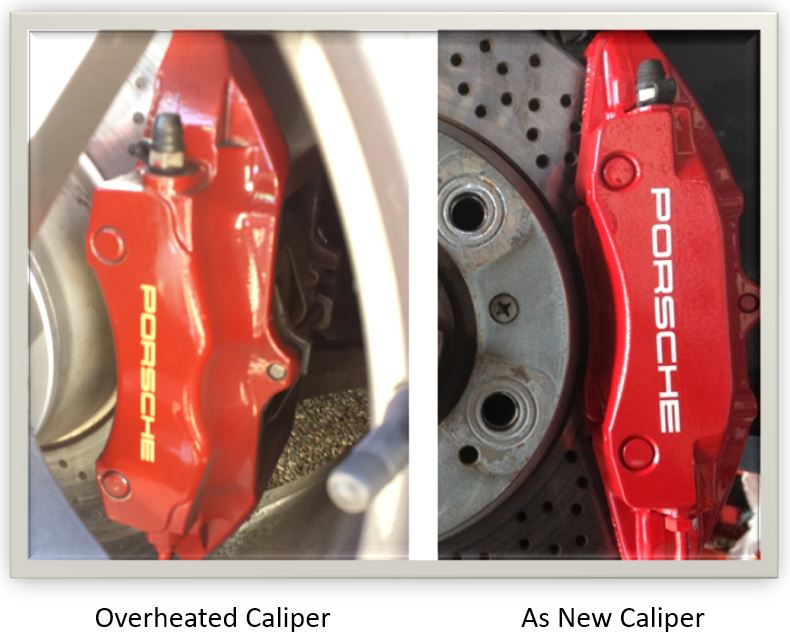 Rennkit™ has the solution:  Cal*Cool™ brake caliper coolers.  A quick modification that allows excess heat to dissipate much faster. Conductive and convective heat transfer quickly dissipates brake caliper heat while driving. When parked, conductive and radiative heat transfer continue to effectively remove heat from hot calipers.  Track tested – all 4 corners remained below 370F: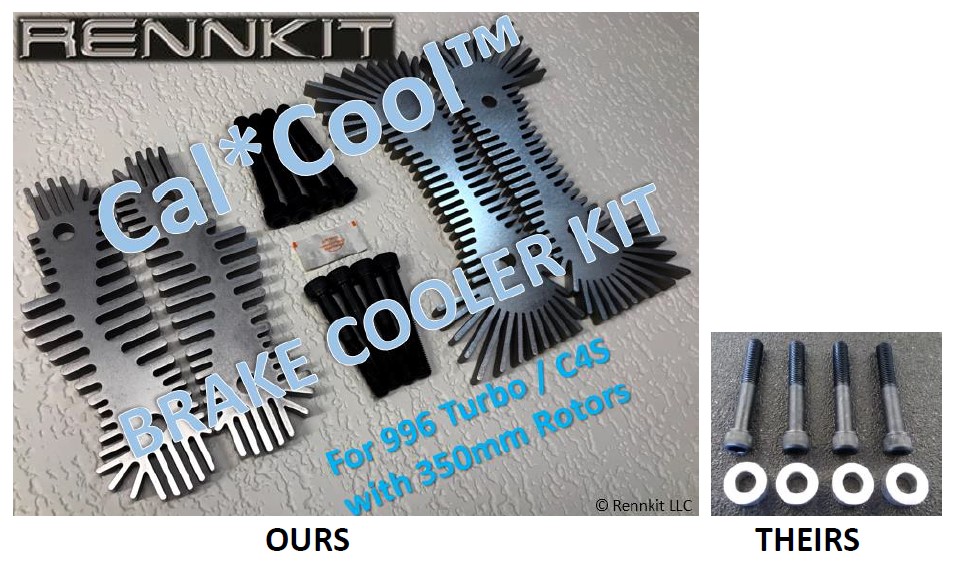 Save your brakes!  Cal*Cool™ brake coolers are easily inserted between caliper and wheel hub carrier using provided longer and stronger bolts.  Far more surface area than simple off-the-shelf collars that others sell. Reduced brake vibration and fatigue.  All hardware is included, along with easy to follow step by step illustrated instructions backed by the customer service that Rennkit™ is known for.  Come with 2 year limited warranty.
(NOT FOR CARS WITH STOCK 330 mm ROTORS or PCCB Ceramic brakes)
Kit contents: 
Cal*Cool™ Brake Caliper Coolers for 350 mm Brake rotors
High Strength Black Oxide (150,000 psi) Hex Socket Bolts
High Temp Heat Transfer Paste
Detailed Illustrated Step by Step Instructions (emailed with order):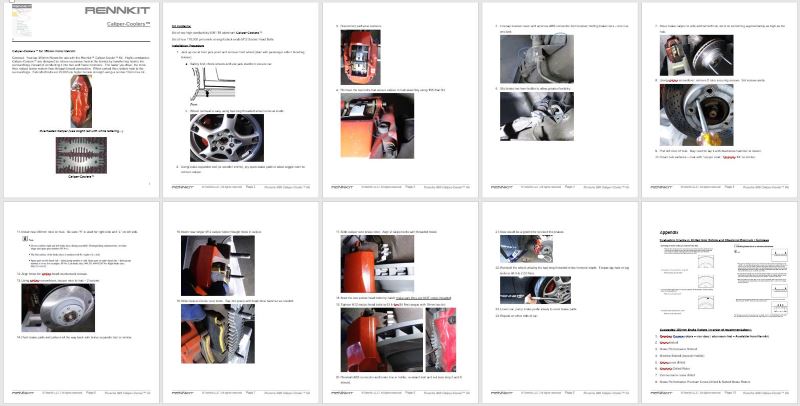 Cal*Cool™ Kits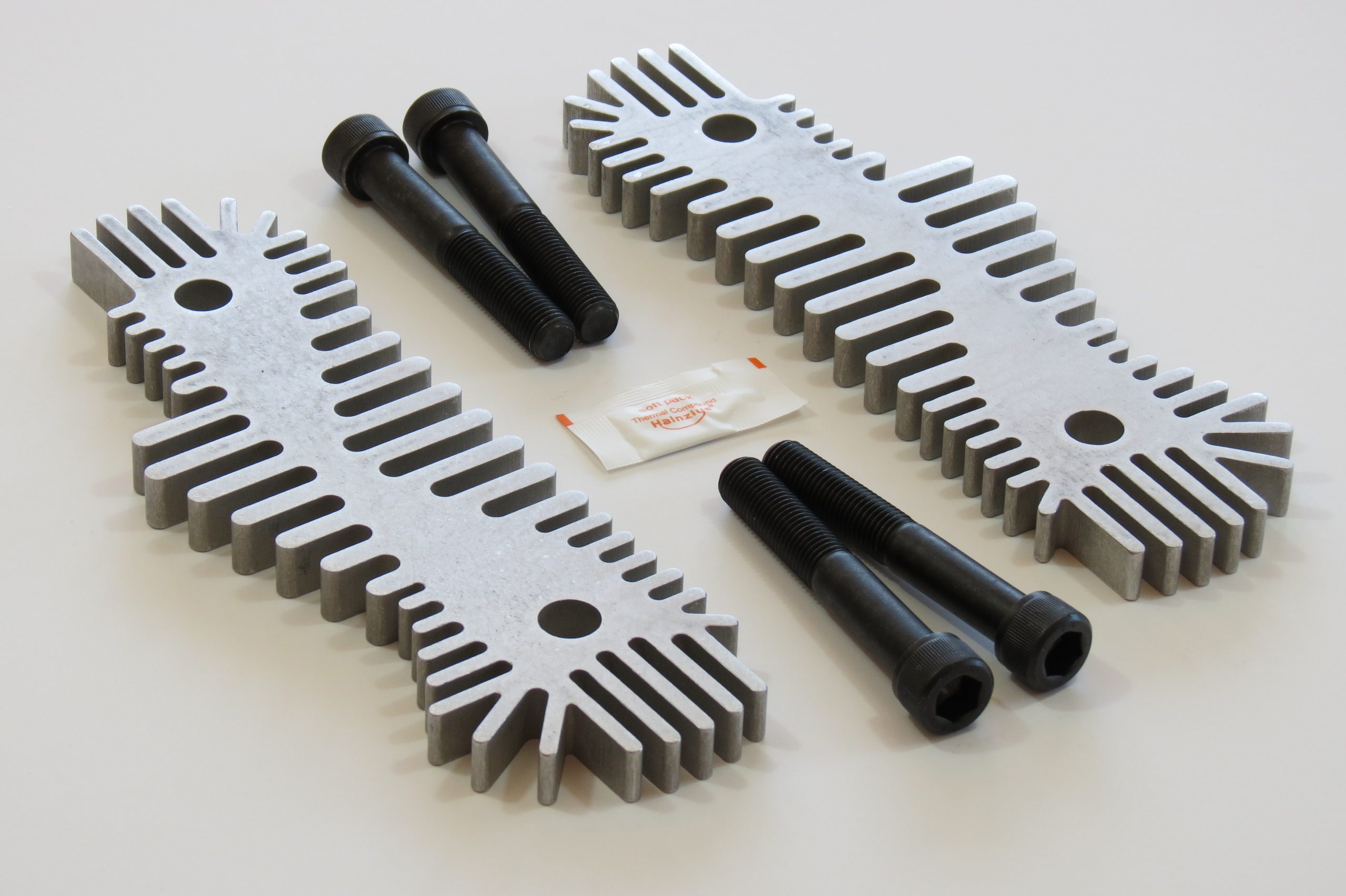 FRONT Cal*Cool™ KIT $129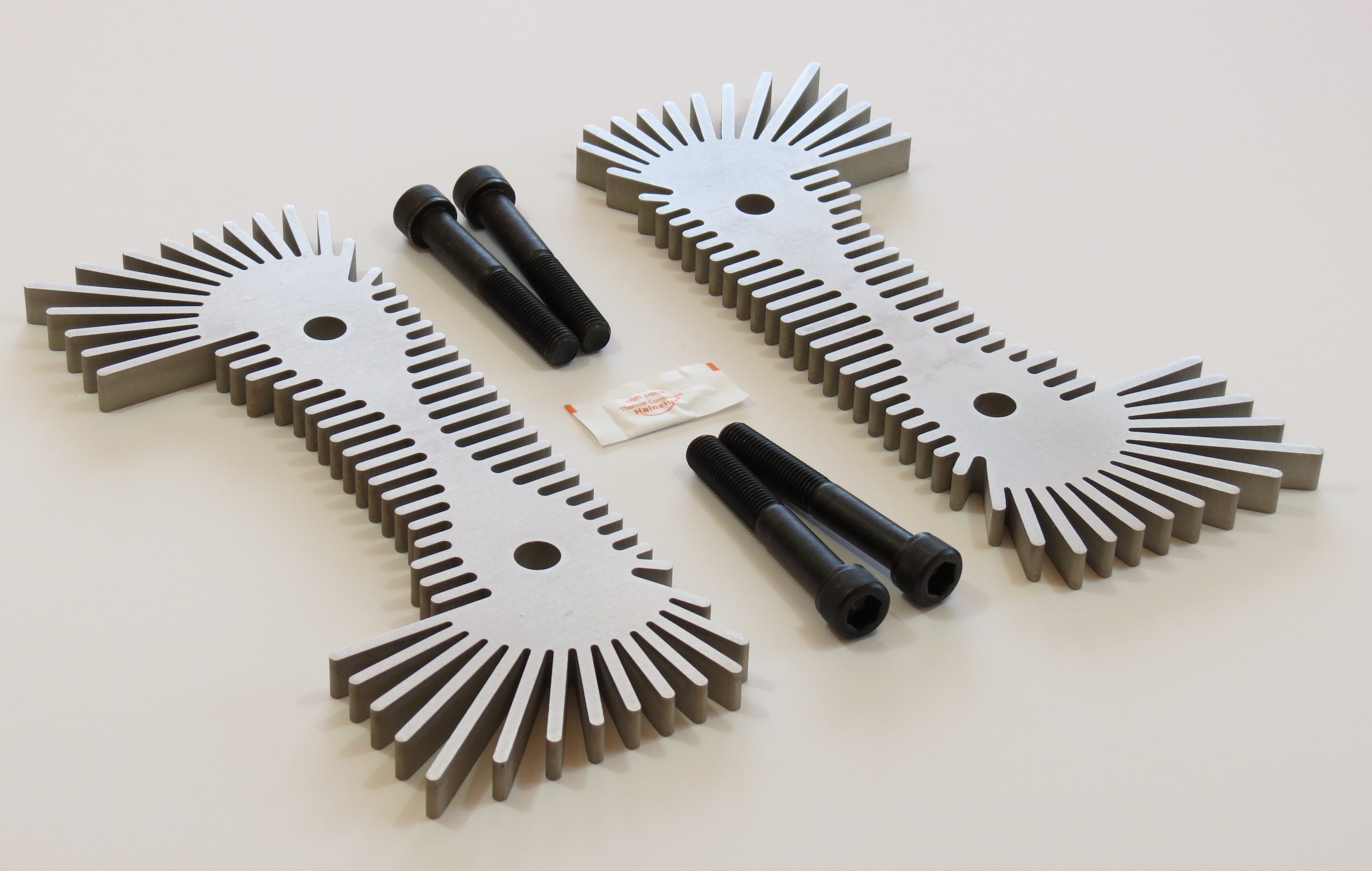 REAR Cal*Cool™ KIT $139

SAVE $ with BOTH FRONT & REAR Cal*Cool™ KIT $259
Cal*Cooler™ Kit + Girodiscs – ALL 4 CORNERS
BEST VALUE – Set of 4 Girodisc 350mm 2-Piece Rotors 
PLUS

Cal*Cooler Kit for all 4 Corners –

Save even more over purchasing everything separately!
Upgrades all 4 corners with Girodisc 2-piece Rotors and Cal*Cool™ brake coolers – use existing pads (or upgrade to more aggressive track pads).

SAVE $ – Girodisc + Cal*Cool™ ALL 4 CORNERS
$2499
---
Girodisc 2-Piece Rotors
For 996 / 997 / 991 Series Porsches®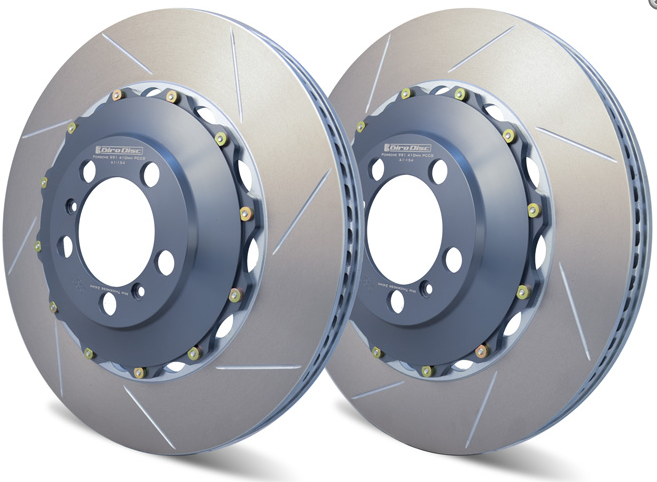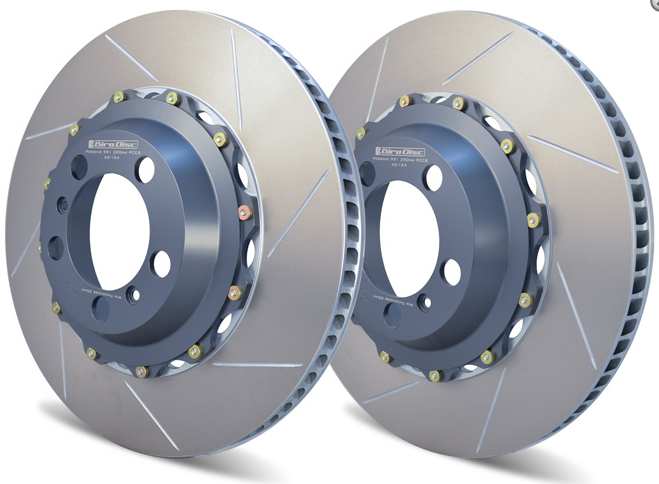 Why upgrade to Girodisc rotors on your high-performance Porsche 911?
Replaces current heavy 1-piece iron rotors with the lighter weight Girodisc 2-piece unit (Aluminum/Iron)
Reduces unsprung weight at each corner – more responsive suspension
For 996 Turbo and C4S; easily upgrade to larger diameter 350 mm rotors for better stopping force
Replace expensive PCCB ceramic rotors with less costly 2-piece aluminum/iron rotors, especially on the track.

The central hat is 6061-T6 aluminum.  The disc is a proprietary cast iron and machined start to finish by Girodisc.  Rotors utilizes a curved vane design, developed in racing to act as a centrifugal fan, forcing cooling air through the disc.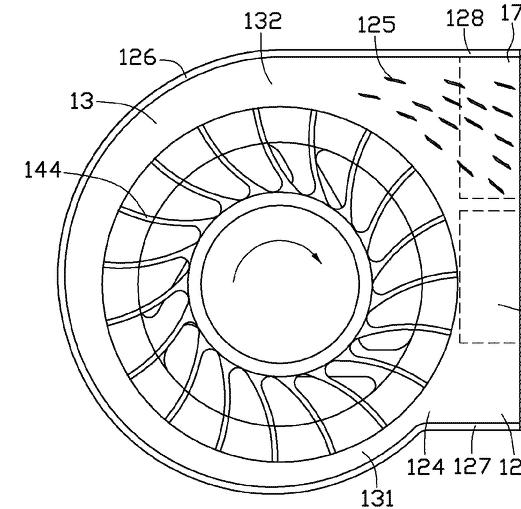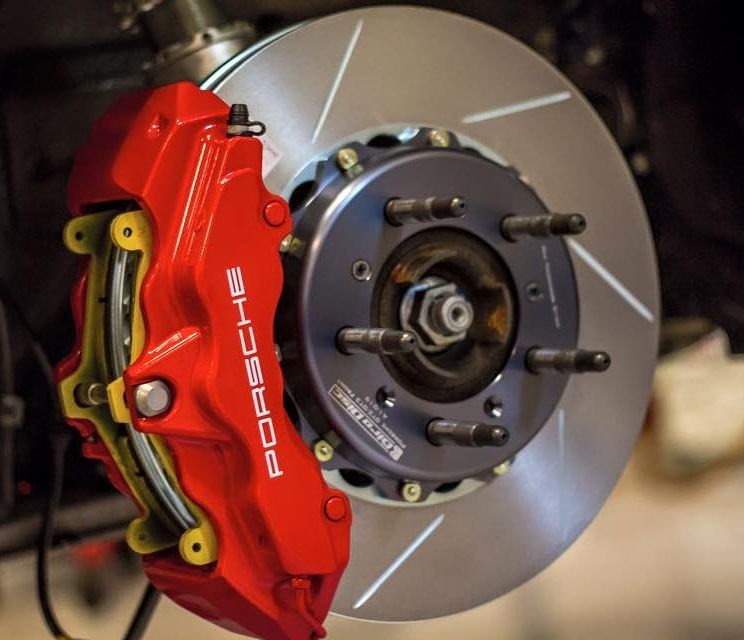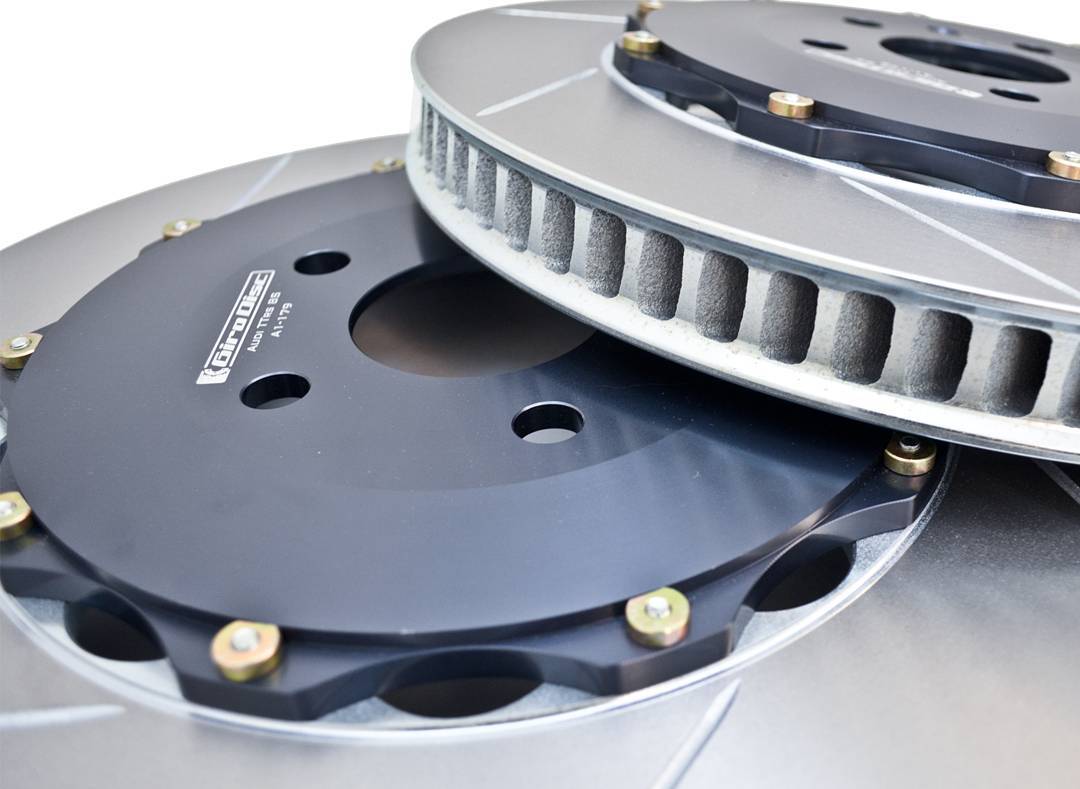 Drilled holes are not used as they tend to crack under heavy use such as at the track. The rotor and hat have a floating mount system, utilizing 8 or 10 high strength alloy steel drive pins, manufactured to Girodisc specifications, with cadmium plating for long lasting corrosion protection. The pins take the load from braking actions while maintaining axial and radial float between hat and disc. The pins are secured with grade 12 cap screws and hardened washers. To keep the rotors from making noise when cold, the pins are mounted with anti-noise spring washers. This allows the rotor to grow with heat expansion, but eliminates rattle and noise associated with floating rotors. This float allows the rotor to self center between the pads.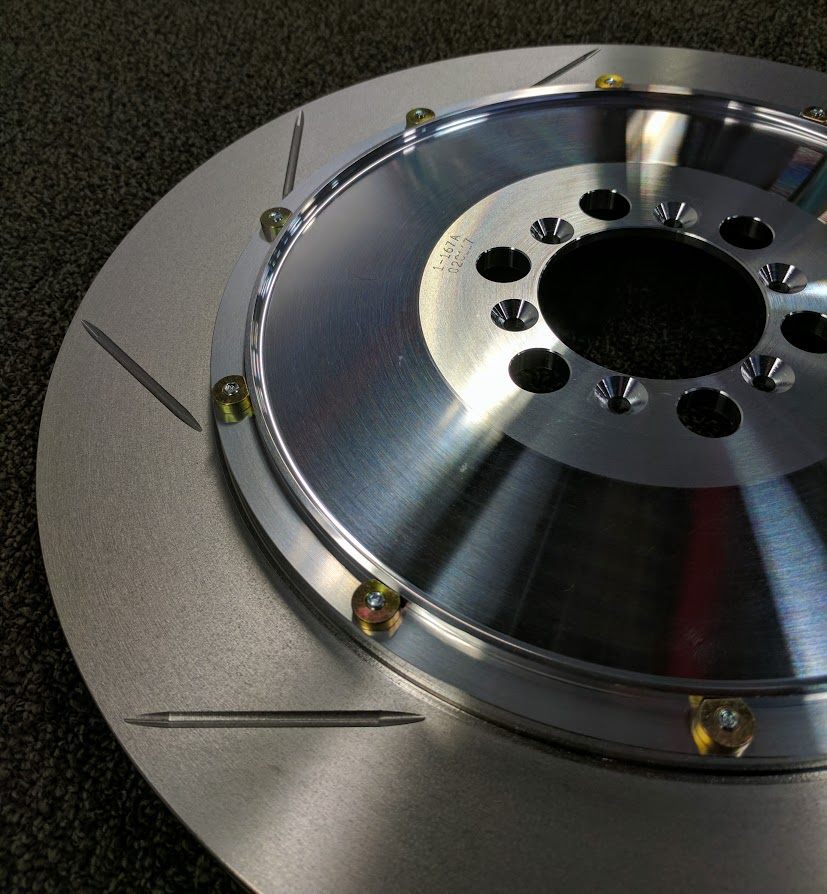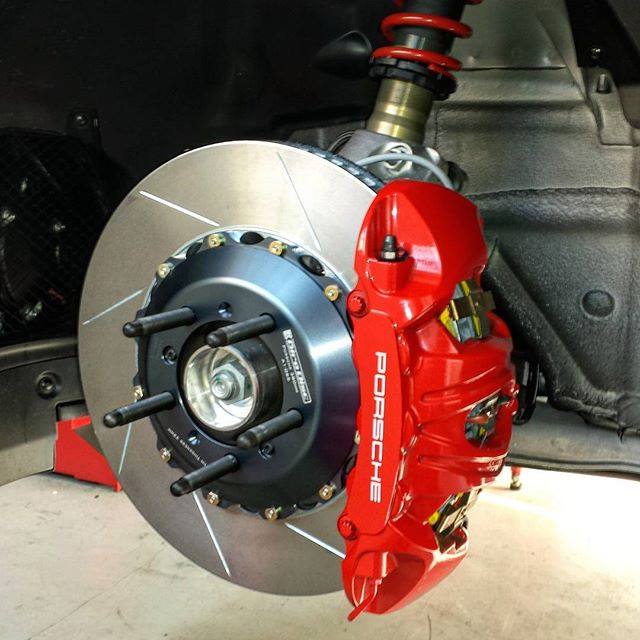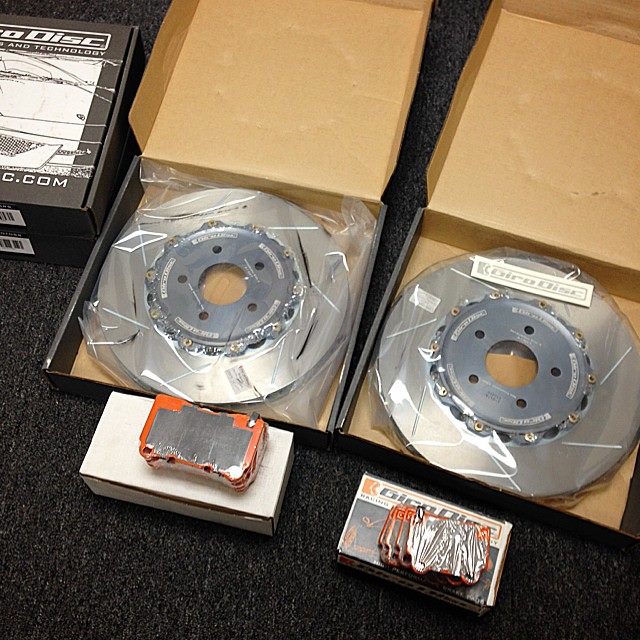 Bonus:  Once the Girodisc rotors are in place, simply replace the cast iron disc once worn below suggested limits.
We have the rebuild kit as well; iron rings with all hardware and instructions to replace the iron rotors.  Or we can have them done for you.  $350 front or rear.
PRICE TABLE
---
This site is in no way associated with Porsche Cars North America, Inc.
Porsche is a registered trademark of Dr. Ing. h.c. F. Porsche AG.