Rennkit™ has provided eRam Kits™ (and other products) around the world:  Argentina, Australia, Brazil, Canada, Chile, Dubai, Finland, France, Germany, Greece, Guadeloupe, Hong Kong, Hungary, India, Israel, Italy, Japan, Kuwait, Malaysia, Mexico, Netherlands, New Zealand, Nicaragua, Pakistan, Portugal, Qatar, Russia, Saudi Arabia, Singapore, Solomon Islands, South Africa, South Korea, Spain, Sweden, Switzerland, Taiwan, Thailand, UK, Ukraine and USA.
Our customers are passionate about their eRam Kit™ designed to replace the faulty factory hydraulic system – as seen below:
Hint:  Click on a picture to see a larger version.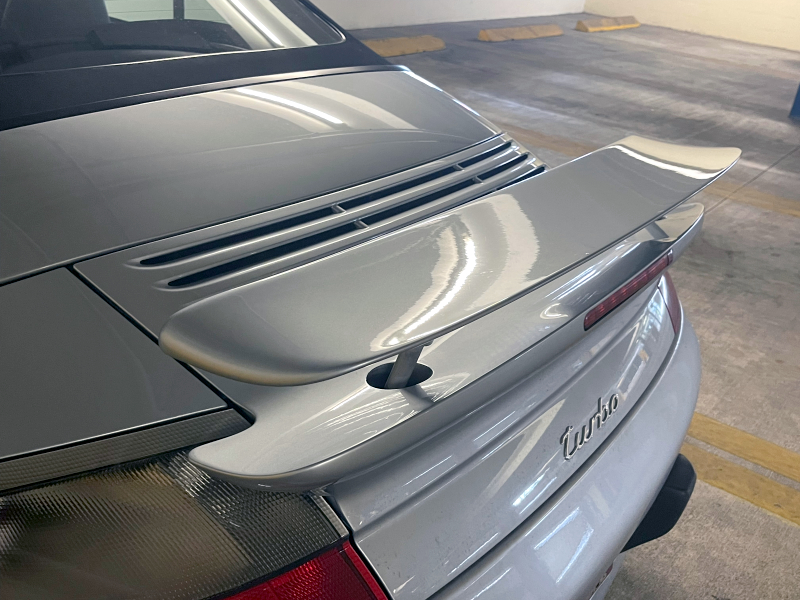 Gives the car a great "new" look
Dave, I just wanted to follow up with you to thank you for your help during my installation process and to thank you for a great product. It's working great and gives the car a great "new" look.
---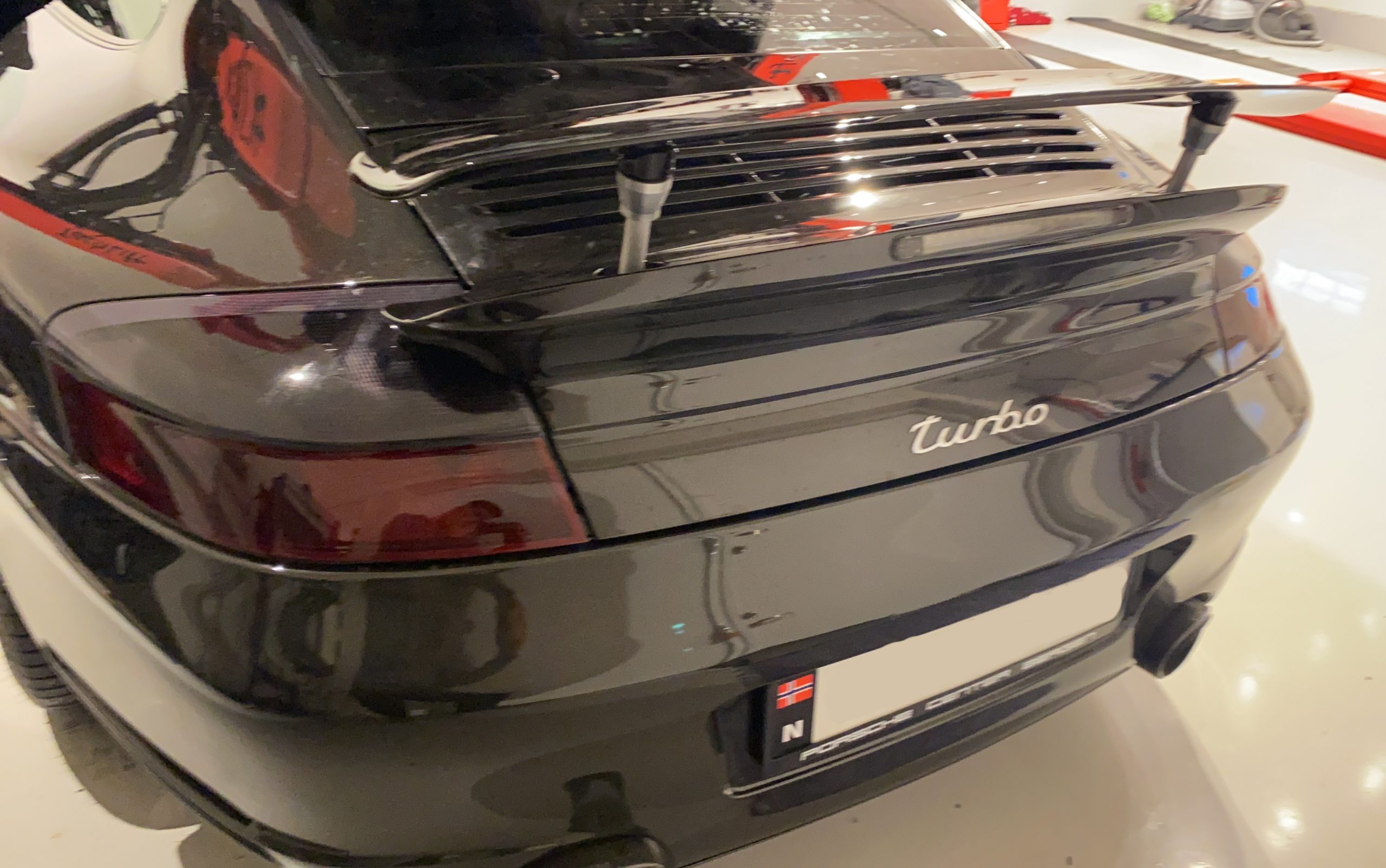 Norway Turbo 
"Ok. Its acceptable now. With some adjustments, the ram is the same. Thank you for your help 👍"
We helped Isaksen Motorverksted with a minor adjustment after the installation.  
---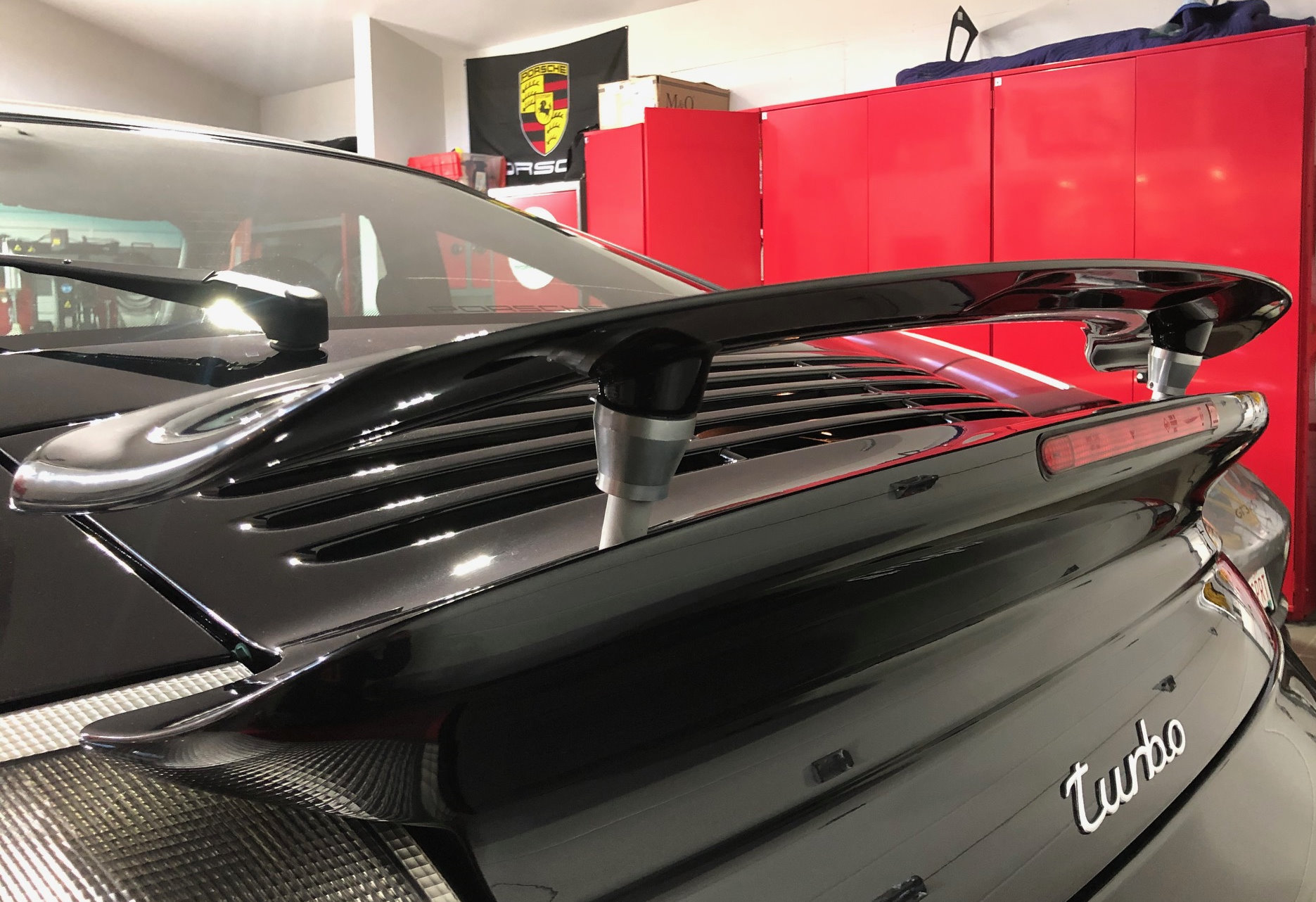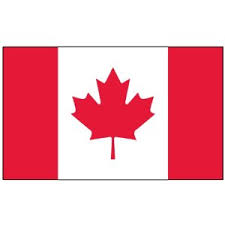 Doesn't get much simpler than this!
"Thank you for your wing kit. Very good product."
Colin installed a 3″ eRam Kit with boots on his black 996 Turbo.
---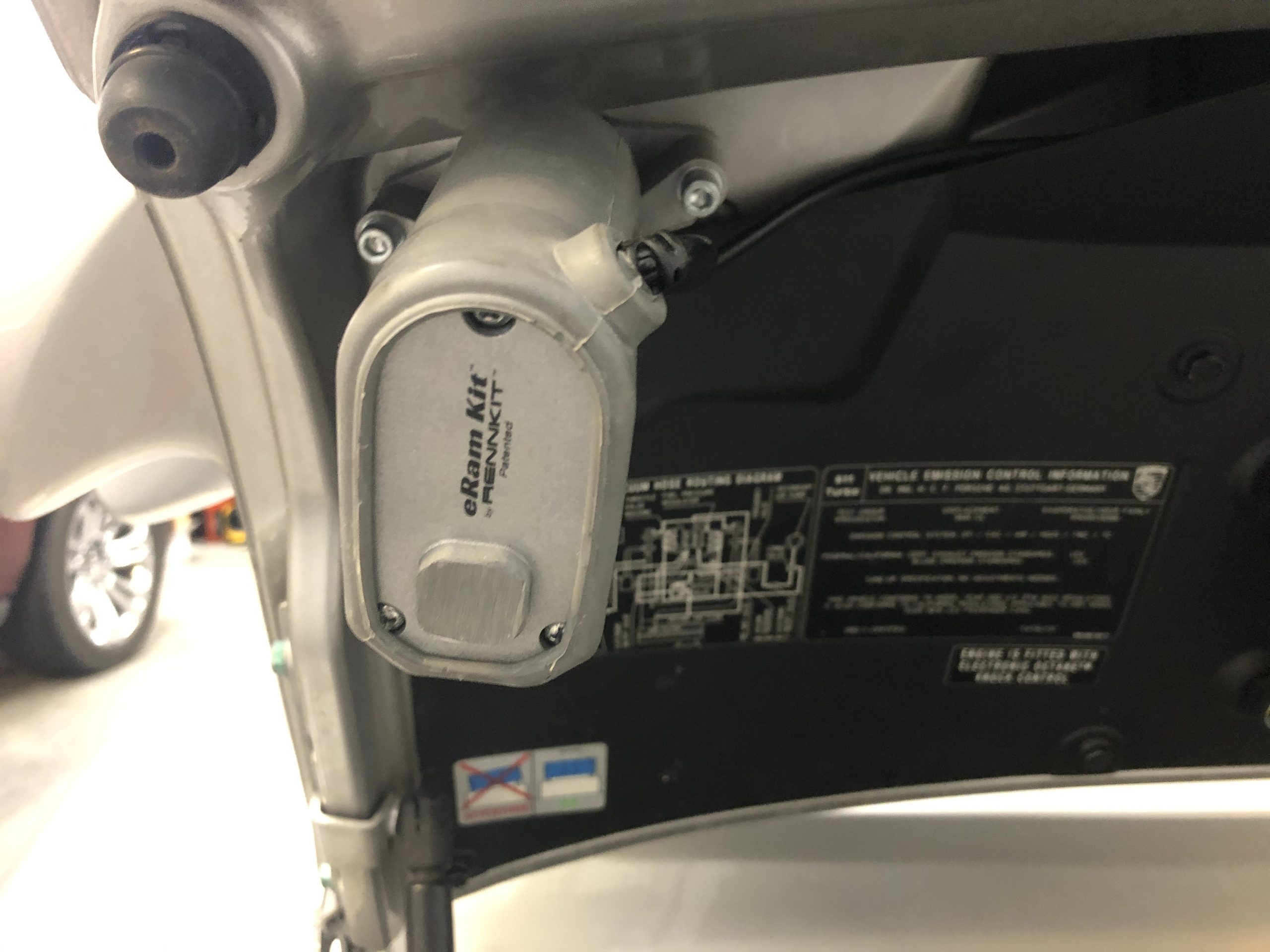 BAM !
Sam sent a couple of pictures with one word in the email body:
Bam !
Nice job installing the 3″ eRam Kit with gray Dust & Moisture Boots.
---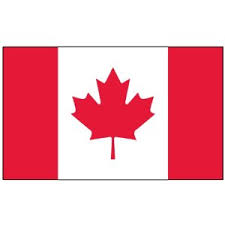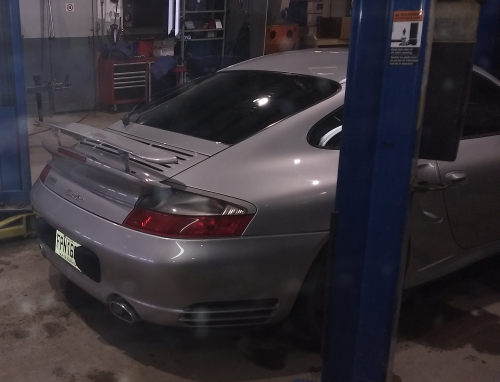 Quebec Year Round Runner – Guillaume sent this note: Done! First time i see my wing Working in my mirror and without any error message on the dash while driving back home! Very pleased with your service. Many thanks my friend 👍 From a very happy Canadian customer
---
WOW – Feedback from Beta Tester #6  Keith wrote to say he was having an issue with his eRam Kit™ that he purchased in March 2015.  We promptly sent a Troubleshooting Guide – Here is what he found: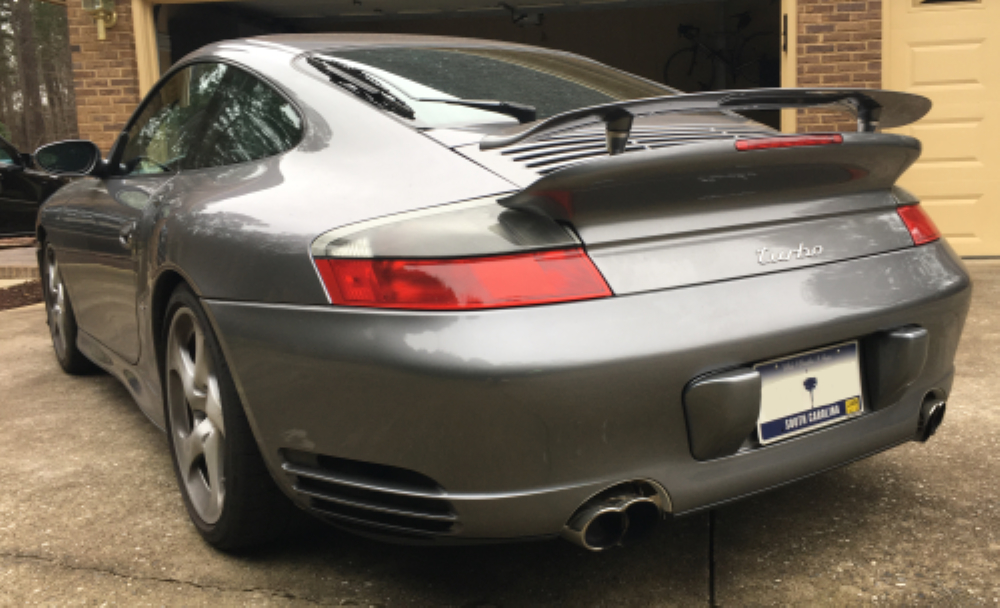 "Great news, kit number 6 is back up and operating perfectly! No warning lights, works from the switch and at the appropriate speeds. Thank you for creating this product and your assistance after the sale!
… it was a factory relay causing the issue.  When I tested the relays they would click like they were functioning so I assumed they were good. I never hooked up my ohmmeter to check resistance, had I done that sooner I would have known the down relay was on the way out."
---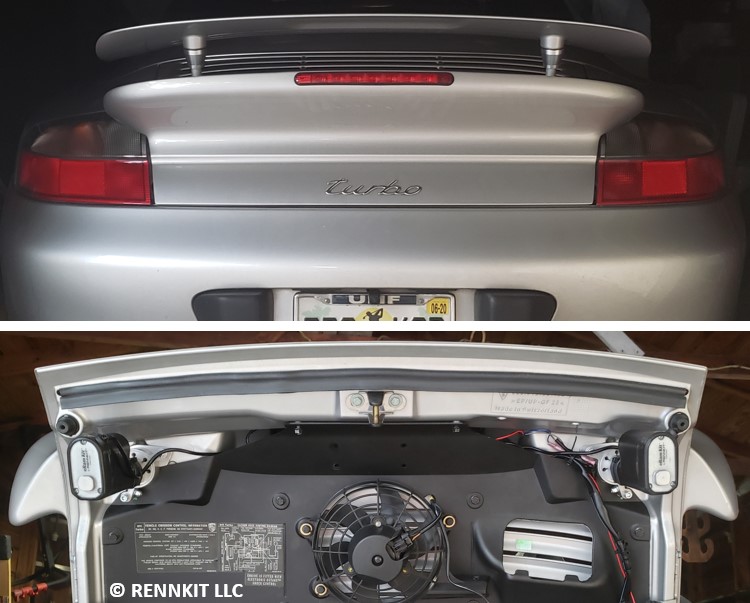 Stebo's Turbo "Finally had it with OEM spoiler hydraulics. I reached out to Rennkit and I pulled the trigger on some 4″ SuperFast eRams with the Dust & Moisture Boots. I love this car too much to get pissed off once (or more) per year dealing with the (hydraulic) spoiler mechanism. Very well made parts and a complete kit with detailed instructions. Definitely could knock it out in one evening. Everything fit perfect. Super straight forward. It worked first try. No more stupid spoiler light! Difficulty level: It's pretty close to a 1, maybe 1.5 out of 5. Not as easy as changing a tire, but certainly easier than installing a head unit."
What a great write up on 6Speed Online.  Thanks for giving up on the hydraulics!
---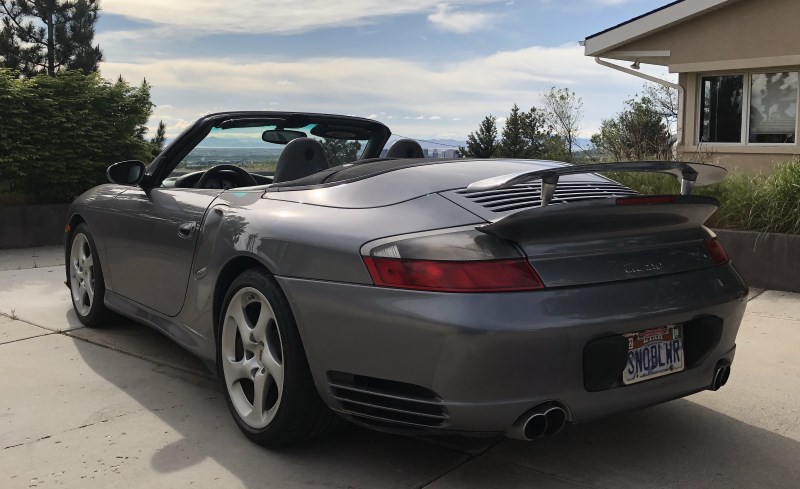 Seal Gray 996 Turbo Cab "I'm no better than adequate when it comes to "handiness'  so it took me several hours.  I got stuck 3 times and I called Dave 3  times (on a holiday weekend too) and he unstuck me 3 times.  4.75″ eRam Kit looks super cool.  My OEM hydraulic system failed about 4 years ago so it's awesome to have the full functioning spoiler back on line.  Thanks Dave – great product and GREAT customer service."
Thank you Nick – terrific looking 2004 seal gray cabrio there!
---
Phenix Engineering installs a 3″ 997 Turbo eRam Kit™ on their car.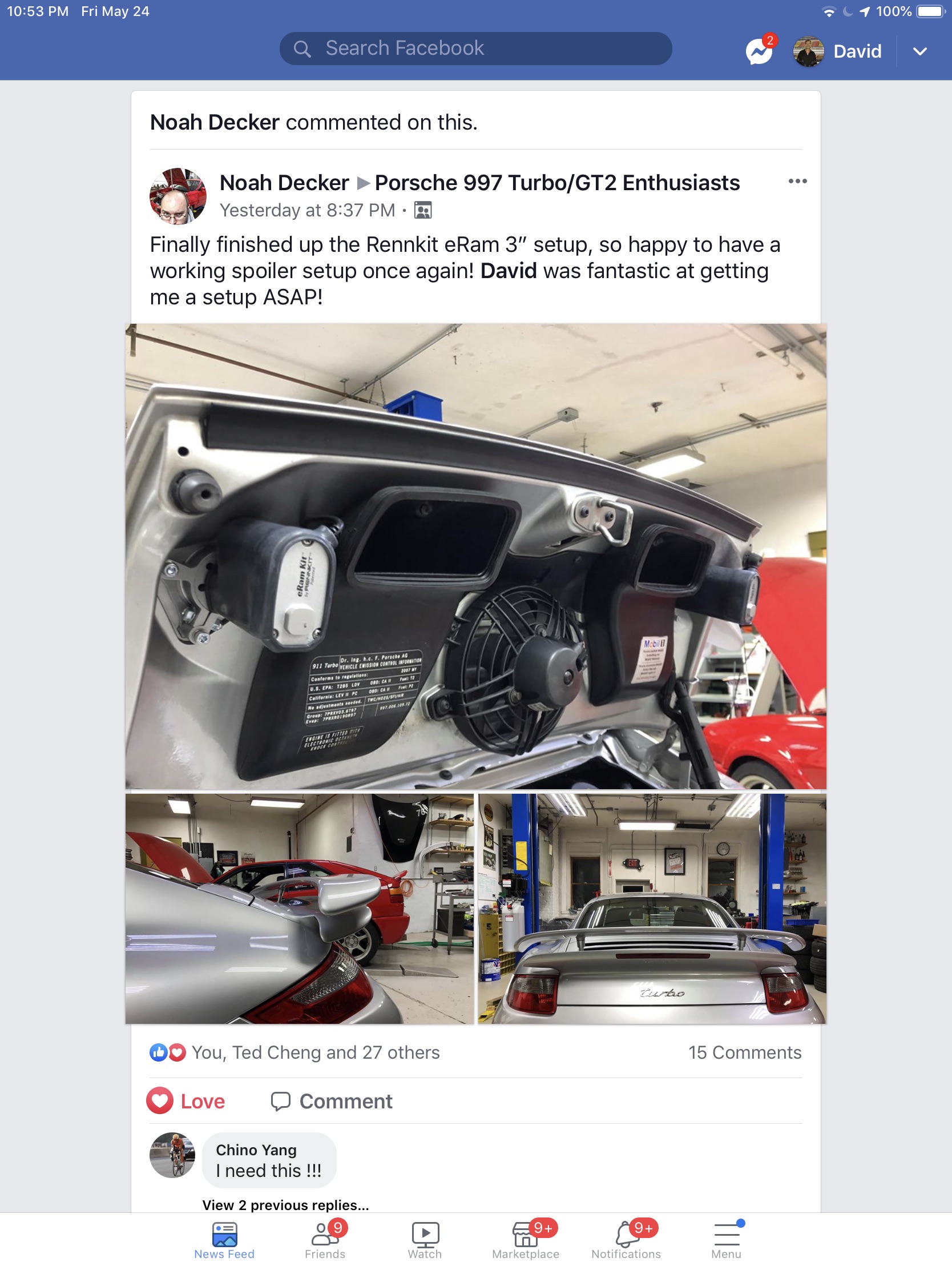 ---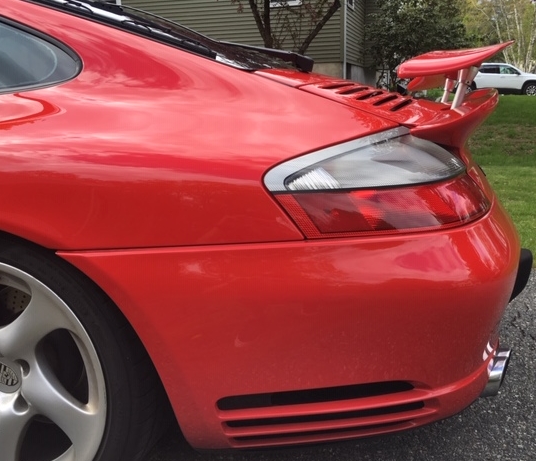 Guards Red Guardian "I just wanted to let you know that everything went very smooth with the installation… and everything functions as it should. It looks and works great! Thanks so much for your product! No more leaking in my engine compartment!"
This is a very nice looking 4″ SuperFast eRam Kit™  install – love the Guards Red turbos!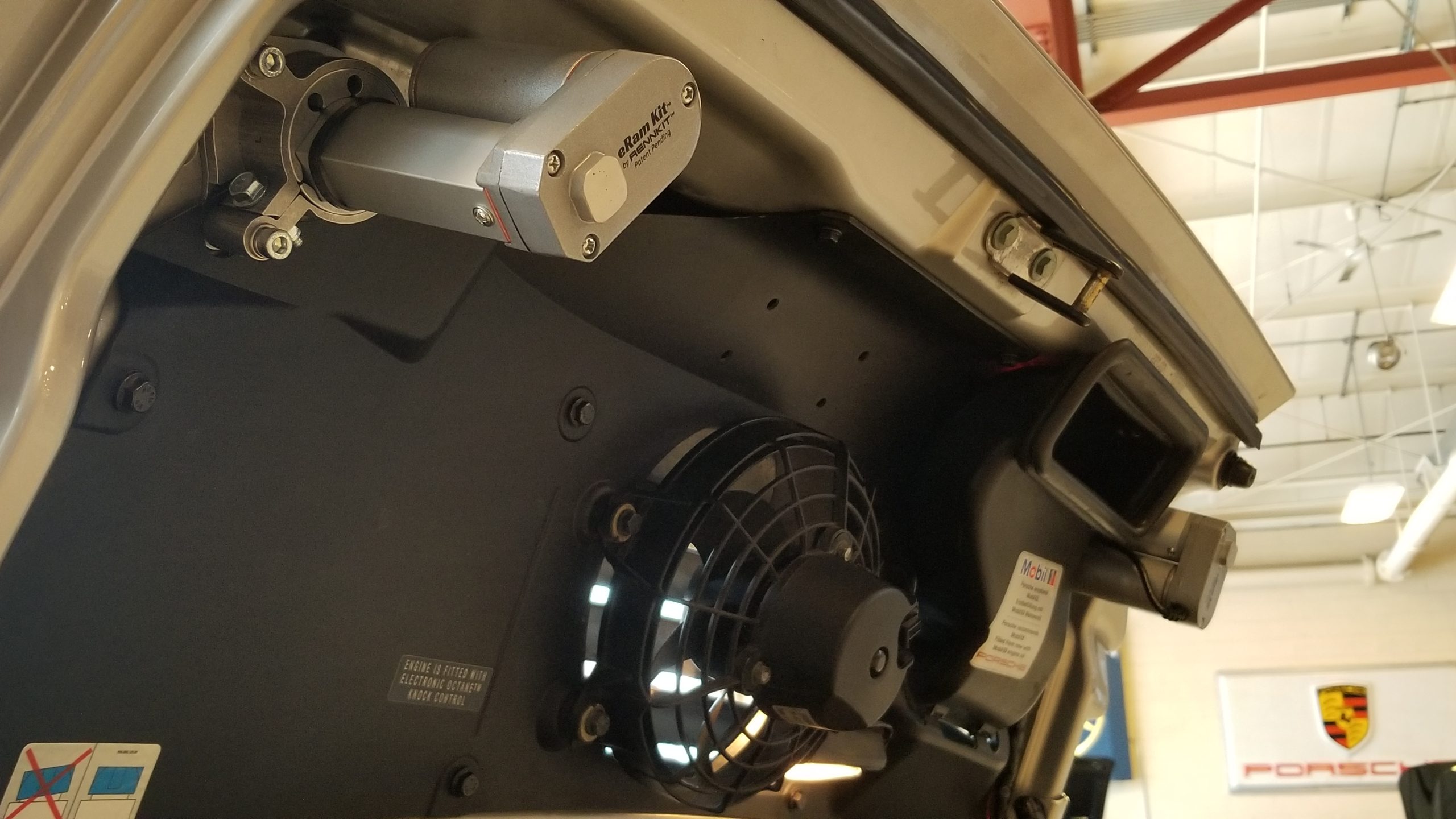 ---
Another fine eRam Kit™ install
from our latest Preferred Shop, Willow Automotive in Chicago!
---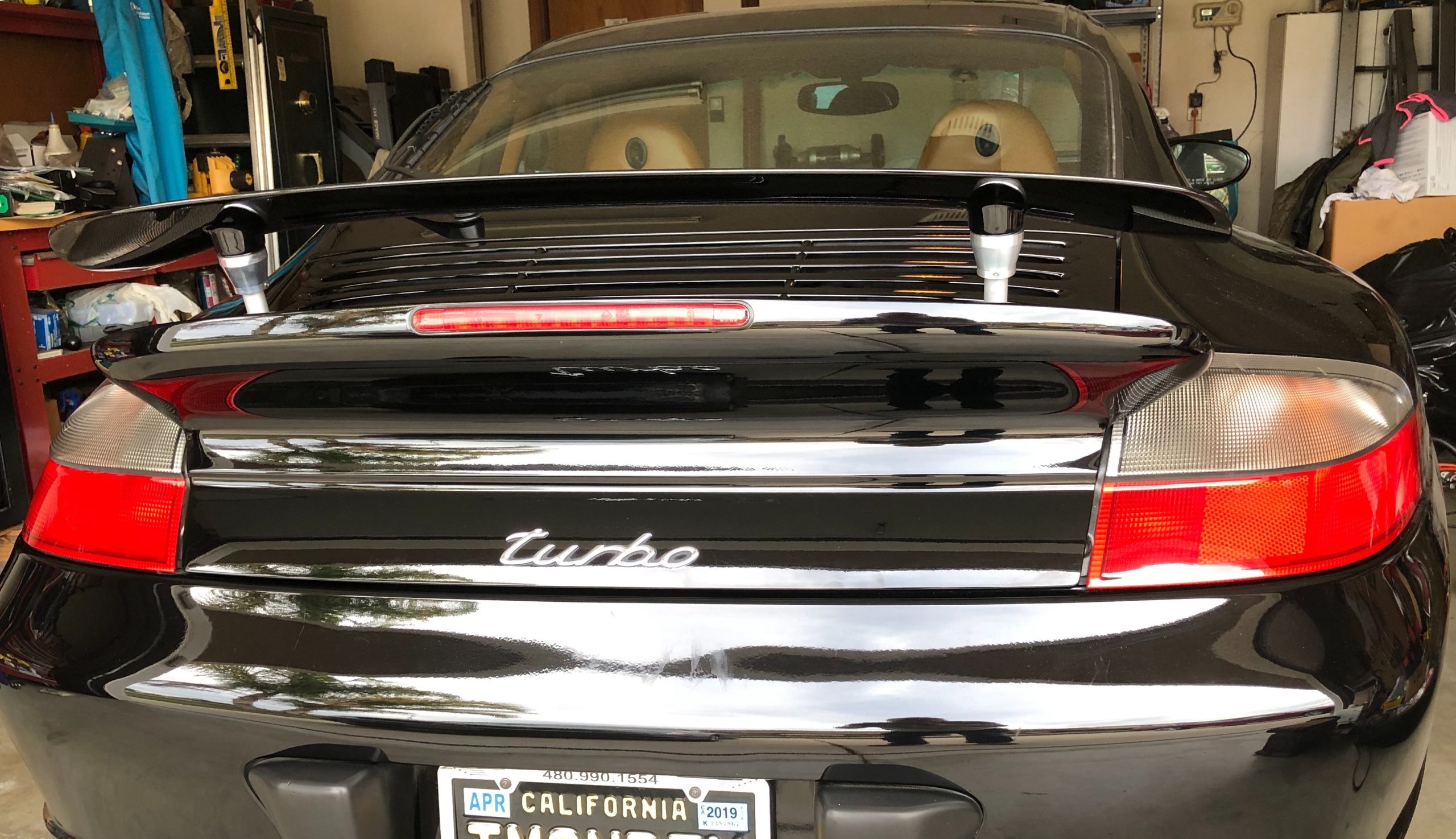 Yes, James Dean has a turbo:
  "I installed the eRam Kit™ this weekend. Fit like a charm and perfect instructions. "  Thanks James – looks like you got them installed perfectly.
---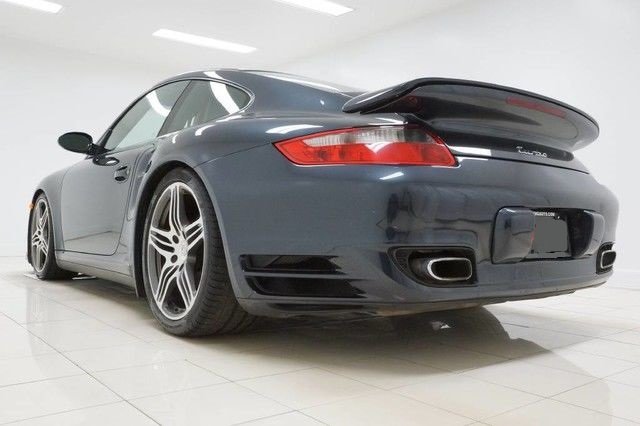 Rennlist Ad 10/15/18:  Manual 911 Turbo (997) | Black/Terracotta Interior – Atlas Grey Metallic…  I replaced the non functioning hydraulic rams with Rennkit eRams (I still have the hydraulic system in case you want to go back to it, but why would you… )
Perfect Jose, you took our advice!  Save the dead hydraulics and pass them on to the next buyer if you ever sell your Turbo to a purists out there.  We still bet nobody would EVER re-install the hydraulic wing mechanism!
---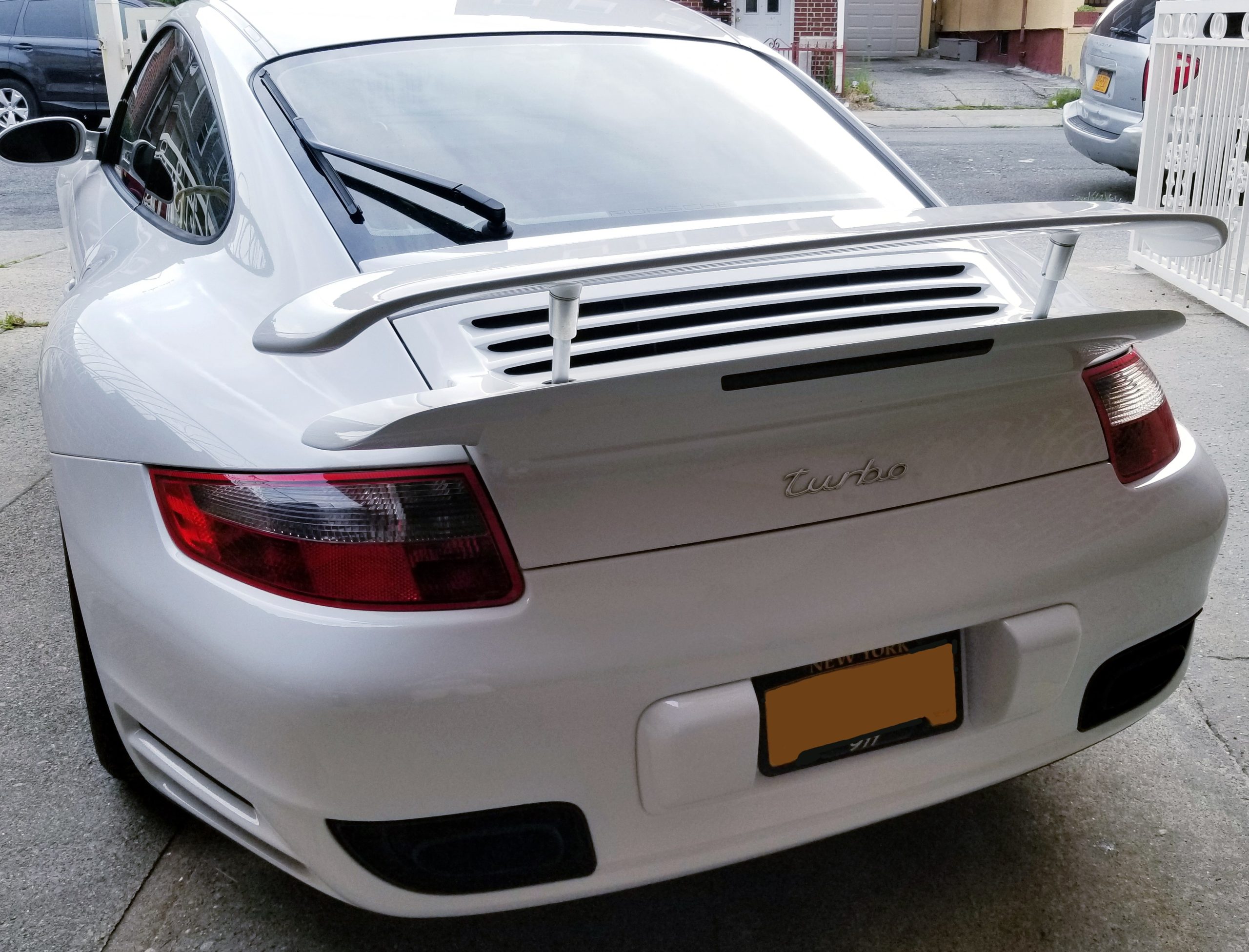 Great White  "I got the eRam Kit. Install went smooth with your video as a reference. Final result looks amazing. Great product! I think I fell in love with my turbo again!"  Thanks Vinny – Your 4″ eRam Kit™ looks awesome, we sure love the white 997 Turbos!
---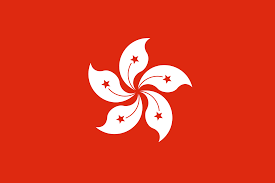 Ray's Oriental Express  "I am pleased to inform you that the eRam Kit has been successfully installed by Stuttgart Performance Hong Kong. The kit works perfectly. I am very satisfied with the product. You may wish to connect with Stuttgart Performance for business opportunities."
Thanks for the tip Ray!  We are always interested in adding quality shops with the know-how to install our eRam Kit™.
---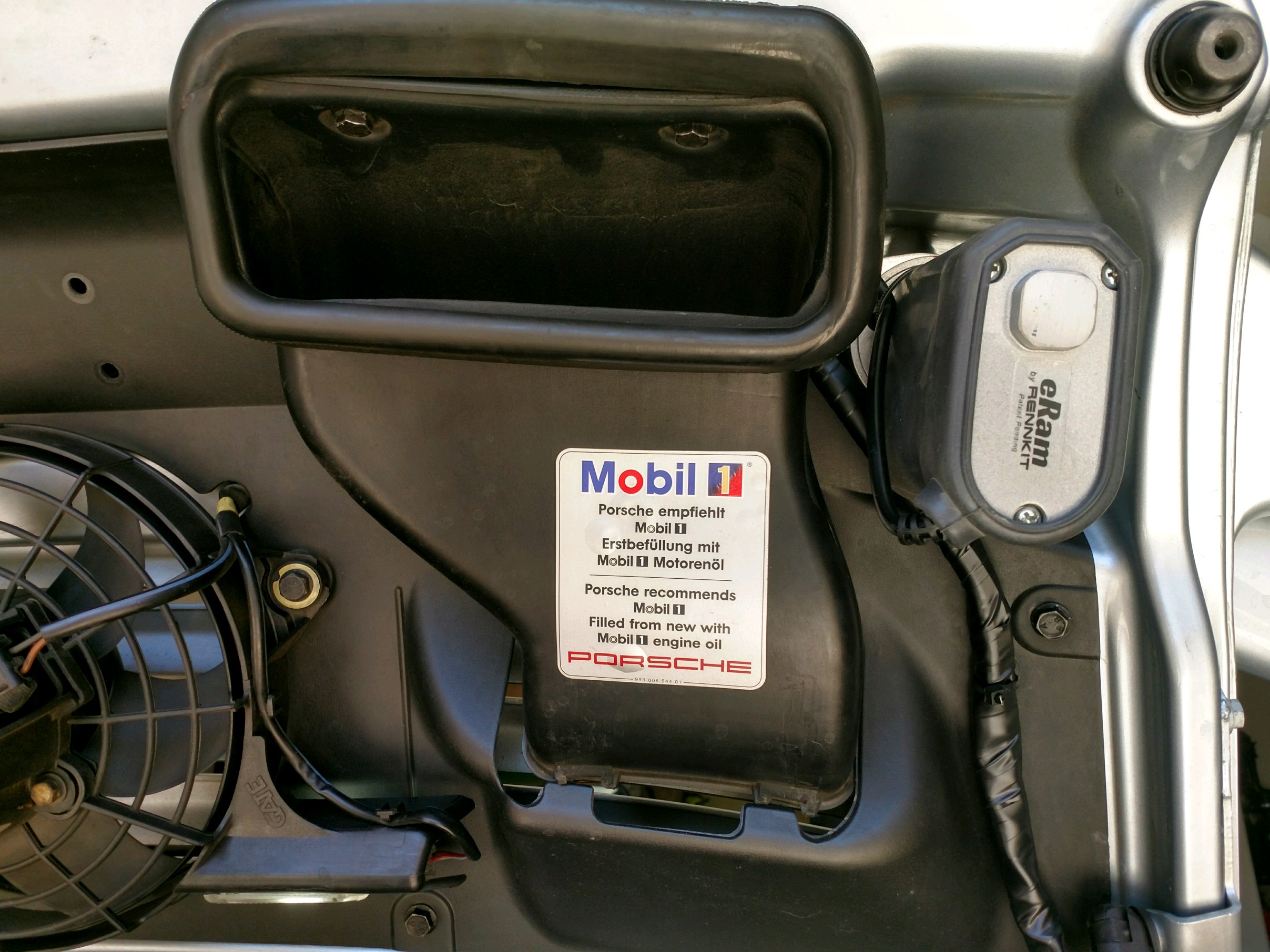 Paul P's Perfect Porsche® Turbo  "Kit worked out great… no issues.  Instructions were great.  Kudos to you and your design, super materials, and great instructions. The leaking/non performing hydraulic system is out and your eRams are installed and working great!  Had it on the highway today…. Perfect deployment and lowering.  All the best to you and your business."
Another awesome customer – so many now!  Thank you for upgrading to the eRam Kit™ with Dust and Moisture Boots to protect your investment!
---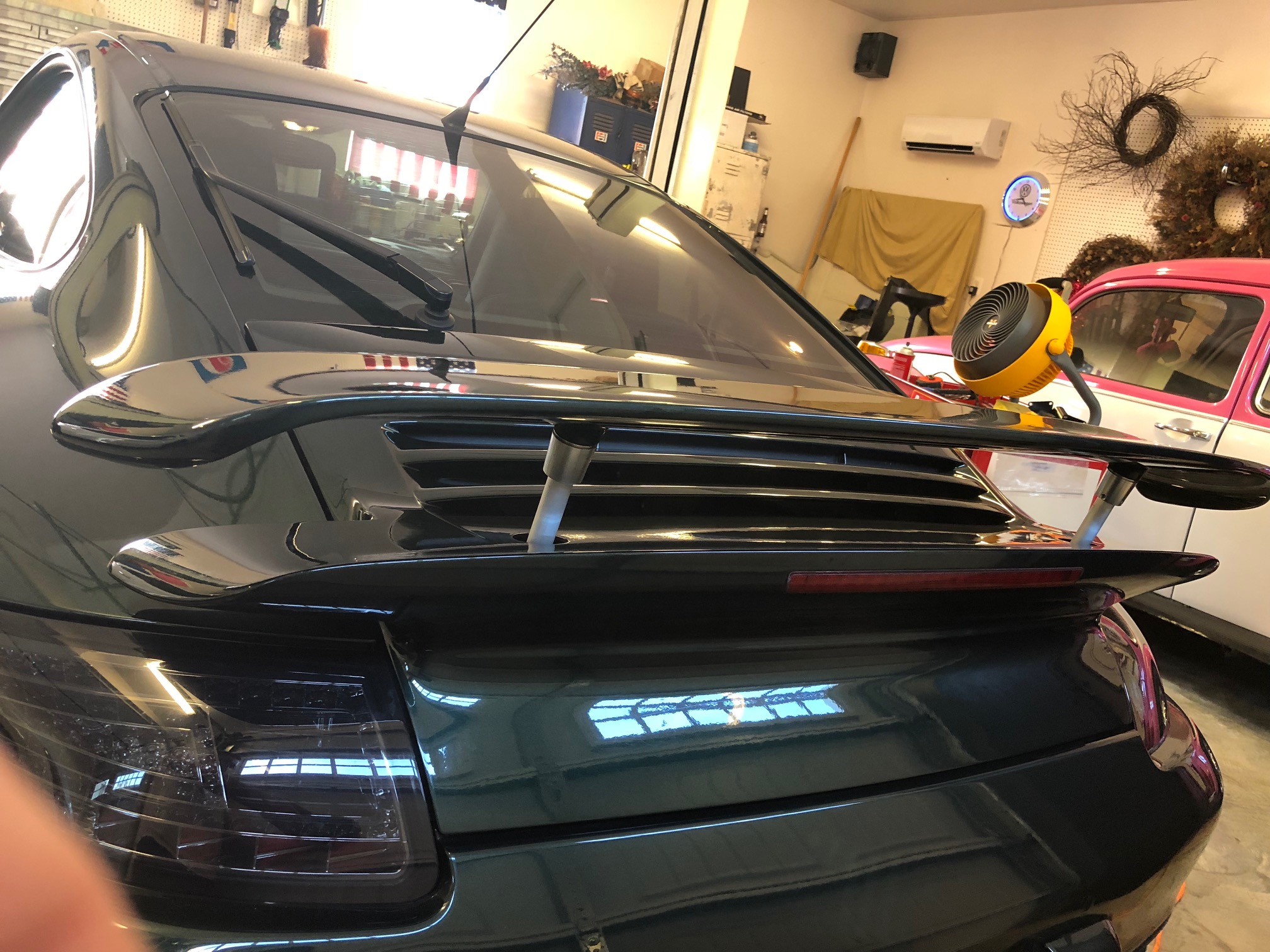 Jerry's Sweet 997 Turbo  "Took the 997tt for a 110 mile round trip today and the eRams performed flawlessly!  Nice to see them working properly!!!  Thanks!  A happy customer!"
Nice job on the 4″ eRam Kit™ install Jerry!  Glad you are happy with our unique product!
---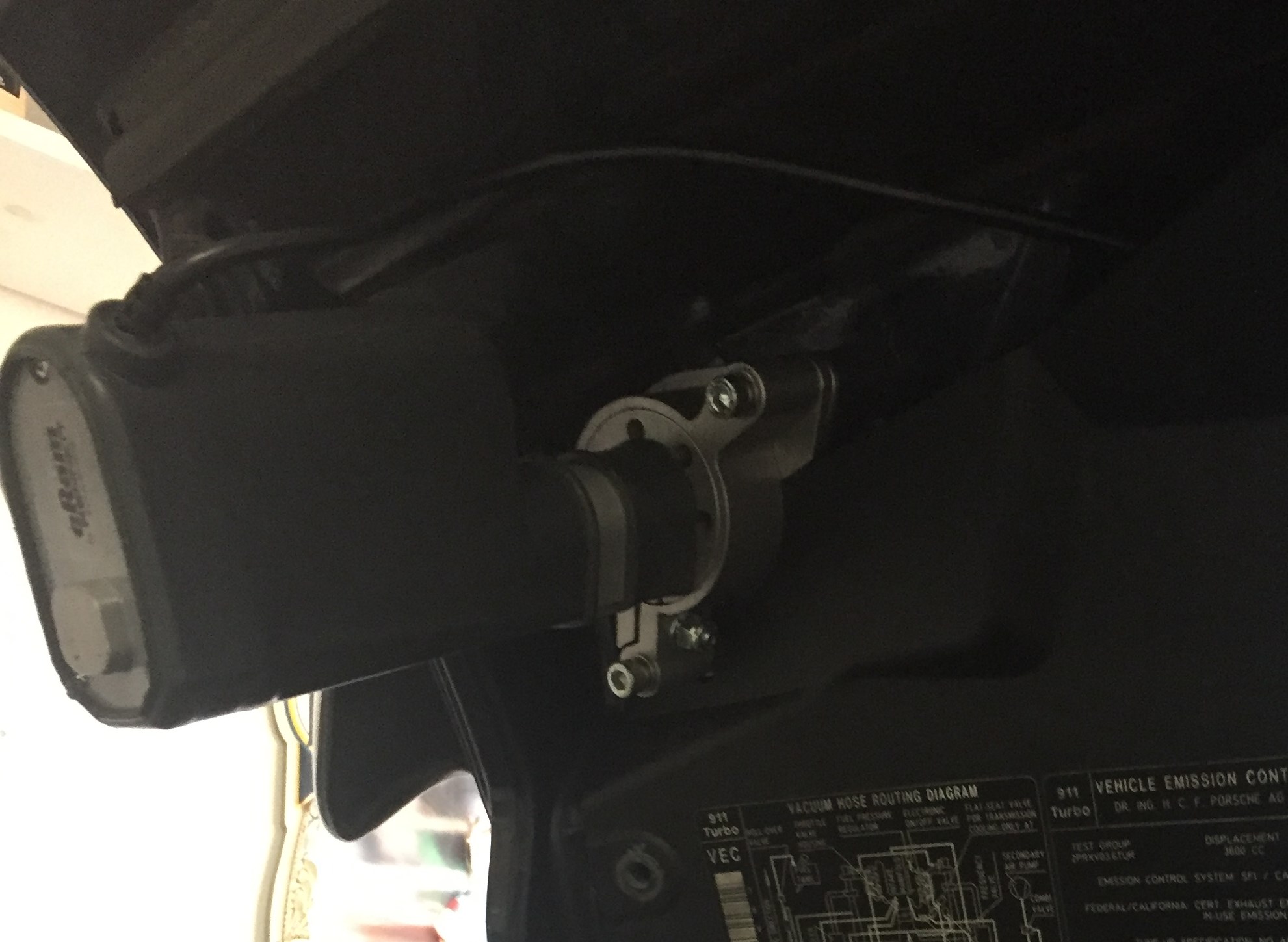 Tyler's Tall Tail Turbo "Took the car out for a drive today, spoiler functioned flawlessly. I kept raising it and lowering at stop lights. Can't tell you again how great the customer service is at Rennkit. You've been awesome."
Tyler is a long time member of the Rennlist 996 Turbo forum and posted about his experience – he has been waiting a long time to get the ultimate eRam Kit™:  4 3/4″ SuperFast Version™ eRam Kit™ and Dust & Moisture Boots.
---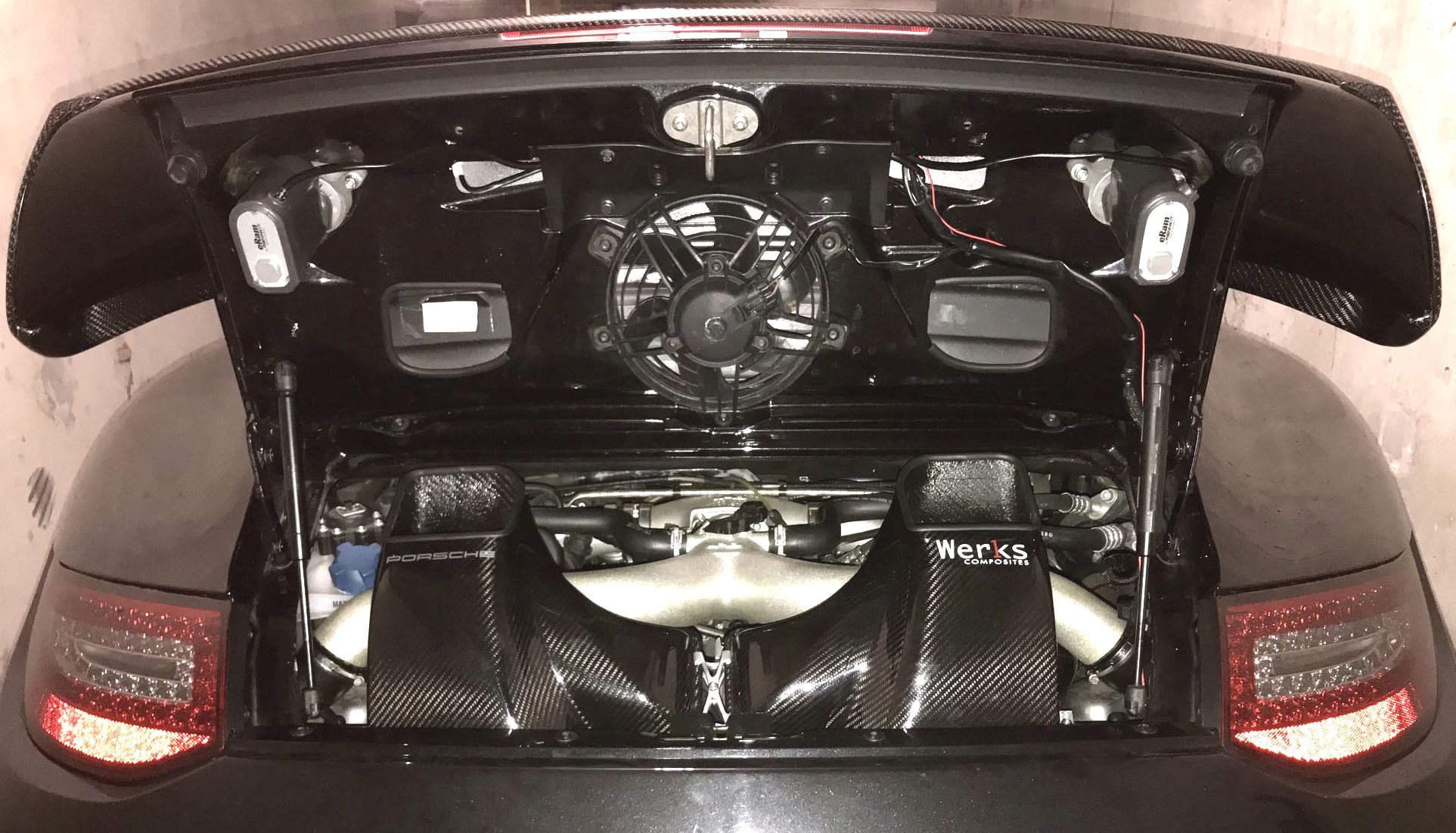 Werks 1 Airbox Fitment  "For those contemplating installing the Werks1 Airbox for the 997.1 & 997.2 TT/S along with the Rennkit eRam kit, it fits, as long as you are using the 3" or less eRam. As usual, Dave was great to work with, offering to exchange my 4" SuperFast eRams for the 3" set. Great service. Thanks Dave!"
Happy to help out and get you fixed up Dave!  This is good to know, and we will add it to our technical bulletin on aftermarket airboxes.
---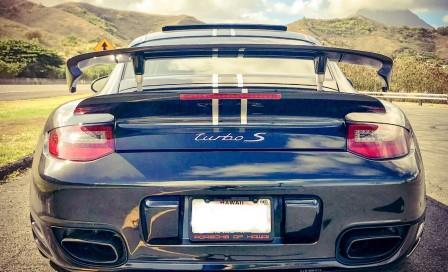 Aloha 997 Turbo S!  "It's been 1 month of driving at various speed to initiate the deployment and closure of the Wing. It's been performing flawlessly. No more error msg! Much appreciate in getting this out. Awesome service.  Frank"
Frank has a Super nice example of a Turbo S in Hawaii with a big aftermarket wing mounted to his SuperFast 4″ eRam Kit™ with optional Dust & Moisture Boots.  You can see another shot of Frank's car with an Agency wing on Vivid's Facebook page HERE.  
---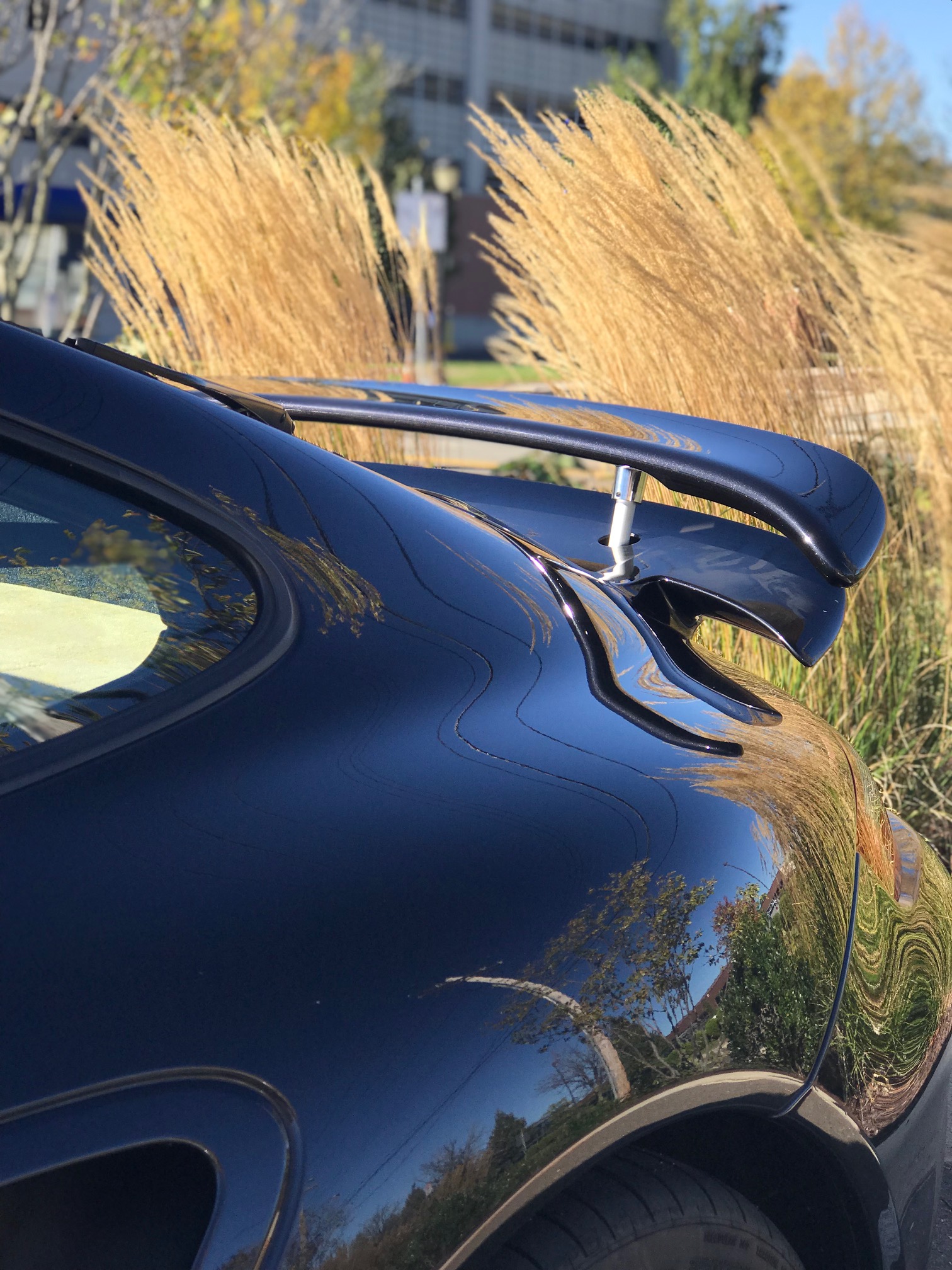 Andrew wrote us a thank you note:  "Just finished installing the kit! Very easy (maybe 1.5 hrs) and it looks AWESOME. I'm super happy I went with the SuperFast 3" eRam kit. I have certainly hit the button more. Thanks again, Andrew"  
Glad we were able to help upgrade your turbo to the eRam Kit™!  Seems that Andrew has a knack for Turbo Glamour Shots!
---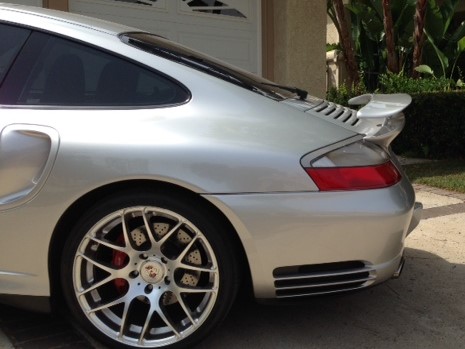 The best so far…  "It is coming up on one year since I installed your eRam kit. I use my car as a daily driver so it deploys on a daily basis. Still Flawless!! Just wanted to thank you again for all your work on developing it and  providing it to others. Larry"

Thanks Larry!  What a great customer for sending Rennkit™ a kind thank you note one year after installing a 3″ SuperFast eRam Kit™! 
---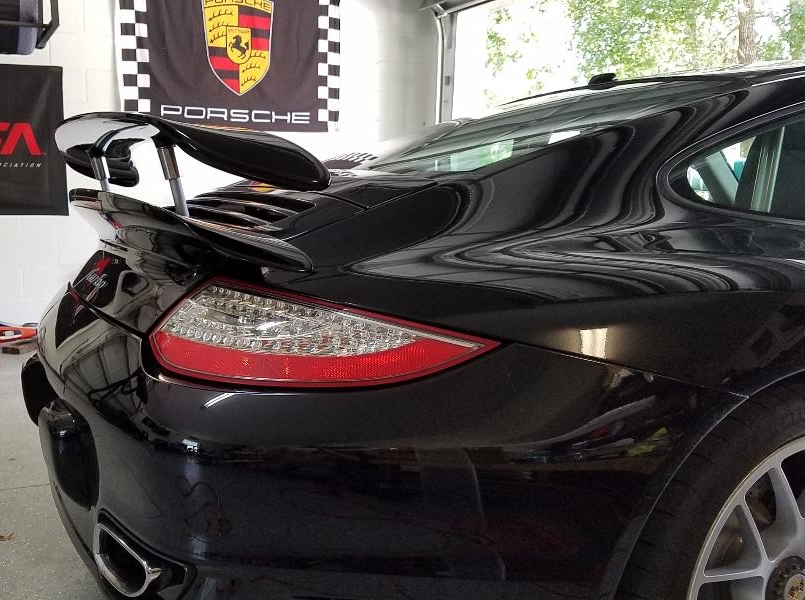 Florida Flood  "Install went well… At 75 she popped up, at 35 she went down, GREAT!"
This is another beautiful black 997 Turbo with a serious 4 3/4″ eRam Kit™ (ok I'm partial).
---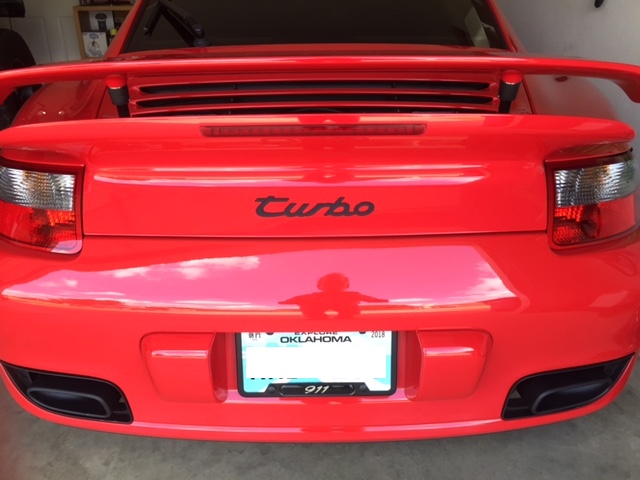 Breaking Bad 997 Turbo  This customer has a business supplying aftermarket parts to the Harley crowd.  He has the shop and the tools to turn down and powder coat the 4″ eRam Kit shafts and wing bushings flat black – looks super!  Maybe we can offer that as an option down the road??
---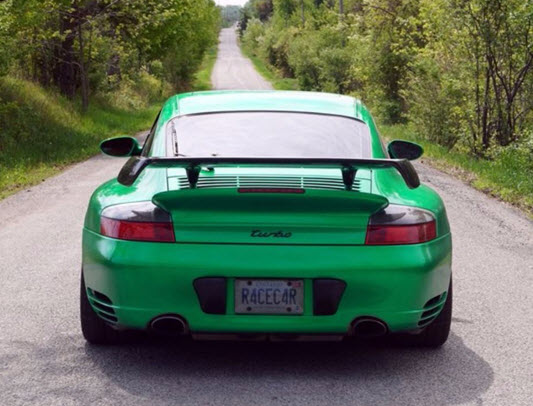 Green with Envy   Dave's 2001 turbo with 4″ eRam Kit™ is featured HERE.  He has quite an extensive build. He had a few fitment issues with the airbox and wing – all worked out and in the end has quite a nice installation. Check out the awesome color and accessories.
---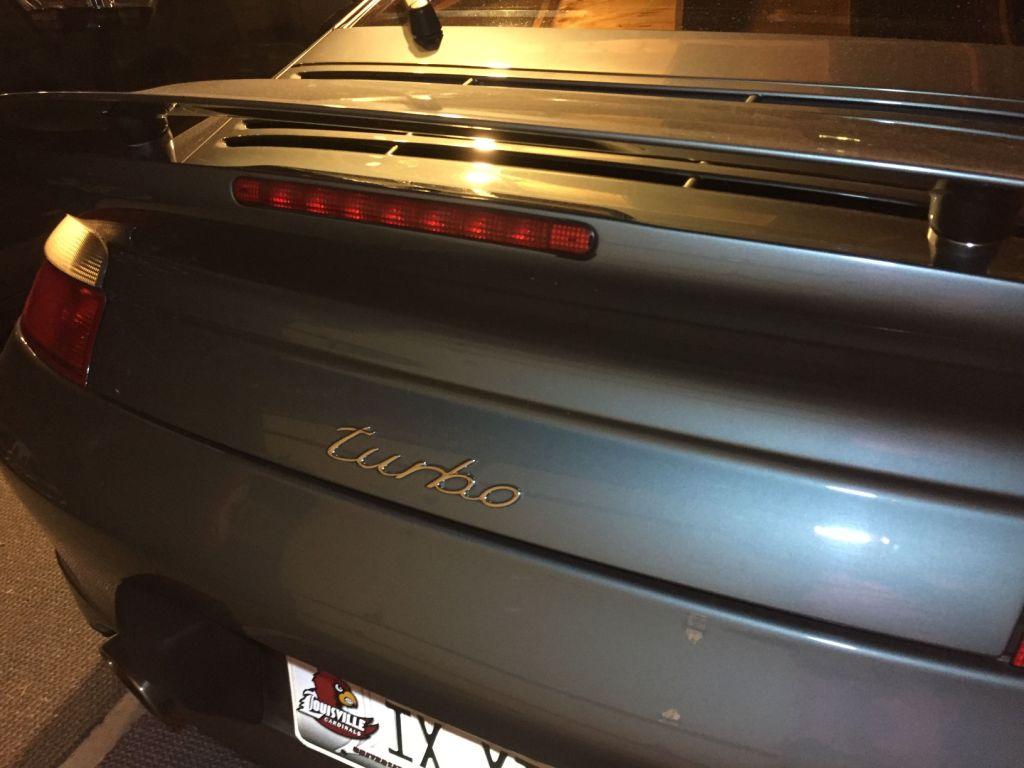 Silver Turbo in the Bluegrass State  "It is attached and working.  The trick of only attaching one bolt and rotating the whole unit to mount the wing worked great.  it's in and working great!  Thank you.   I appreciate the followup very much.  BTW, there is another guy in our chapter with an '01 Turbo that needs to get his done so I am bending his ear to get onboard.  T.H."
T.H. installed a 2″ eRam Kit™ on his 996 Turbo – there is a special trick to mounting the wing on the short shafts.  The instructions guide that operation.  T.H. is promoting his eRam kit at his PCA chapter.  Couldn't ask for more – word of mouth is the ticket!!!!
---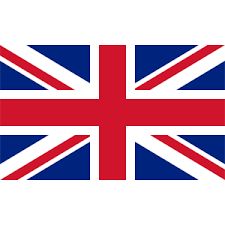 Geoff's Cropredy Cabrio  "Dave, many thanks for your very prompt reply, I have now placed my order and will look forward to receiving the parts and fixing the problem, thanks again, Geoff"  then  "Hi Dave, just to let you know the eRam kit arrived and I installed them – they are working great, it's so good to have them working so well and with no warning lights, I will pass the good news to the guys at Porsche club GB,  many thanks Geoff "
Like a majority of Rennkit™ customers, Geoff installed the eRam kit himself – "job well done!"
---
OUR FIRST PORSCHE® DEALER!  "Thanks for the fast reply. Put those eRams in this morning and they seem to be a great alternative for leaking rams. Thanks for having awesome instructions to complement your product as well. Collin"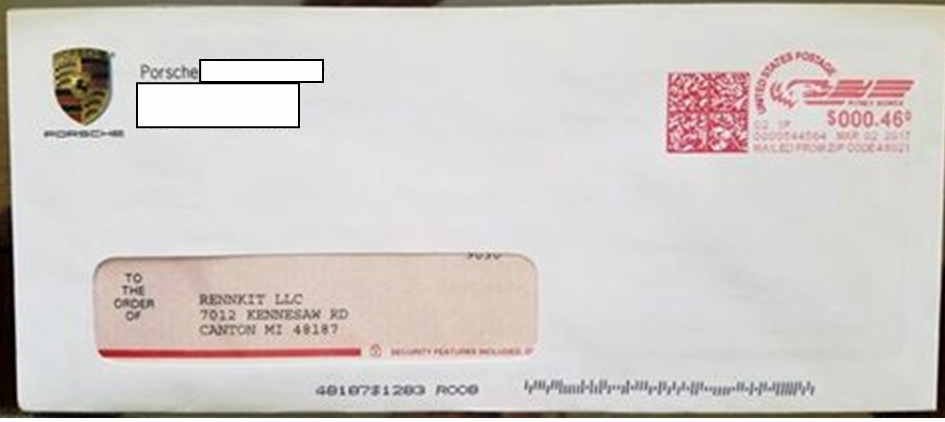 Can't say which dealer, as it may be "verboten", but a Porsche® dealer reached out to us for an eRam Kit™ on a 997 Turbo with a broken wing.  Confirmation that the eRam Kit™ is undeniably better than the factory wing mechanism!  (We have sent several kits to Porsche® dealers since.)
---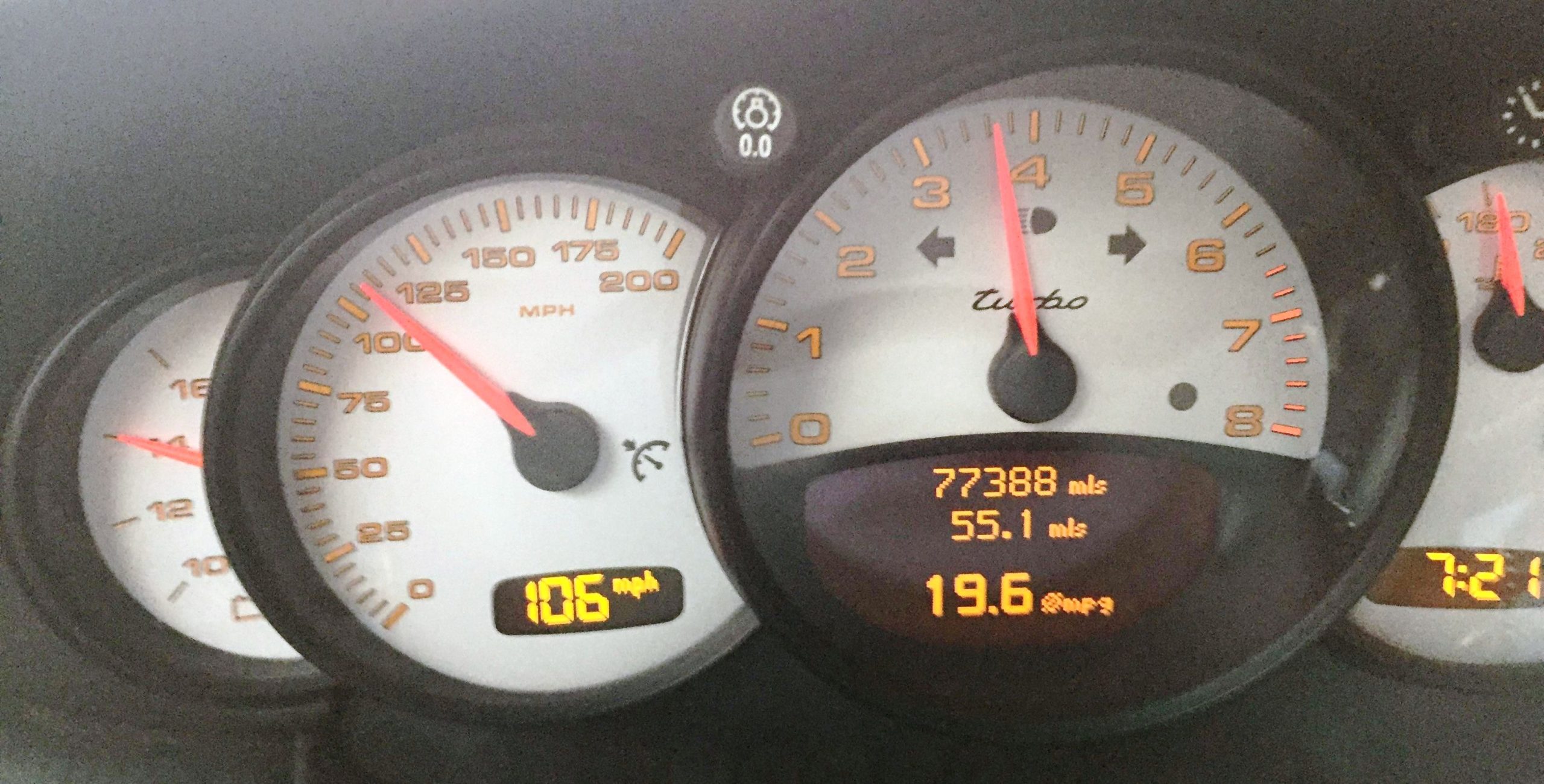 Gotta Love This Note: "Spoiler went up  Spoiler went down  No lights  All good  Thanks  It's been a pleasure (and painless) doing business with you and your company… I will definitely pass the word… Thanks for everything Dave Regards, Rich"
The above note and the speed Rich hit to test his new 4″ SuperFast Version™ eRam Kit™ says it all!
---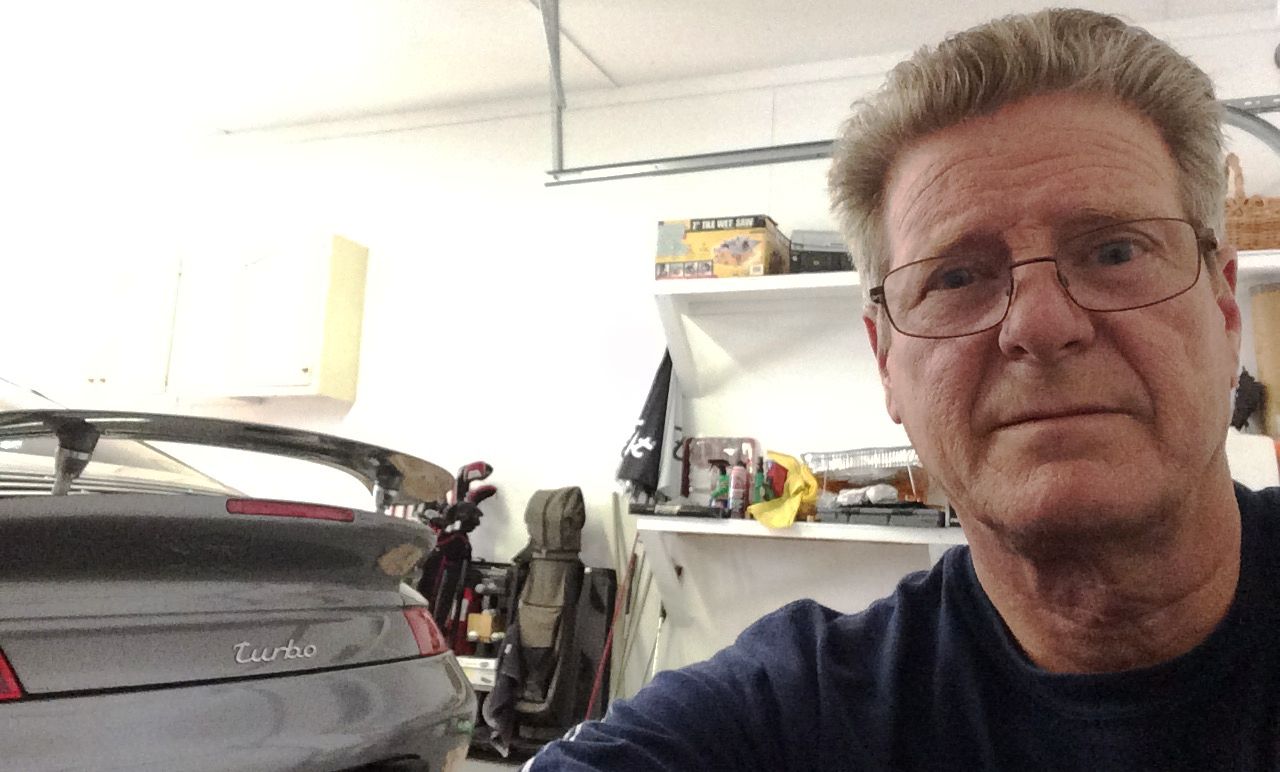 Alabama Turbo "I saw your ad in Panorama. Completed installing my Rennkit eRam set this morning. Took me about 3 hours, and went very smooth. Thanks for this product and a great set of instructions! ANTHONY"
We send many an eRam Kit™ down south.  Seems the year around heat cooks the weak hydraulic mechanism even faster.  Anthony did a nice job on his 4″ eRam Kit™ install.
---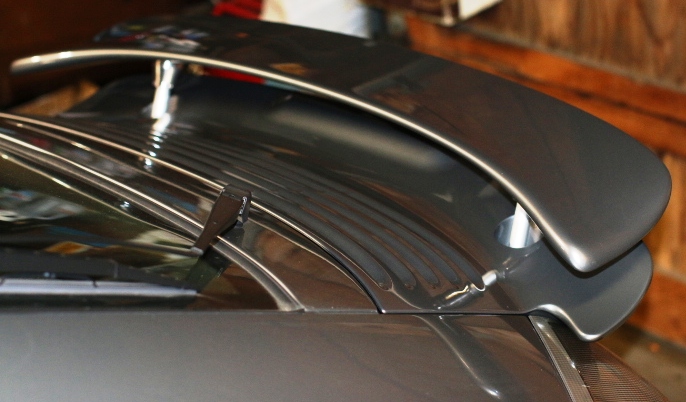 Tommy's Turbo "Hi Dave, thanks for being so quick with everything. Kit installed and is a beauty." he also posted in a popular online forum:  "eRams installed. Dave's kit and service are first class!"
Tommy upgraded to a 3″ eRam kit with Dust & Moisture Boots on his silver 997 turbo.
---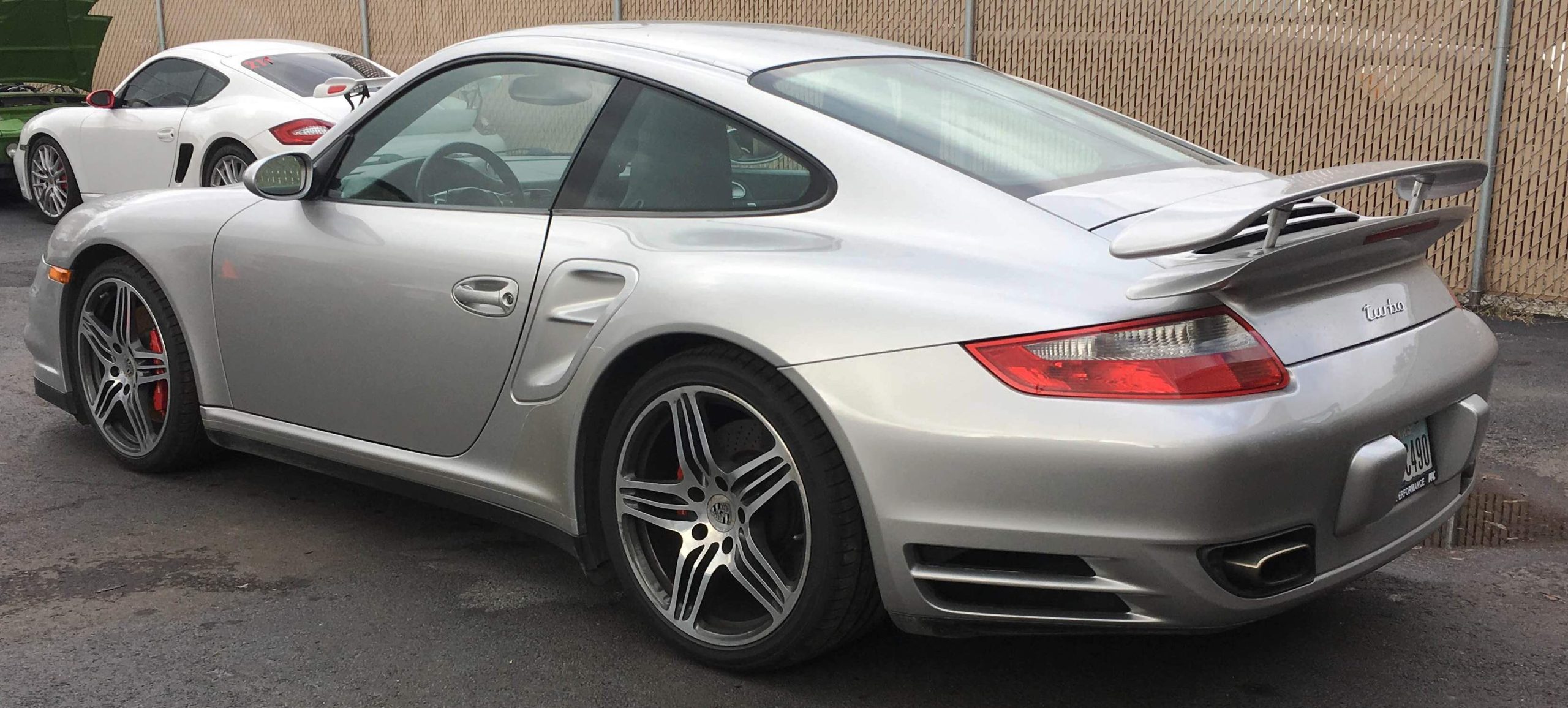 First eRam Install for Modern Aircooled – One of our Preferred Shops
"Everything worked out great.  Makes such a difference raising the wing an extra inch. This 997 turbo was repaired using the Rennkit eRams, a product we are proud to sell and install as the only sensible option to replace failing hydraulic units. #porsche #turbo #rennkit #erams #houston #texas #mezger #modernaircooled"
The 3″ eRam Kit™ just looks right on this customer's silver 997 turbo.
---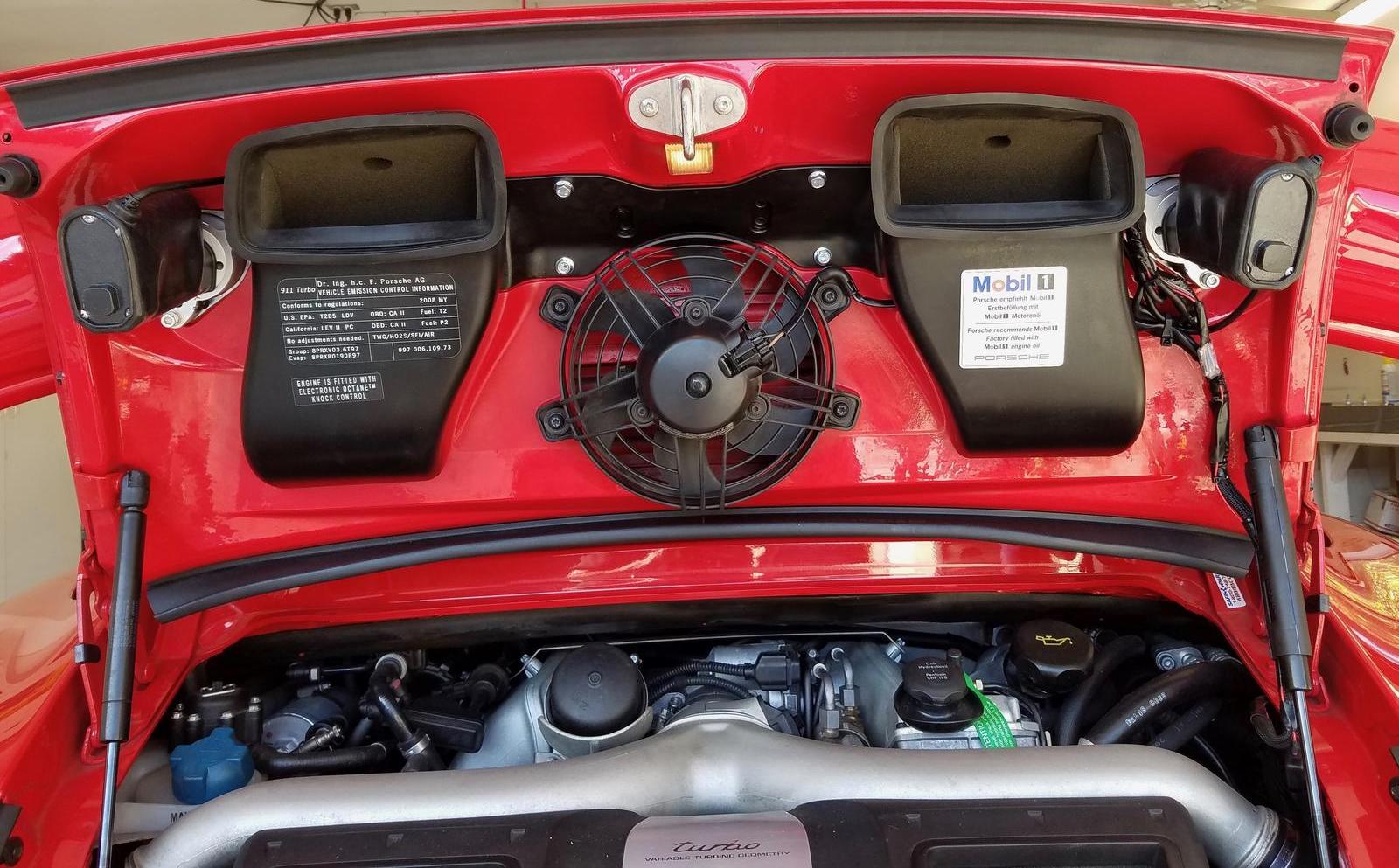 Fantastic Review on Rennlist: "OK, the 3" eRam is in!  90 minutes start to finish. Working perfectly… when it comes to written instructions (I couldn't put my grandson's Big Wheel together if it didn't have pictures). This was easy. First test over 75 mph and up it went. At the bottom of the freeway on-ramp, down it went. No warning light. Something Dave didn't mention; it's lighter than the OEM hydraulics! My OEM system was leaking from multiple places. Fluid was everywhere. It took me almost as much time to clean up the paint damaging hydraulic fluid as it did to install the kit. VERY happy to get that hydraulic unit out of there."
Craig should be our marketing manager!  He admits he has issues following instructions – but not Rennkit's illustrated step by step instructions! Craig installed a SuperFast Version™ 3" eRam Kit™ with Dust & Moisture Boots in his Guards Red 997 turbo without issue.
---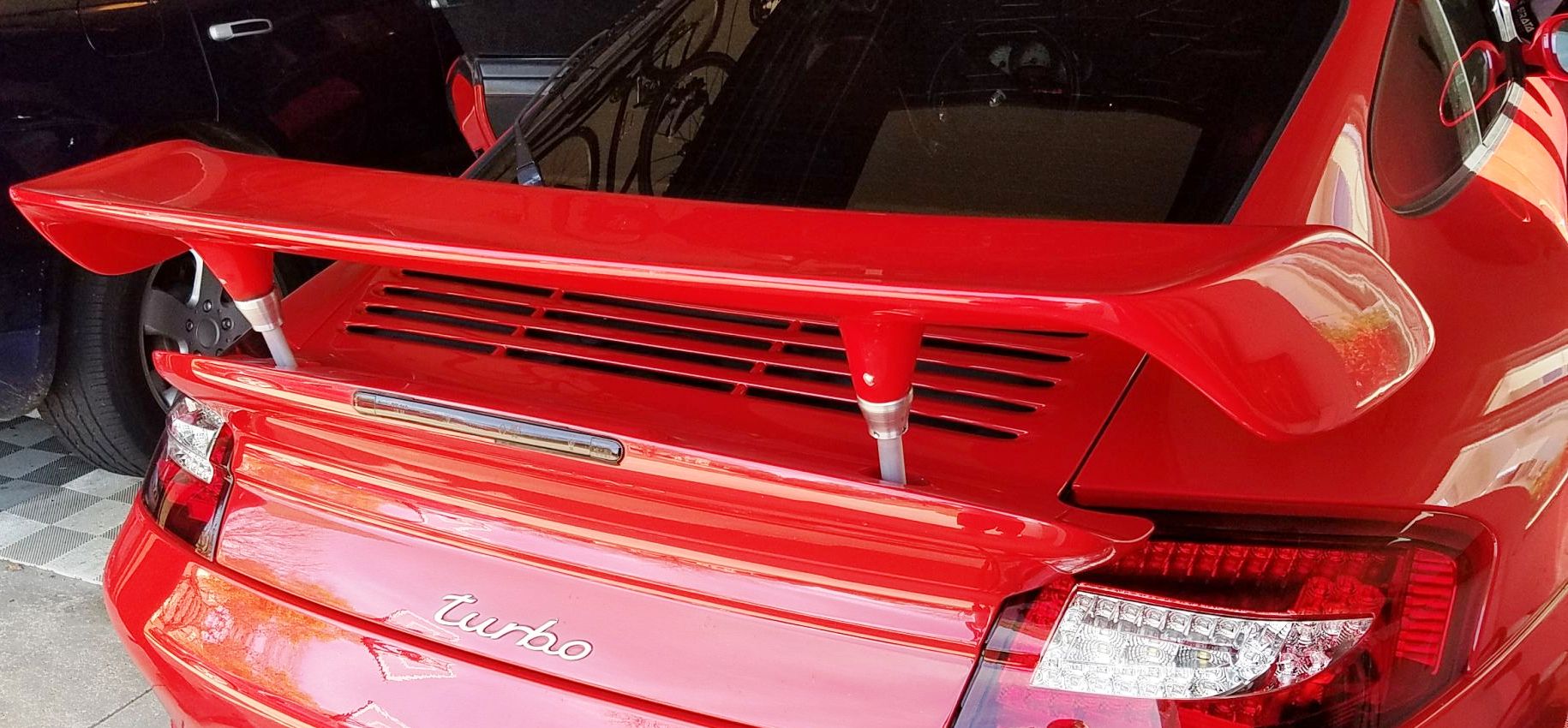 Spicy KC Barbecue Sauce… "I think the eRams are a good value… I got the full monty – 4" raised height, SuperFast speed deployment, and Dust & Moisture boots (and) special tool. The installation process is a simple enough DIY.  These things really are freakin' cool… I'll never again have to look at that stupid spoiler warning light… the craftsmanship of the product is beautiful… buying this product, I didn't just repair my car – I improved it. The eRams allowed me not only to permanently fix the spoiler, but also to improve that system for a little over half that cost. Bottom line: money well spent. No doubt. No remorse. Ordering was easy. The www.rennkit.com website is user friendly. Plenty of info on the website. About an hour after ordering, on a Sunday, I had a personal email back from Dave thanking me for the order. The package was shipped the next day and I received it two days later. Perfect."
Jeff (our good friend from Kansas City) has a spicy Guards Red 996 Turbo with aftermarket Misha wing. The SuperFast 4″ eRam Kit™ gets his big wing up where it should be!  He was instrumental in setting up/promoting a new forum known as 996Outpost.  Check it out and say HI.
---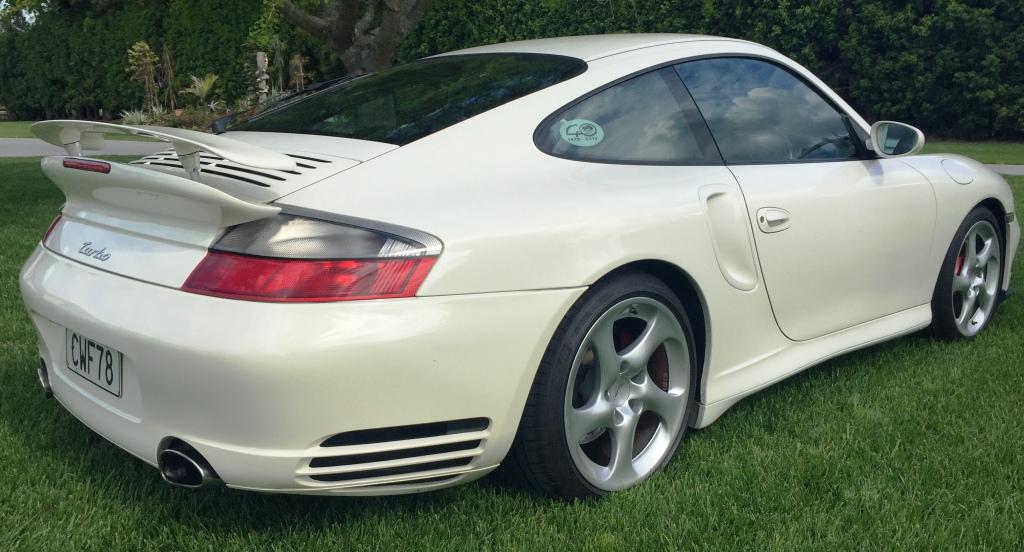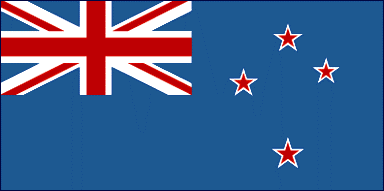 Great White in New Zealand…  "Finally I have had the chance to get this installed and am pleased to report that all is now sorted, as we say. Thanks for sorting out the new MicroModule, much better and easier to fit than the previous. Wing deploys as it should, happy customer. Thanks for the support, kind regards, Craig"
Craig bought the car from Pel – both on Rennlist.  Pel bought the eRam Kit™, but had not installed it.  We love white 996 Turbos – the SuperFast 3″ eRam Kit™ looks awesome!
---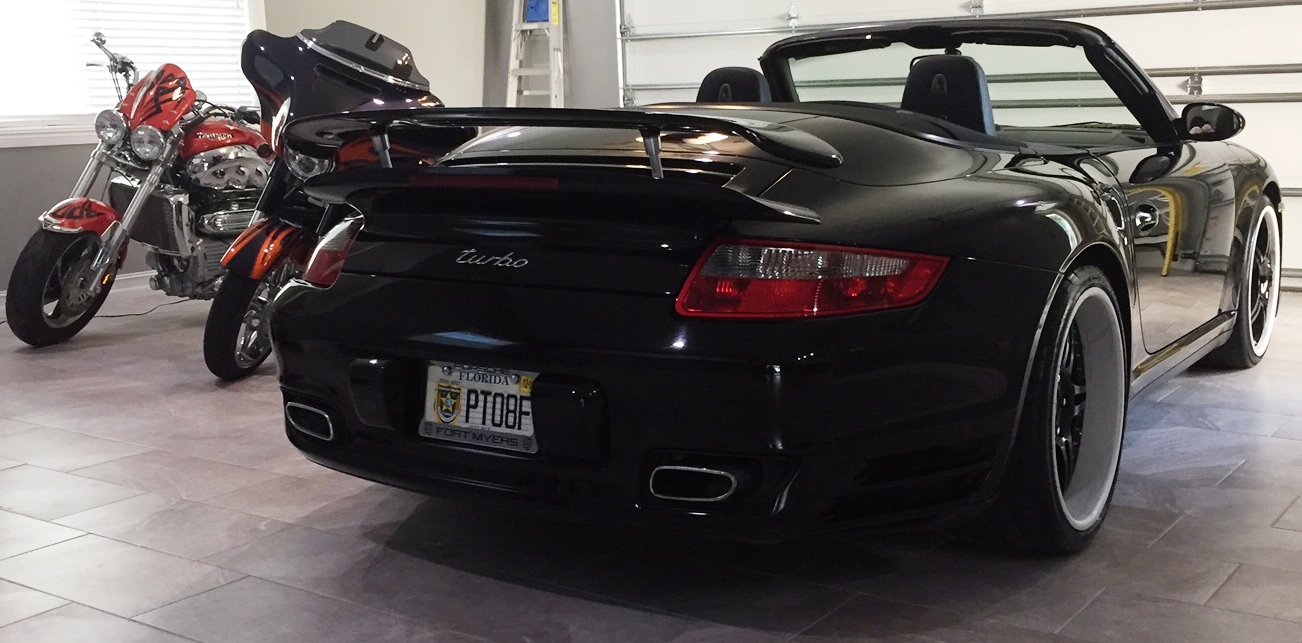 Florida Black Panther…  "It looks great and works great. The Service director is on vacation this week I will follow up with her next week to see if she would like to be listed on your site. Porsche of Fort Myers did the install for me. Wish you the best of luck!  I like the kit.  Kris"
Kris has an exceptional looking 997 turbo Cabrio.  Air flow at the back of the Cabrio is quite turbulent, so Porsche specified a taller hydraulic ram, but the 4″ eRam Kit™ puts the wing up in even cleaner air for superior downforce!
---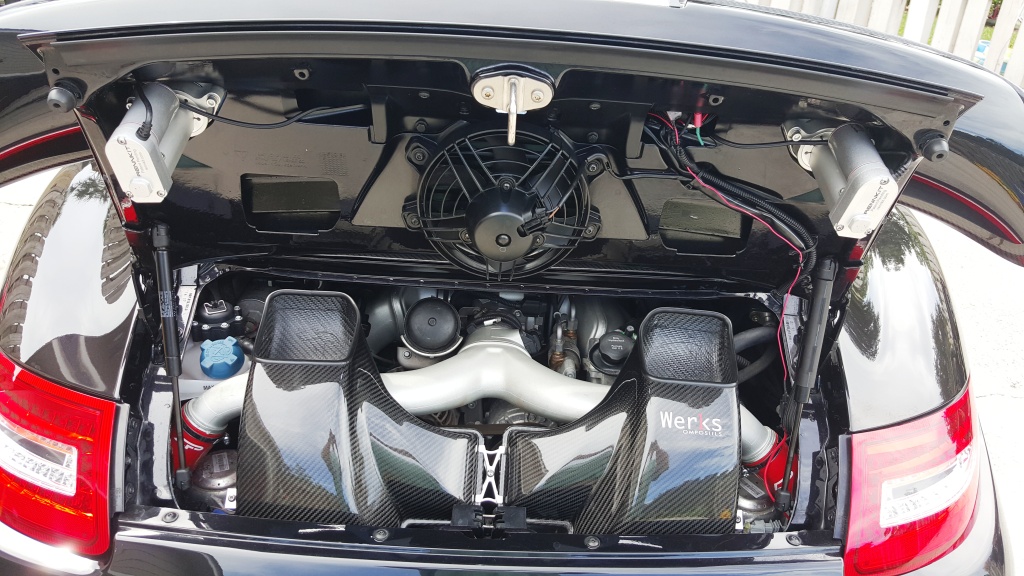 Bucky's Clean Machine   "Dave, excellent product, instructions, ease of installation, wish all of my upgrades were even 10% as thorough as yours.  Enjoyed installing it, and it looks great.  Thanks, Bucky"
That is one clean engine bay Bucky!  The eRam Kit™ looks great under this hood!
---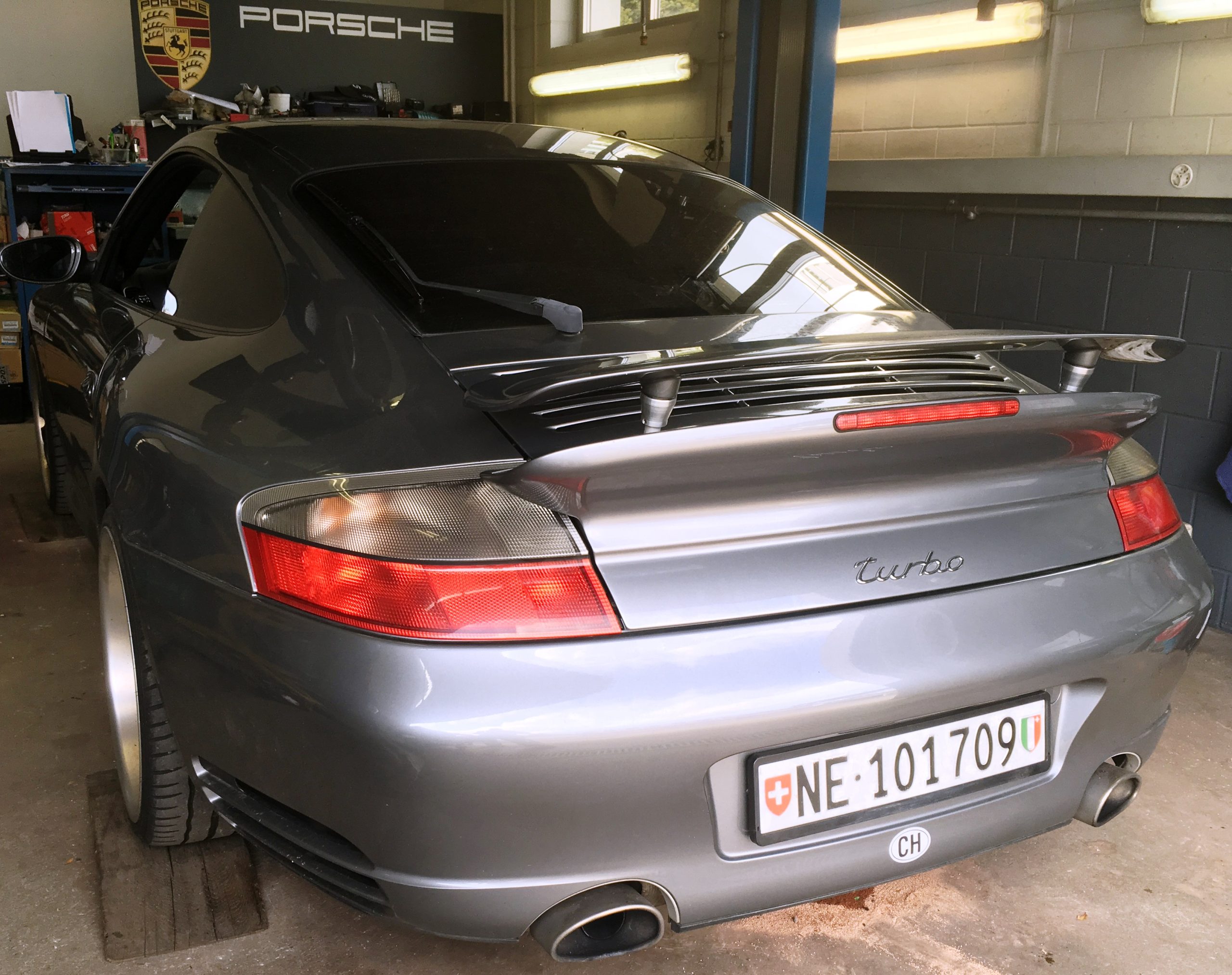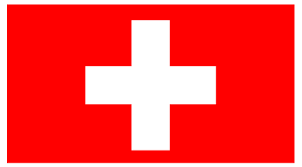 Our Newest PREFERRED SHOP in Switzerland

"Hello, Parts arrived – already gone up – 996 turbo already delivered!!! TIP TOP! Thanks, Cédric Perinetti"
Cedric is very enthusiastic about the 3″ SuperFast eRam Kit™ and Light Saver installation on a customer's 996 Turbo!  He is considering our offer to be the Swiss distributor of the eRam Kit™!
---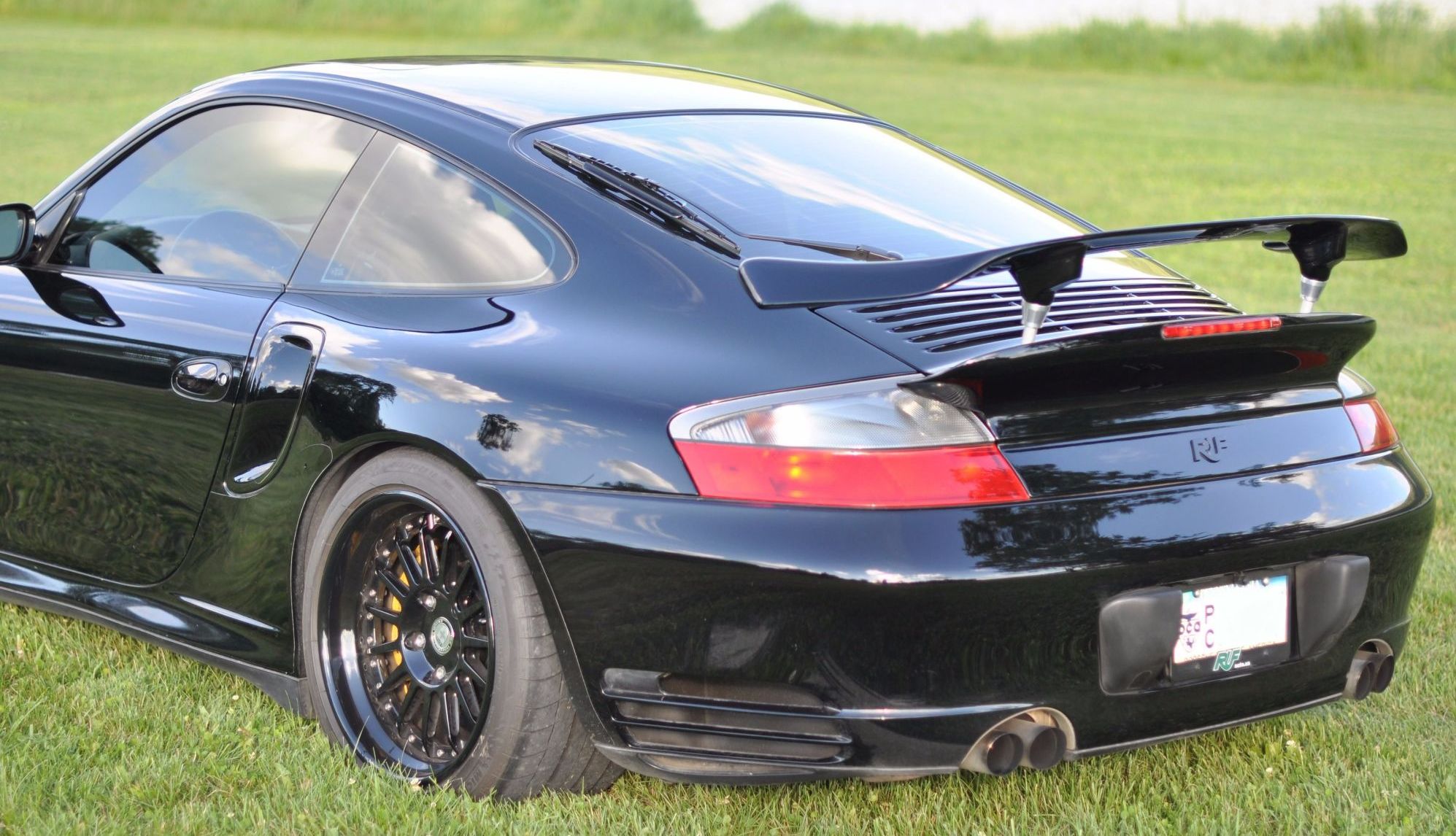 RUF RUF  "I installed a 4″ kit. The system works flawlessly when driving! No more worrying about spoiler control failures, leaky fluid, or uneven activation. Instructions were detailed and Dave was very helpful during the installation process – which went smoothly. Happy customer here – much better in my mind to have a permanent fix."
Steve has a rare and beautiful 2003 RUF RTurbo with the 4″ eRam Kit™ with Dust & Moisture Boots installed.  Many folks on the forum think the added height is a proper look for the RUF wing!
---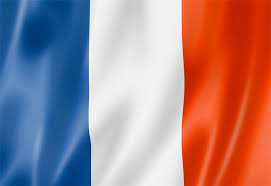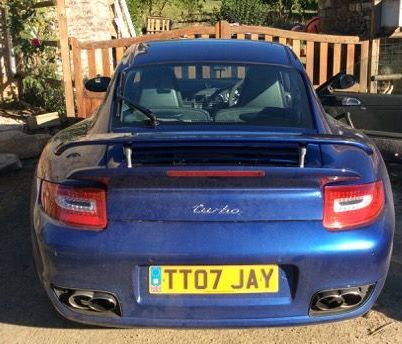 French Blue Jay – 997 Turbo
"Bought one of the first kits for the 997 turbo. All went well with the install – took about two hours. A very well put together kit, and excellent instructions. Great service from Dave and a very good product. No sign of loose rams in my kit – everything is very well made and of high quality.  Install was straightforward and the kit has worked flawlessly since. I am very pleased with the performance and have no hesitation in recommending the kit or Dave as a supplier. eRams work flawlessly and I like the additional height on the wing provided by the 4" lift.  Best regards, Jay"
Jay's 4″ SuperFast Version™ eRam Kit™ looks terrific!  Wonder if there is a drive to Le Mans planned?
---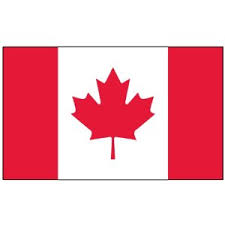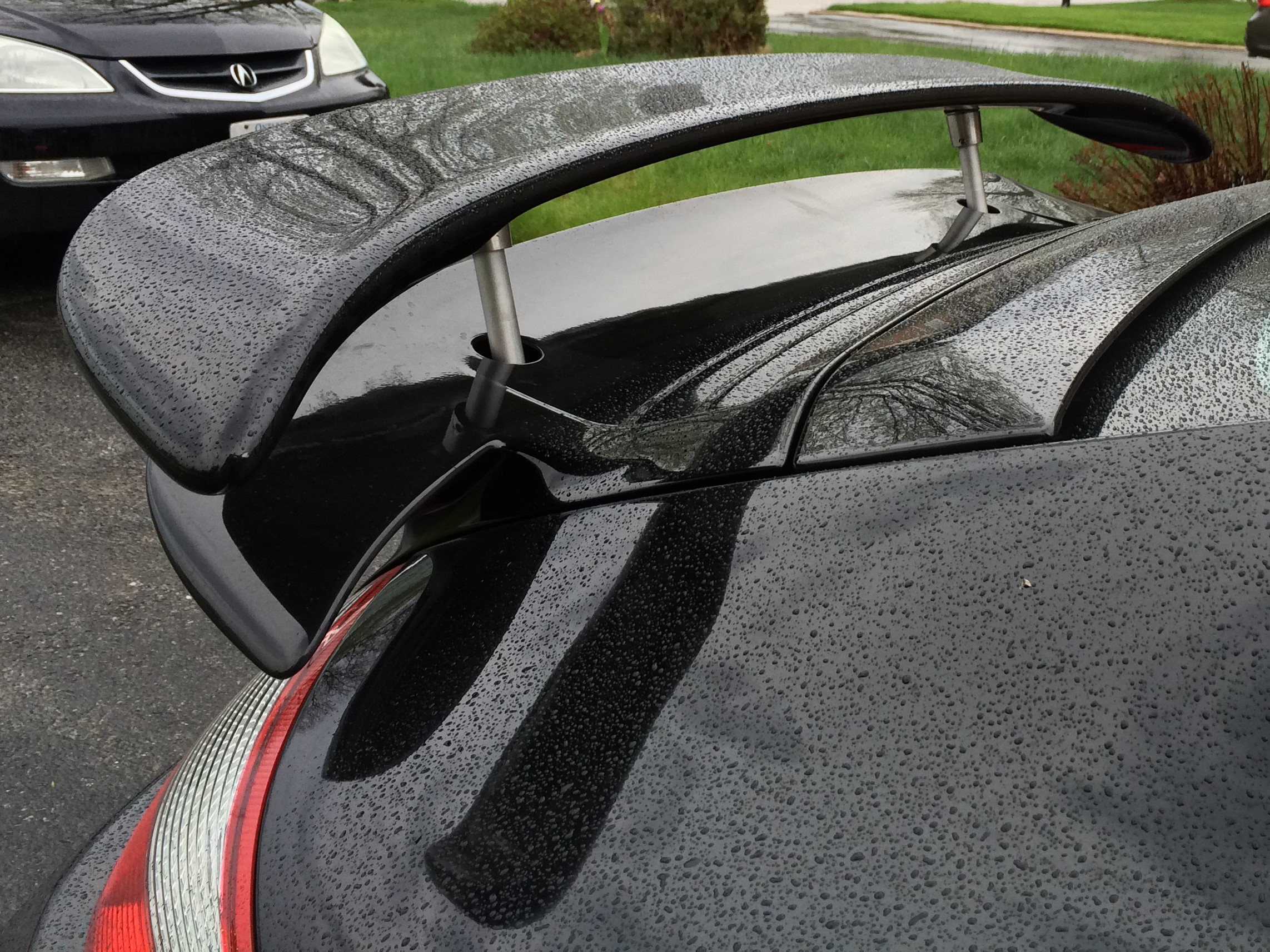 Black 997 Turbo in the Great White North…
"it is working for me with no issues.  …system is working flawlessly. Regards JF"
Jacek ordered a Custom Height 4″ SuperFast 997 Turbo eRam kit.  Lowered, the wing has the same 1.6″ gap as the stock hydraulics do when raised!  But when extended, the wing is a full 4 inches above the lid.  You can watch it in action HERE!
---

  Tim from Down-Under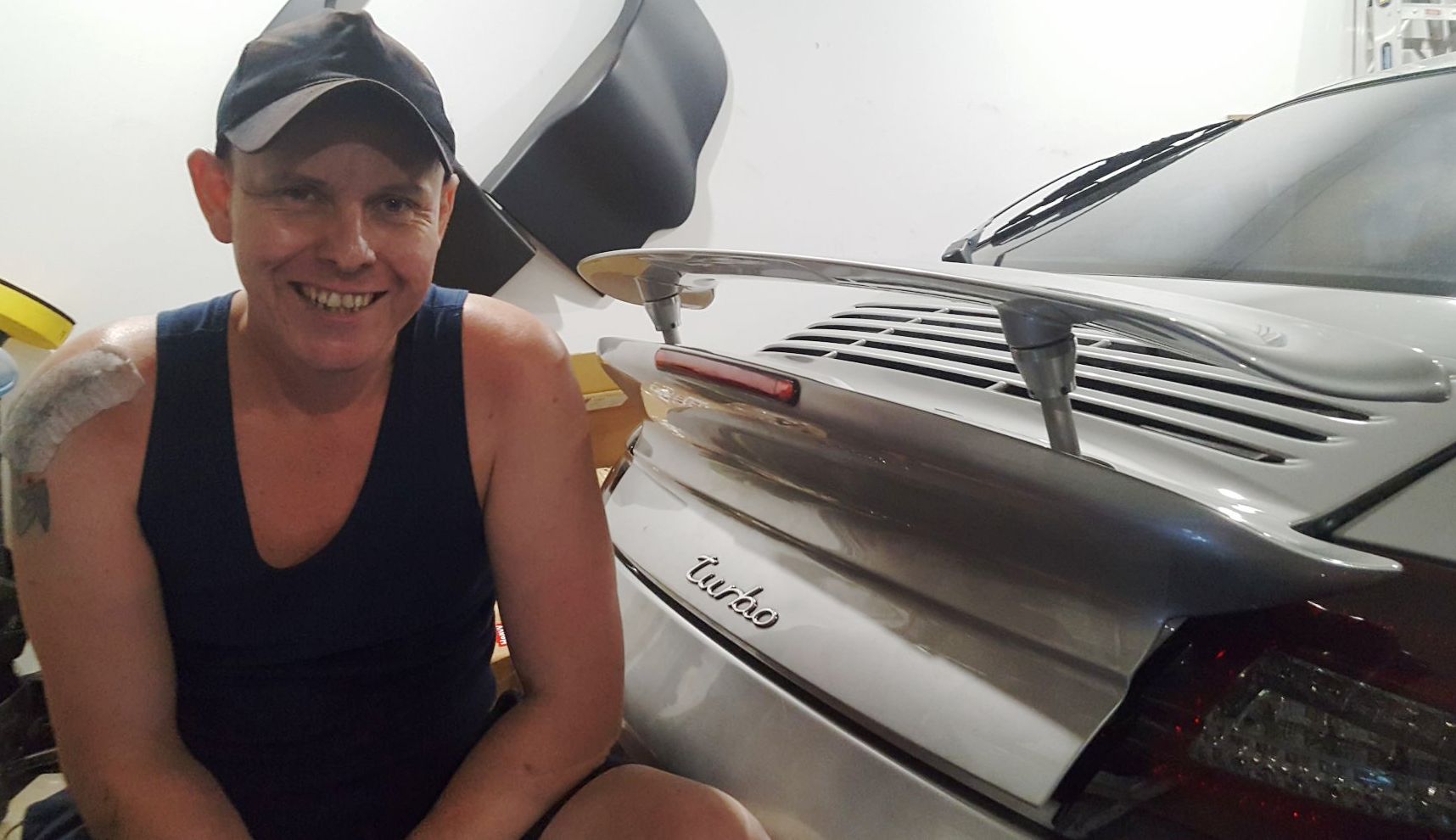 "no issues I topped 200kph today and at that speed the car is very stable – I'll take it to the track – test it over 300kph.  The rams just fit with my 3" Y pipe …I love my new eRams and the extra height they give the wing"
Tim has a 3″ custom Y-pipe.  We discussed the installation in such tight quarters and he was successful installing a 4″ SuperFast Version™ eRam Kit™ into the tiny spaces.
---
"The RennKit eRam works flawlessly. Some feedback from the mechanics: it took quite some time to remove the old parts. Installing your kit went quite easy.  Very nice, very nice! You've obviously made a great job designing and building the RennKit eRam.  Greets –Pierre"
Glad we could help you get your wing "permanently" functional again Pierre!
---

  A Passage to Bangkok…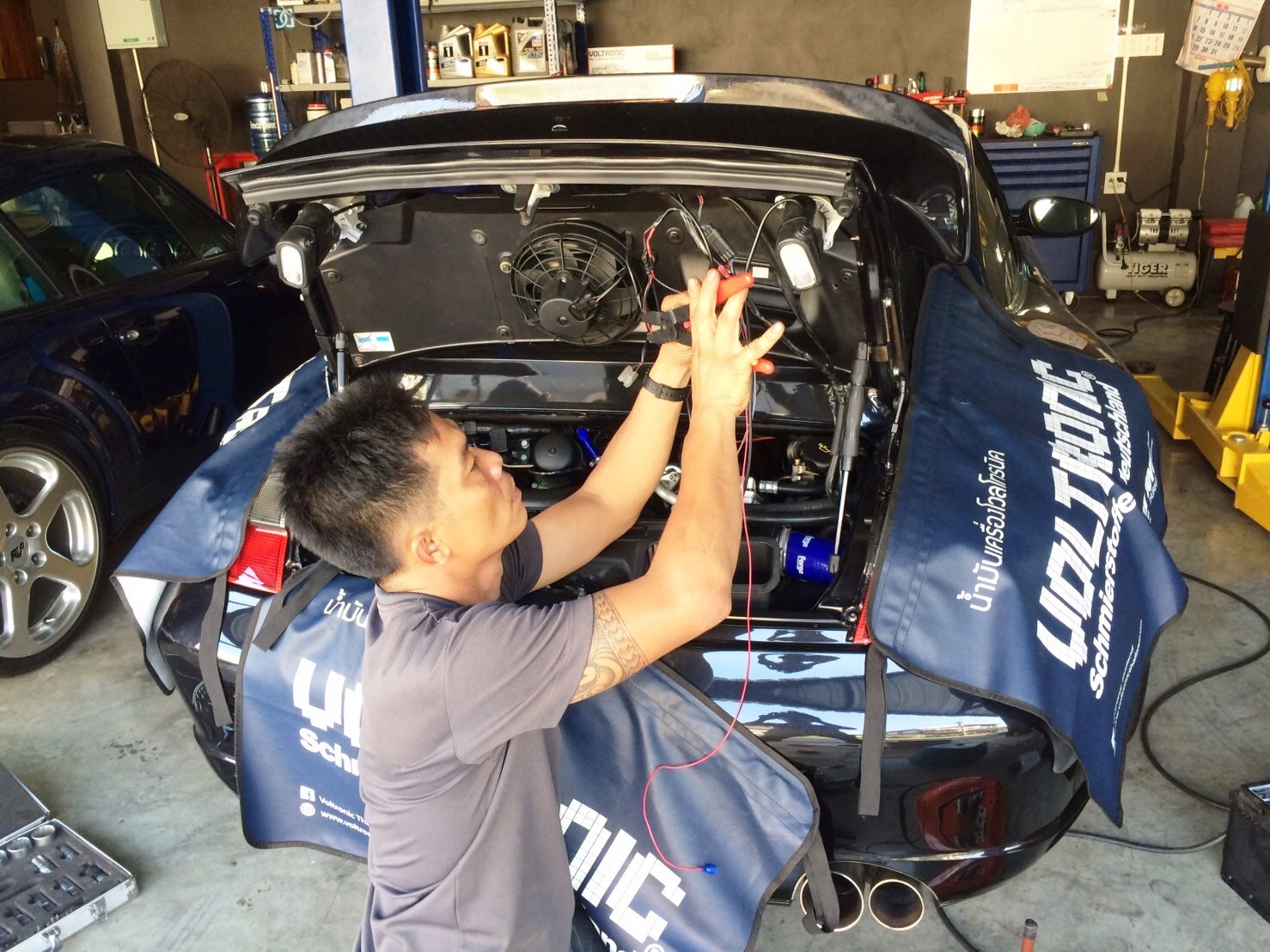 "To my huge relief, the 3-inch kit fits well with Forge Motorsports silicone hoses, and your system works just fine! We can safely say that now there is a Porsche workshop in Thailand that will breeze through the installation of the eRam kit. I made sure he read the installation manual, and even translated many parts for him."
Pun is writing an article about the eRam Kit™ for GT Porsche Thailand magazine (www.gtporschemag.com).  He also has 10,000 Instagram followers (@PUN996TT) that will see his 3″ eRam Kit™ wing kit!
---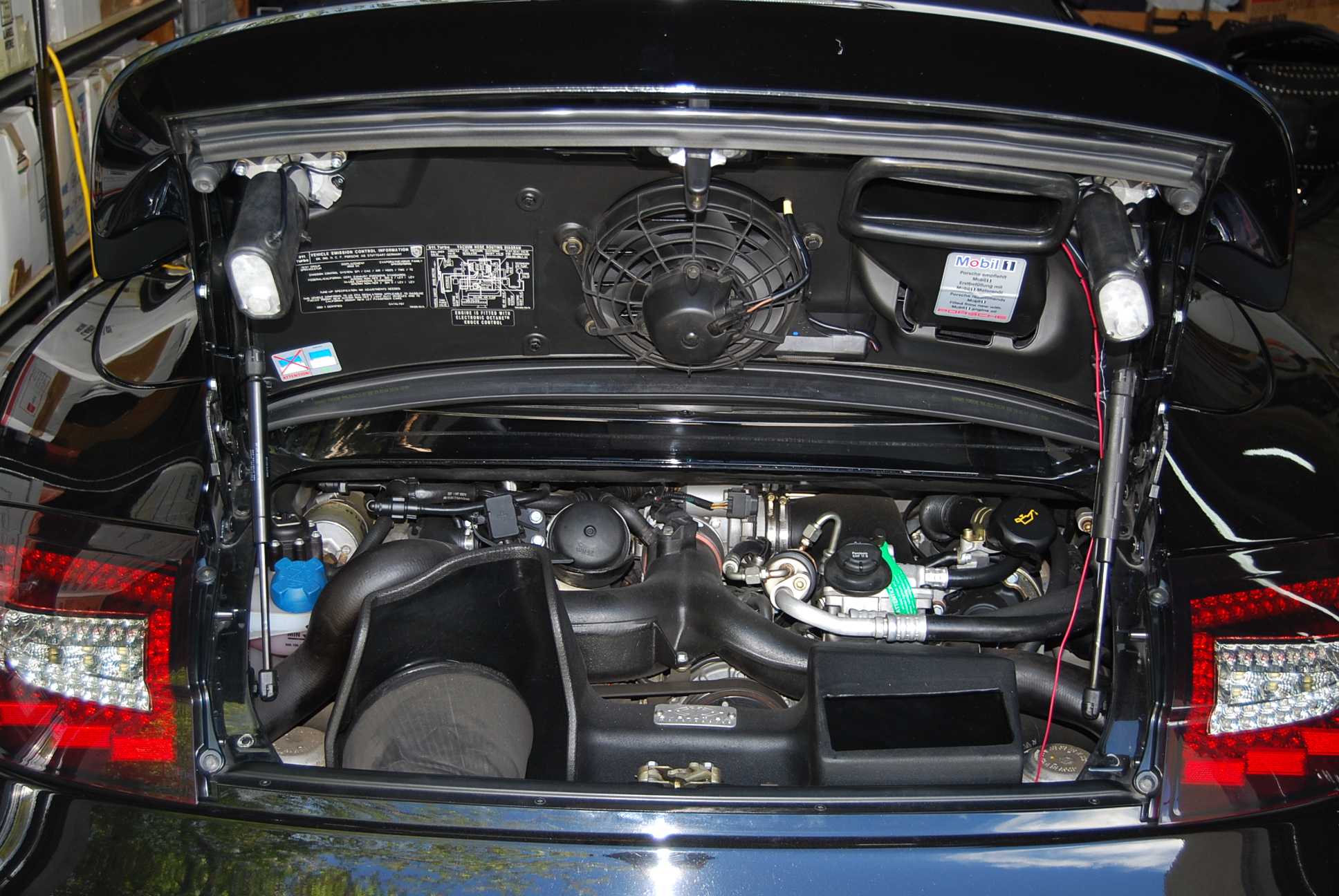 Joseph has a Big EVOMS Airbox:  "Thanks again for taking the time to discuss your product and explain how it works. As mentioned, I have an Evolution air box in my 2005 996 Turbo S and wish to ensure that your kit will fit properly upon installation…
Update: The deck lid opens and closes just fine, but is snug against the air box. Certainly not tight enough where you need to force anything. With the rubber boot, it gently grazes the box, but again, no force, so I am not worried about it…"
We worked closely with Joseph to ensure his 4″ SuperFast Version™ eRam Kit™ would fit with the BIG airbox on his rare Turbo S.  Now he has a high wing lift along with a big airbox!
---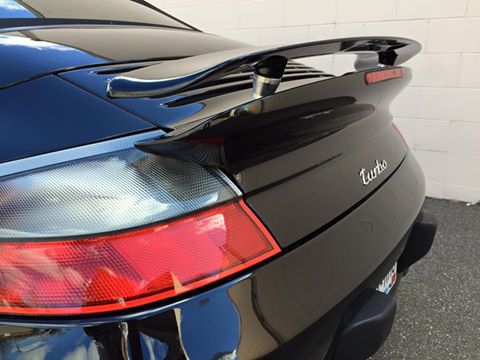 Bjorn with Broadway Auto Tech, a RennKit™ Preferred Install Shop:  "Just installed our first kit and it is great. Fit and finish are perfect. Thanks Dave, can't wait for more…The RennKit eRam kit is very high quality, looks great and is a breeze to install. We will definitely be recommending these to our customers from here on out."  
Thanks Bjorn – Nice looking
2″ eRam Kit™ 
install, Bjorn's preferred shop is in the Minneapolis-St.Paul MN area.  You can find it
here
.
---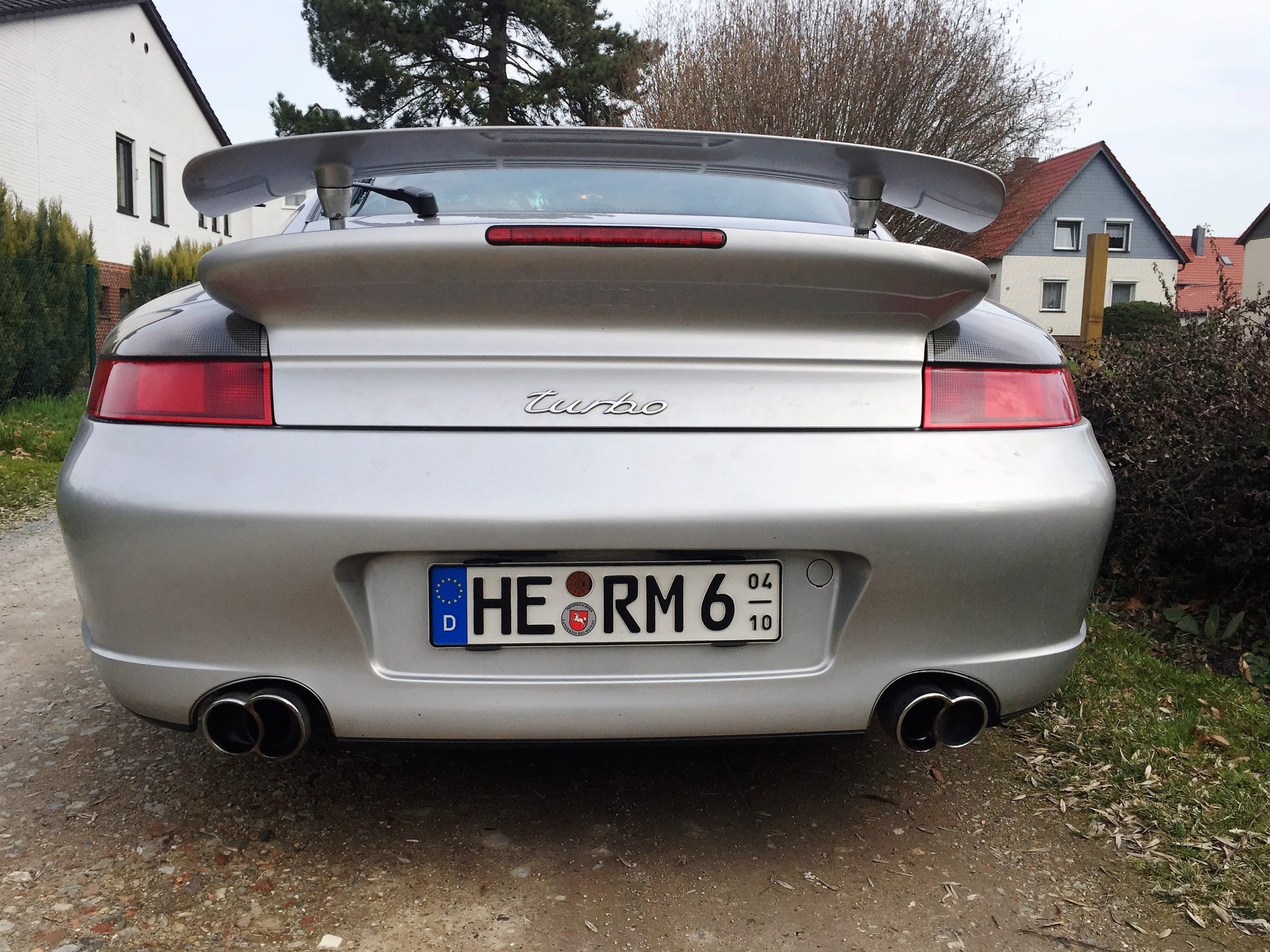 Henric – Our First German Customer!
"Ein Super System was endlich ohne Ölllecks und Fehlermeldungen funktioniert. Durch das höhere  rausfahren des Spoilers sieht es noch sportlicher aus.  Die original Turbo Optik wird nicht gestört!"
Henric is busy promoting his (4″) 200mm SuperFast Version™ eRam Kit™in Germany for us – Danke Henric!

---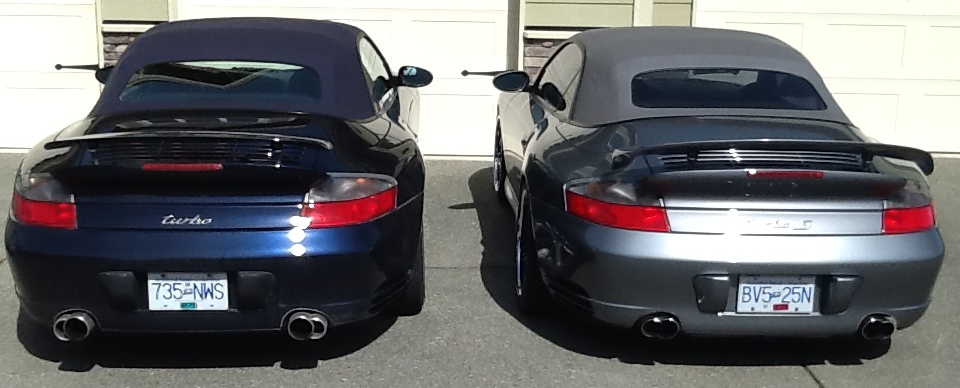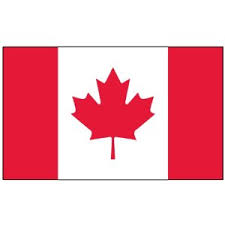 Michael has TWO 996 Turbos – BOTH with eRam kits!
"First kit fitted and for the first time the rear wing is operational. Lovely design and workmanship on these kits together with extremely user friendly instructions. I have no mechanical aptitude but was able to follow the installation manual and successfully install the system. Second kit fitted with no issues. Again, worked first time. 4 inch eRams and whatever anyone says, size does matter!  eRams both deploy as they should.
Had the old OEM unit on the bench and bled and filled it. They now work, ready for the next owner, if they want the original system. I have no desire to refit the stuff to my car.  Thanks again Dave."
Michael lives in Victoria, BC, Canada – a favorite destination for us!  We certainly appreciate him upgrading BOTH factory hydraulic systems to the eRam Kit™ on his "twin Turbos".
---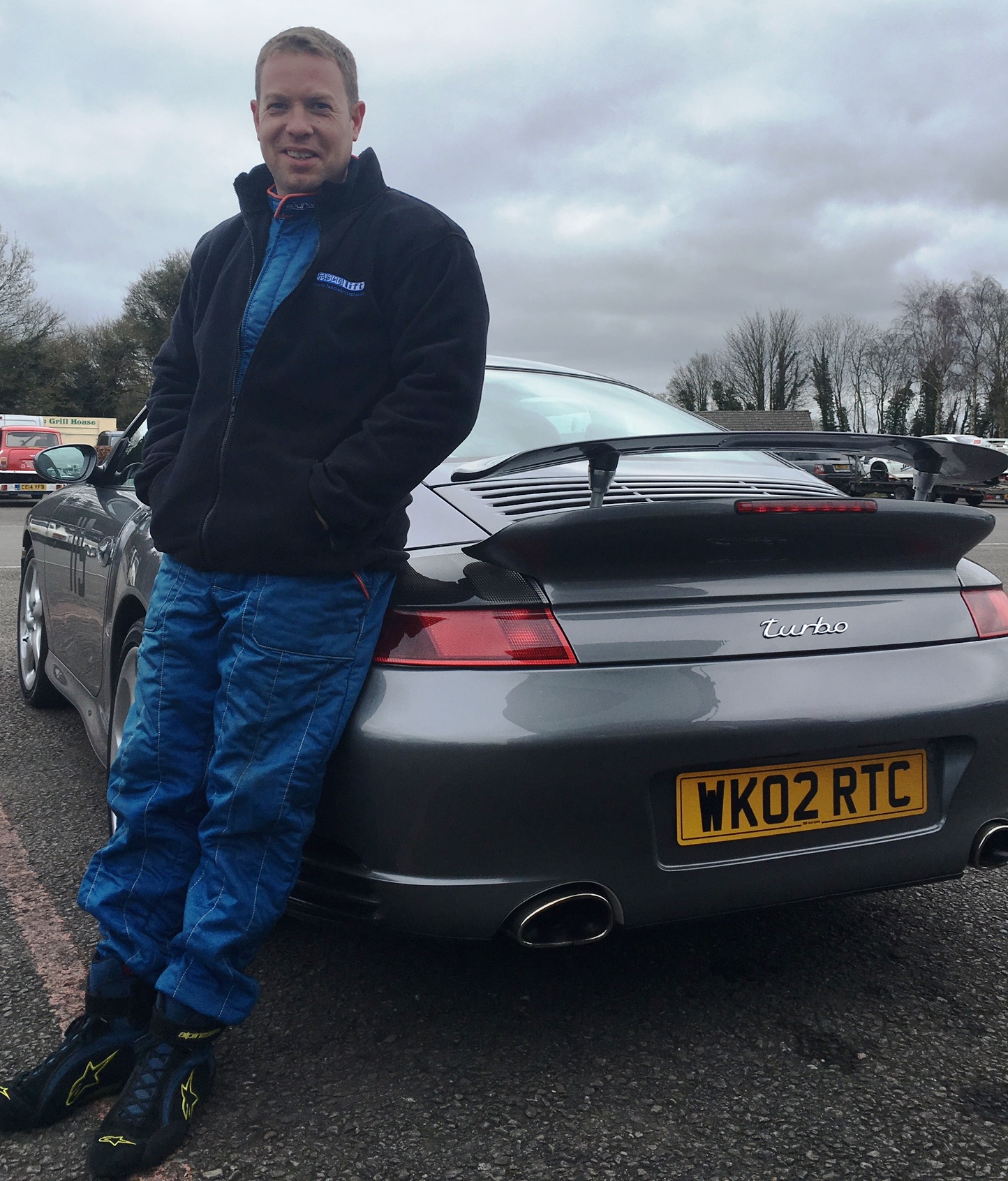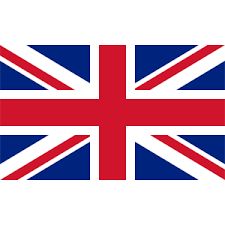 Matthew in the UK – Took a class win and set a new class record!
"Got eRams today, fitted the system with no problems, took for a test run and all good!  Doing a competitive sprint at my local track castle Combe which should be a good test.  Thank you for your service.
I am very pleased with how the new eRam kit performed on the track, got a class win and set a new class record! The fitting of the system went smoothly after studying the clear instructions provided, overall very happy with it. Well done!
Thanks Matt"
Thank you Matt!  Congrats on your class win and record!  Happy that your new 4″ SuperFast Version™ eRam Kit™system helps with your track carving work!
---
The first 997 Turbo eRam kit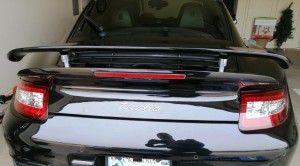 "This is a great kit. Dave has spent a lot of time refining it making sure that things fit properly. What I like is that the eRam design keeps all of the OEM functionality without worrying about leaks. The construction and parts used are top grade, you can tell there was a lot of thought behind longevity and simplicity… from start to finish it should take no more than 2 hours, or less.
My car has 22k miles and never had any issues with OEM hydraulics failing or leaking. What I saw was someone very passionate about the 996/997 turbo platform, and I wanted to help out. Dave doesn't mess around with something unless it is done right, and I appreciate that.  If anyone is thinking about this kit, I wouldn't hesitate. I consider this an investment much like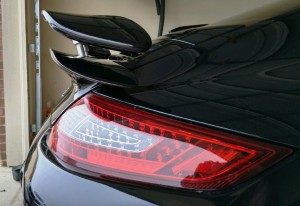 the coolant pipe fix."
Rob was Rennkit's first 997 Turbo 3″ SuperFast Version™ eRam Kit™ Beta Tester.  He worked with us on refining a few parts, to get them just right.  Kudos to Rob for installing the FIRST 997 Turbo eRam Kit™and working through some design changes with us.  Rob has had his car up to 200 MPH with his 3″ eRam Kit™ (!!!)
---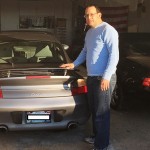 Alberto has a 2 Porsche® Garage!  "I installed the eRams on my car today. The install went well, the eRams went up and down correctly…they have been working great.  you have a great product that will only grow in demand as time goes on and the OEM systems continue to fail."
We couldn't have said it better Alberto!  He has a tall 4″ eRam Kit™ for his 996 turbo.  Looks like another "2 Porsche® garage!"
---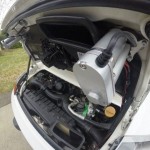 Matt has a white Turbo:  "Success!!!  Perfect fit, perfect operation. Took for a quick test drive and it worked perfectly – up at 75 and down at 35."
Matt opted for the 4″ SuperFast eRam Kit™.  He installed it himself, with a bit of our help along the way.
---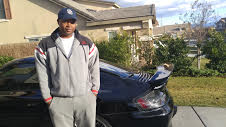 Leton has a sweet Turbo:  "Can not thank Dave enough for coming up with this eRam kit, I have been without my wing for about 6 months and now it's finally back. Customer service was A+ and he even talked me through the steps I did not understand, whenever I drive my car I get plenty of thumbs up. This is the way Porsche should have done it from the begining. I'm one happy customer."
Leton is from California and in the armed forces.  He opted for the 4″ eRam Kit™ with Dust & Moisture Boots to protect his investment.  We worked through a glitch and got him operational in no time!
---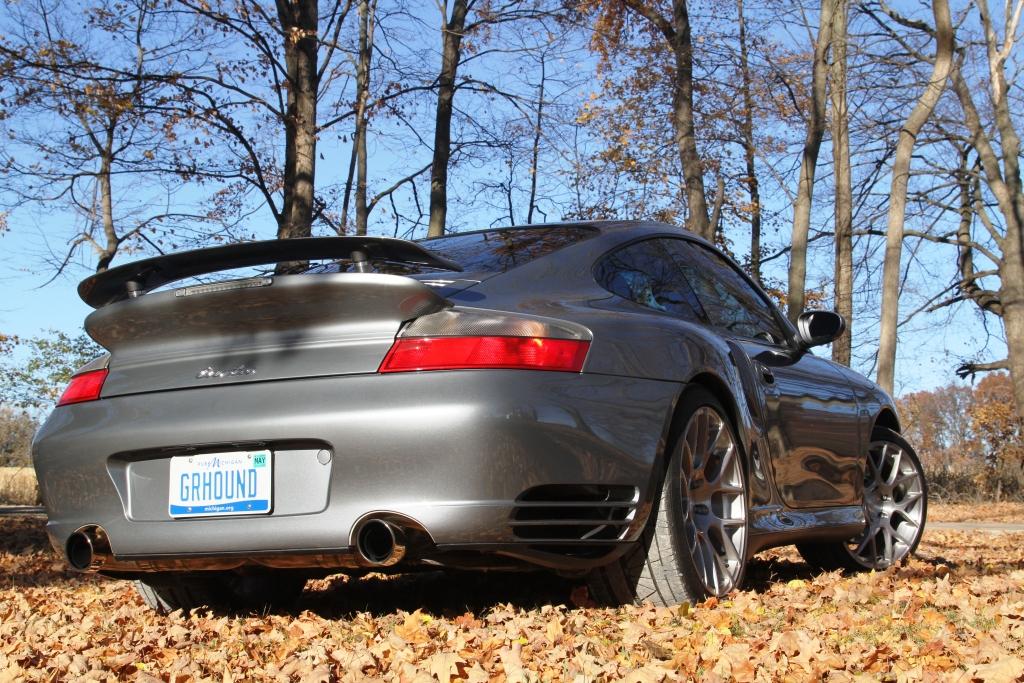 I installed Jon's kit while he took pictures:  "I wanted a permanent fix for the wing, but based on the web boards going back to the OEM parts was NOT the answer.  Dave's kit offers an engineered solution that is simple and easy to DIY.  After installing the "brains" it has performed flawlessly with no error codes whatsoever.   My car now has its signature piece back (an operational wing), which is one of the reason that I bought the car in the first place.  Thank you Dave for allowing me to be a beta tester."
Jon is a beta tester and took many pictures while I installed his 3″ eRam Kit™ in my garage.
---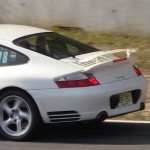 Carlo from NJ has a tasty white Turbo that he tracks (he also has a sweet 356C):  "Installed it today. Just got back from a test drive and it is all good, very very good. I mounted the electronic box in same place the OEM hydraulic pump was. I have say I am extremely impressed with the quality of your design and manufacturing. The unit is damn near a work of art with the way you squeezed it into the space of the OEM system and the fit of the wing in the down position is better than stock. If you do work half this good at your regular job you deserve a raise."
Update #1:  "Honestly Dave's system is so mechanically superior to the OEM it
almost makes sense to install the eRams as a way to preserve the the still functioning OEM system for a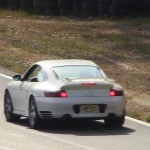 future "back to stock" retrofitting if the car is sold. So far mine has worked flawlessly. I am heading to the track next week so that will be a big test."
Update #2:  "The eRams performed flawlessly for three hard days at Palmer Motorsports Park and the system continues to work without a single issue."
Carlo is a great customer and Rennkit™ supporter.  He has the 4″ eRam Kit™ for his tasty white 996 Turbo.
---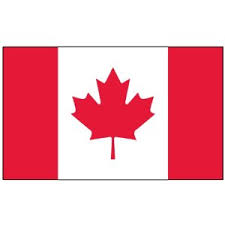 John from Ontario, Canada  "Just installed the kit! Absolutely amazing! I've had the car for 2 years and it's the first time the spoiler has actually deployed! This has to be the best mod ever! Excellent fit! Smooth operation and install was a snap, even for the mechanically and electronically challenged!"  
John bought the first eRam Kit™ sold in Canada.  He went with 4″ SuperFast Version™ eRam Kit™.
---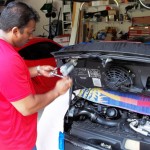 Michael in MI – a friend from our local PCA club  
"This is how Porsche should have done it."
What a great quote, and what we've been saying all along!  Mike is a fellow PCA Rally Sport member, and bought the first 2″ eRam kit, we installed it on his black '01 Turbo at my house.
---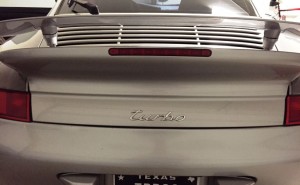 Brad from TX – #1:  "Got the package today, looks great. Should be a pretty straight forward installation. Thanks sir!"
Brad is Beta Tester #1 and received our first eRam kit shipment. He was also the first to install a 4″ eRam kit without me doing it.  We worked through a couple of bugs together – but always got him going.
---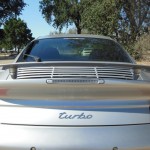 Joe in CA came up with a great idea:  "The installation itself went quite well and was fairly straight forward. Installation only took about 20 minutes. I did not feel any of your instructions were difficult to understand. The step by step format with pictures is most helpful and any person with a little DIY experience should have a fairly easy time. I was pleasantly surprised at its speed to deploy."
As a very early beta tester, Joe has been very helpful with suggestions after purchasing a 3″ eRam kit and has been a pleasure to work with.
---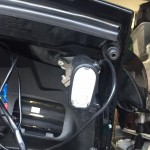 Christopher from FL loves his eRam set:  "Amazing job! This is great. I will tell you that the install went very well and very smoothly. (note; Chris installed the kit without reading the instructions) If I had the instructions open during the process, it would take an hour or less."  Update:  "I must give KUDOS to David. I have been Beta testing the 4" eRam's for him since the end of March. They have worked flawlessly. The install is very straight forward, as is the wiring (JUST READ HIS DIRECTIONS AND FOLLOW THEM).  Everyone who see's the car with the wing up either just says it looks amazing, or if they know these cars they ask which wing that is. Just having the factory "bad higher" makes them think it is a different wing.
I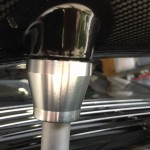 t really does transform the car for me. Now it works like it was suppose to, only better, and it looks amazing. David has been wonderful to work with too, and the hours he put into this, especially the logic/wiring side, has been truly spectacular. The only issue I had was purely self induced….I did not read his directions carefully (I skimmed them, they are VERY clear)."
Christopher has been quite helpful, purchasing a 4″ eRam kit with the Dust & Moisture boots.  He recently bought 4″ SuperFast rams to replace his standard speed rams. Another great person and customer!
---
Keith in SC was a beta tester:  Had his kit installed by an independent shop:  "Just got home with my new to me turbo. Thanks again, look forward to further updates!  Thanks for all the hard work. this is a great idea. Good luck  Congrats on filing for the patent, very happy for you. I went with your kit for a couple of reasons. First, I prefer to support entrepreneurs who try to be creative and develop products that outperform the factory offering."
Keith was a beta tester of the 3″ eRam set.
---
Don from FL was the 1st "Early Adopter":  "Mission accomplished!! The install went very smooth and the spoiler works great.  My attorney has 997 with a faulty spoiler.  Can I inform him about the kit?  The instructions are very precise and the diagrams very helpful. I would not change a thing. Thank you for a well-engineered product."
Don was the first "early adopter buying a 3″ eRam system.  Sparked the initiative to design a 997 TT eRam kit!
---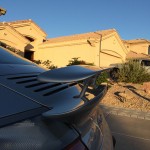 Wei in AZ:  "I successfully installed the electric spoiler rams today. Thank you for inventing electrical spoiler rams."
Wei's 4″ eRam kit is shown.
---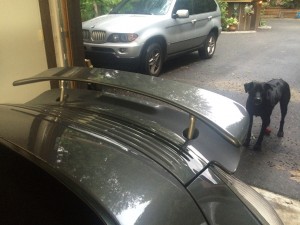 John in WA – tracks his Turbo:  "Got the kit Friday and installed it Friday night. …got to tell you I love the kit. Very happy with all aspects. Can't wait to test out at the track early October. Thanks again!!!"
John went all the way with a top of the line 4″ eRam kit with SuperFast option and Dust & Moisture Boots, he also tracks his turbo.  (Hey Black Dog!)
---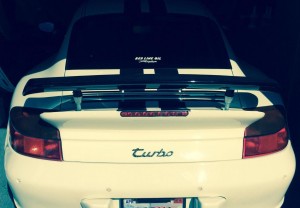 Steve from CA has an Aftermarket Wing  and texted this :  "install was ez… all is installed, works fine… it's great, thanks again"

Steve has a highly customized 996 Turbo with an aftermarket wing with his 4″ eRams.
---
This site is in no way associated with Porsche Cars North America, Inc.
Porsche is a registered trademark of Dr. Ing. h.c. F. Porsche AG.