BTR-2 "Bluetooth-Retrofit"™ Kit
For 996.1 (911) MK I Turbo – Carrera – C4S – C4 – Targa and 986.1 MK I Boxster era vehicles. The idea is simple, include EVERYTHING in a kit to make the installation DIY simple and provide functionality of streaming or taking calls via Bluetooth while charging your smart phone.  No cords or chargers – powers up when you turn the key on!  For 1997 – 2002 era factory head units. Perfect for enthusiasts who don't want to add an aftermarket head unit to stream Bluetooth – our kit retains the factory look.
NOTE:  Does NOT work with the "MOST "fiber optic units, like CDR-23 found in 2003 onward vehicles.  Remote CD player becomes inoperable.  For CR/CDR 210 head units; this device will not work unless there is a factory CD Changer in the front trunk.

Factory 996 & 997 Turbo / GT2 OEM Radio/CD/PCM Head Unit Option List, download HERE.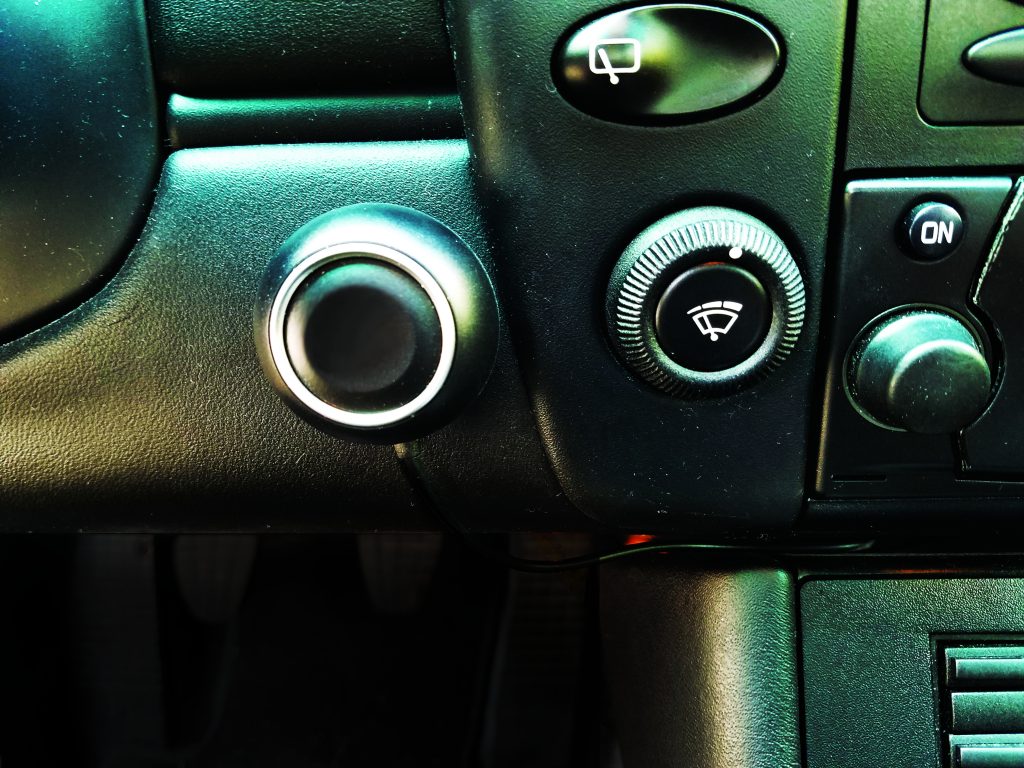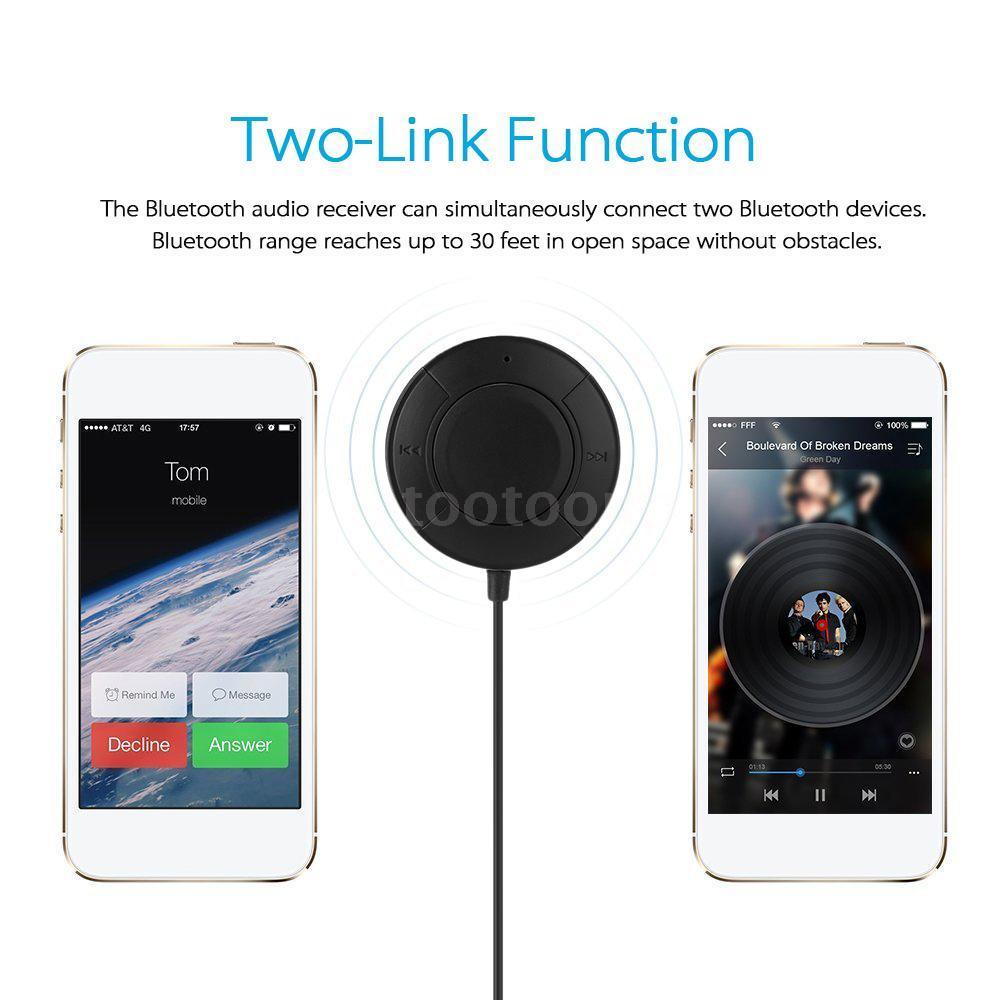 ---
Keep your factory look!
Stream music from your smart phone
Make/Take Calls – Hands Free
Separate cable to charge your smart phone
Noise Isolator – ensures quieter, static free operation
Includes Power Converter – no need to plug into cigarette lighter or recharge battery – the Bluetooth receiver is ALWAYS POWERED – ALWAYS ON
For the following head units:
Becker Traffic Pro, Mexico CD (7803, CC4325, CC4327, CD4337, CC4370)
Becker CR-22, CDR-22, CR-220, CDR-220
Becker CDR-210, CR-210 and PCM1 radios with CD Changer
For the following 1997 – 2002 (MKI) cars:
Porsche 996 (911) Carrera / C4 / Targa / Cabrio
Porsche 911 GT3
Porsche 911 Turbo / GT2
Porsche Boxster and Boxster S
Bluetooth-Retrofit™ Kit Contents:
Bluetooth Retrofit receiver and Ground Loop Noise Isolator
Transformer – No need to plug in or charge up receiver!
Connector cable with ISO plug to head unit CD port
Charging cable and adapter for iPhone, iPad, Samsung or Android smart phones
Head Unit Removal Keys
Stepped drill bit
T-taps, zip ties, Velcro, etc.
Step by Step Illustrated Installation Instructions (emailed with purchase)
Warranty:  Two year limited warranty, see bottom of www.rennkit.com/purchase for details
Installation Procedure:
Pull out radio head unit with supplied removal keys.
Optional:  Remove cubby shelf and drill a hole with supplied stepped drill bit
Route wires behind the console and secure
Connect up 2 power wires to existing wiring.
Factory head unit showing CD input (blue plug shown):

Blue plug for CD changer – for CR/CDR 210/220 head units, there must be a CD Changer in the front trunk.
If you have a single disc head unit CD player – the CD player will work, switch to the AUX function for BT.
If you have a remote multi-disc CD player in the frunk, it will be disconnected from the head unit and is unusable.
INSTRUCTIONS SENT WITH PURCHASE: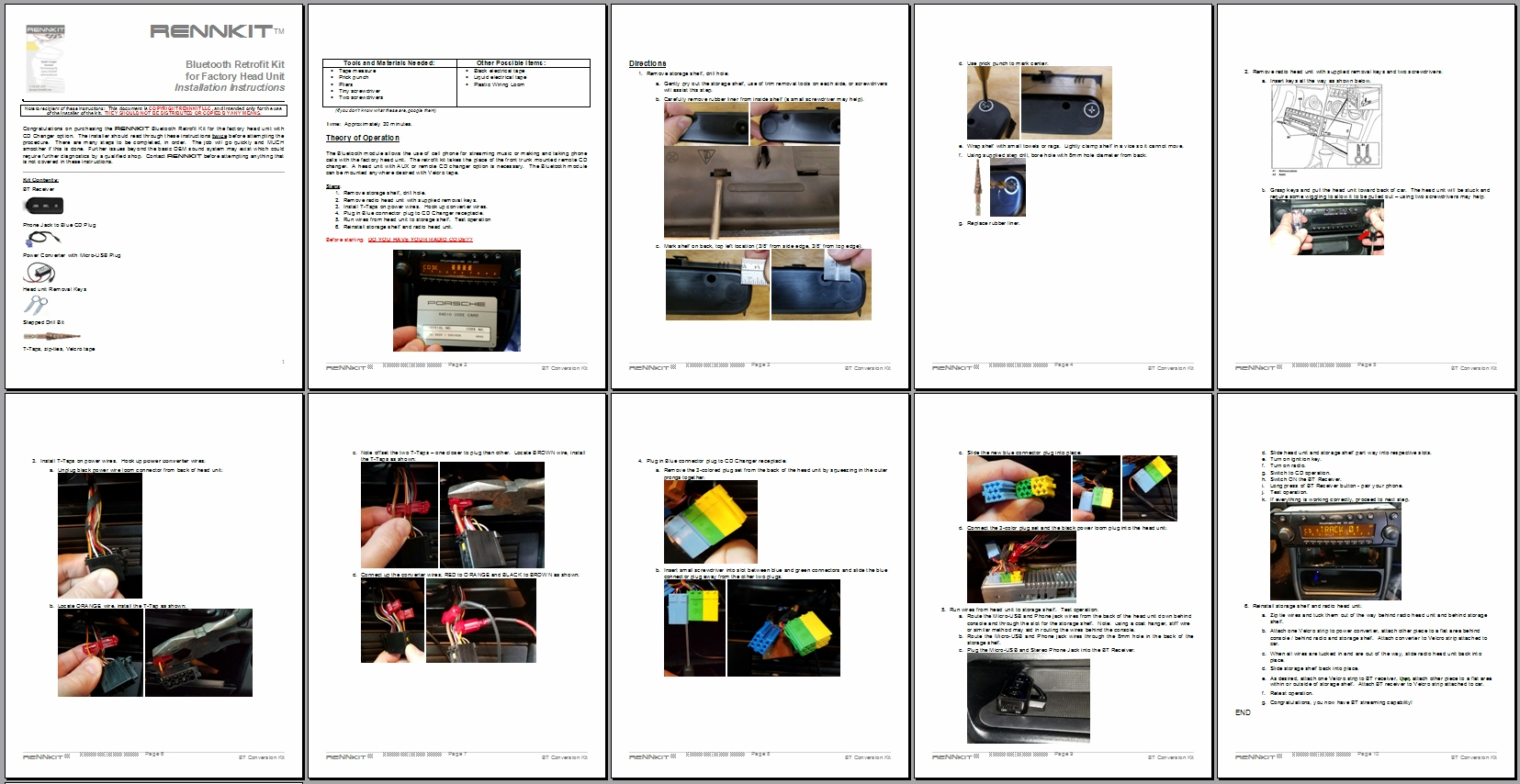 BLUETOOTH 4.0 HANDS-FREE CAR RECEIVER – Built-in Microphone, Stream Wireless Music or calls from smart phones, tablets or Bluetooth enabled audio devices and play them through your car audio system.  Includes ground isolator to reduce noise and hum.
LATEST BLUETOOTH TECHNOLOGY – Supports pairing two smarts devices. Fully Backward Compatible. Full-speed transmission . You will never miss a call again with this Bluetooth adapter!
PURE SOUND QUALITY – Built-in microphone transmits your voice to your phone. Echo and noise canceling technology supply non-stop wireless stereo music streaming and clear phone calls.
EASY TO USE – It is easy to setup the car kit and control it. Power to the receiver keeps it powered up. Pair the Bluetooth receiver with your phone. Adjust the car radio mode to CD or AUX IN (if available).  Automatically power on and connect to the last paired device after turning the key on. Wireless music player controls – Play, Pause, Previous song, Next song, Volume down, Volume up; Talking controls – Answer and reject calls. Music or call switching.
COMPATIBLE DEVICES – Receiver is compatible with all iPhone, iPad, iPod touch and iPod nano models, iPad mini, iPad mini and all Android smartphones and tablets including Galaxy Note, Galaxy Tab, Galaxy S
BTR-2 BLUETOOTH-RETROFIT™ KIT
$139
SOLD OUT – WILL BE AVAILABLE 1-27-19
Error! You must specify a price for your product in the shortcode.
---
This site is in no way associated with Porsche Cars North America, Inc.
Porsche is a registered trademark of Dr. Ing. h.c. F. Porsche AG.