Background…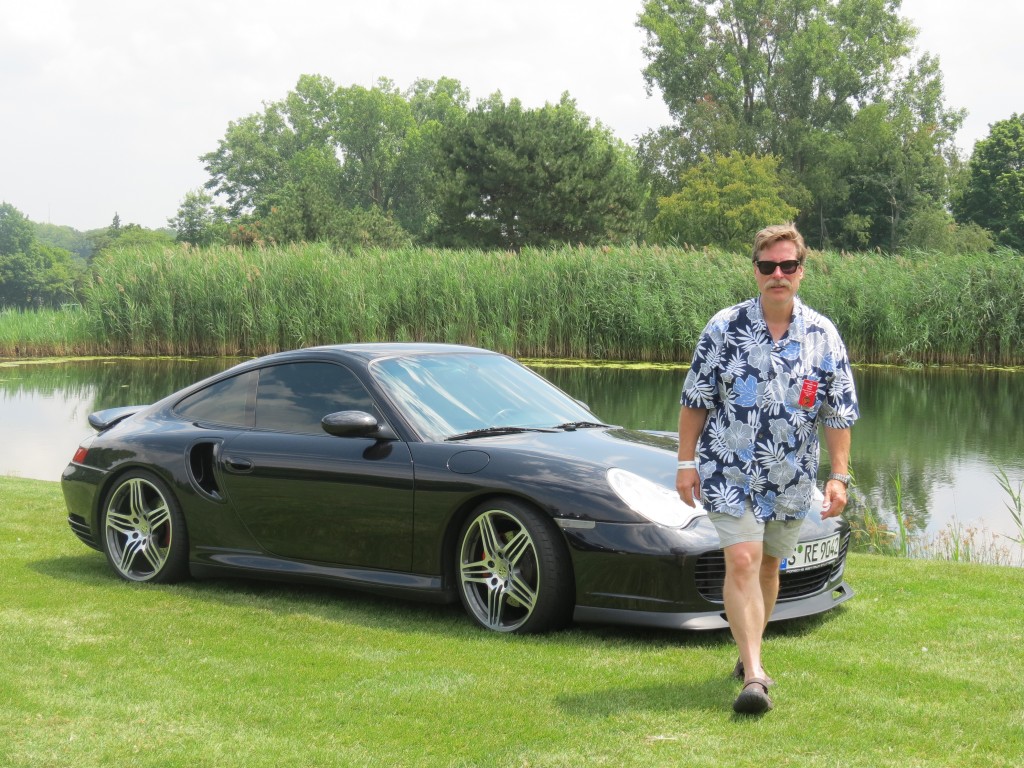 Hi, Dave here with Rennkit.  My Porsche® 996 Turbo's hydraulic wing system failed – twice…
The first failure occurred sometime before I bought the Turbo.  I purchased a fine car knowing there was only one issue, "the wing doesn't work".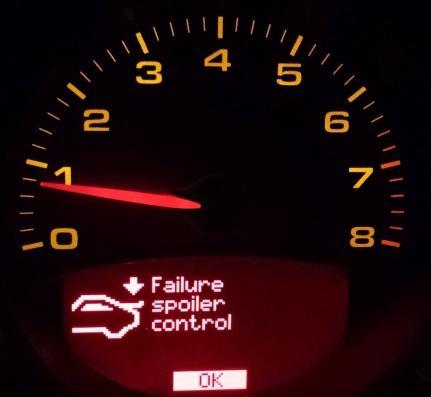 As an engineer with loads of process experience and being handy with tools, I thought it would be easy to fix. After researching a few "rebuilding wing hydraulics" forum posts, I removed the 3-piece hydraulic mechanism and disassembled it. An exercise in futility that took quite a bit of effort and time – and a messy job: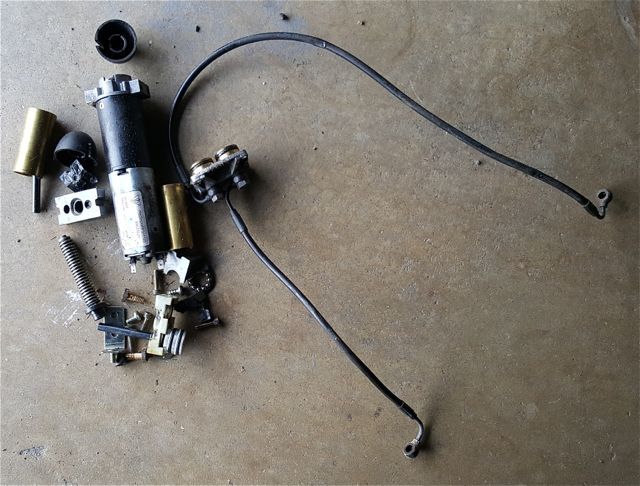 The wing is difficult to remove without a special tool and the hydraulics are not easy to remove without instructions. It became clear; the factory mechanism is not meant to be rebuilt – only replaced – much to the joy of the original supplier and Porsche dealers.
Once completely disassembled, I found compromised parts inside the motor (overheated) and PS fluid had leaked out of the various seals: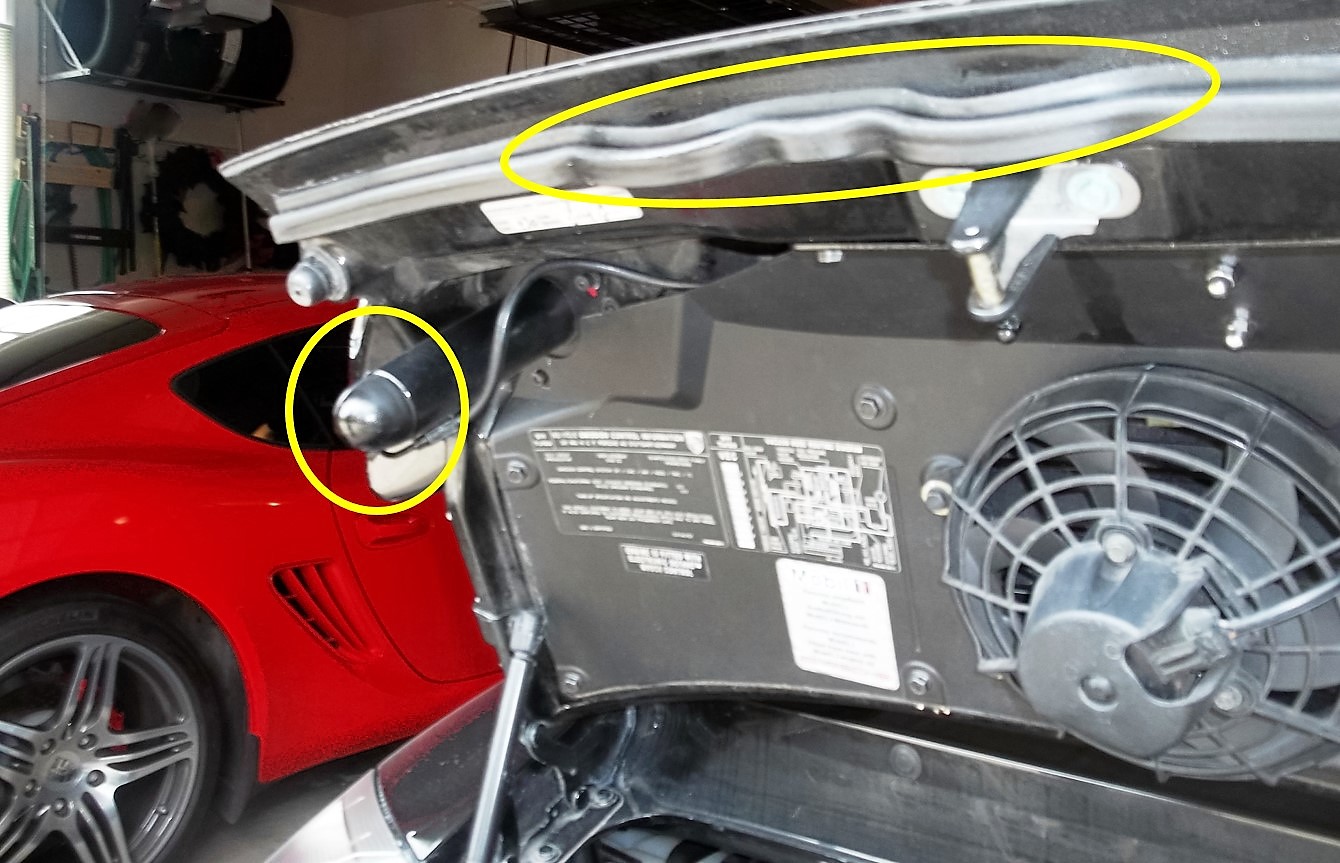 Once the motor was rebuilt and the hydraulics refilled, bled and bench tested, I reinstalled the mechanism.  I researched the many hydraulic failure modes, learning that the hydraulic ram cylinders cannot be rebuilt without cutting them apart to replace leaky internal seals. This is requires soldering them back together (somehow aligning them), hoping the soldering heat does not warp the thin copper tube or damage the newly installed o-rings.  I knew this shade-tree fix was not a proper way to correct this problem.

Just a few months after my rebuild, a hydraulic ram failed again, leaking Pentosin® down the back bumper and into the engine bay during on a long trip.  The wing was stuck partially up on one side and wouldn't move.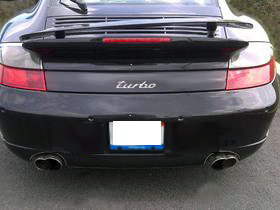 I wondered, why such a poorly designed wing elevator system was ever incorporated on the Porsche® Turbo or Carrera GT supercar?
A Startup is Created…
After the second hydraulics failure I began to think about A BETTER MECHANISM than the factory's overly complex and failure prone hydraulic gizmo, because that's what engineers do. My goal was to design and build an all-electronic wing lift mechanism that is robust, easy to install, functions exactly like the factory system and is DIY easy for most anyone.  After an extensive design and prototype phase, I finally hit on a winning combination.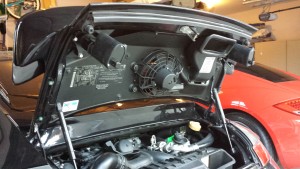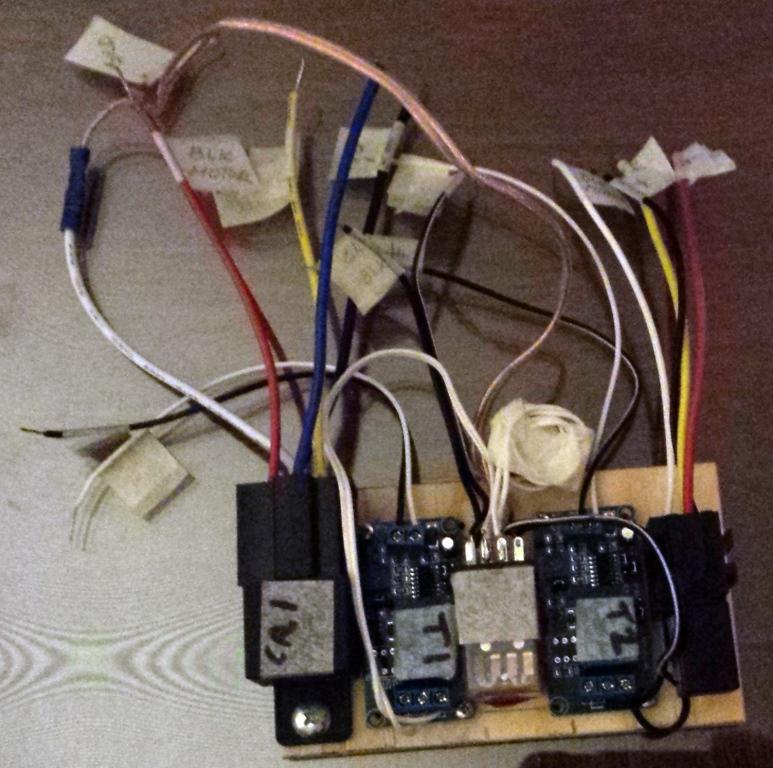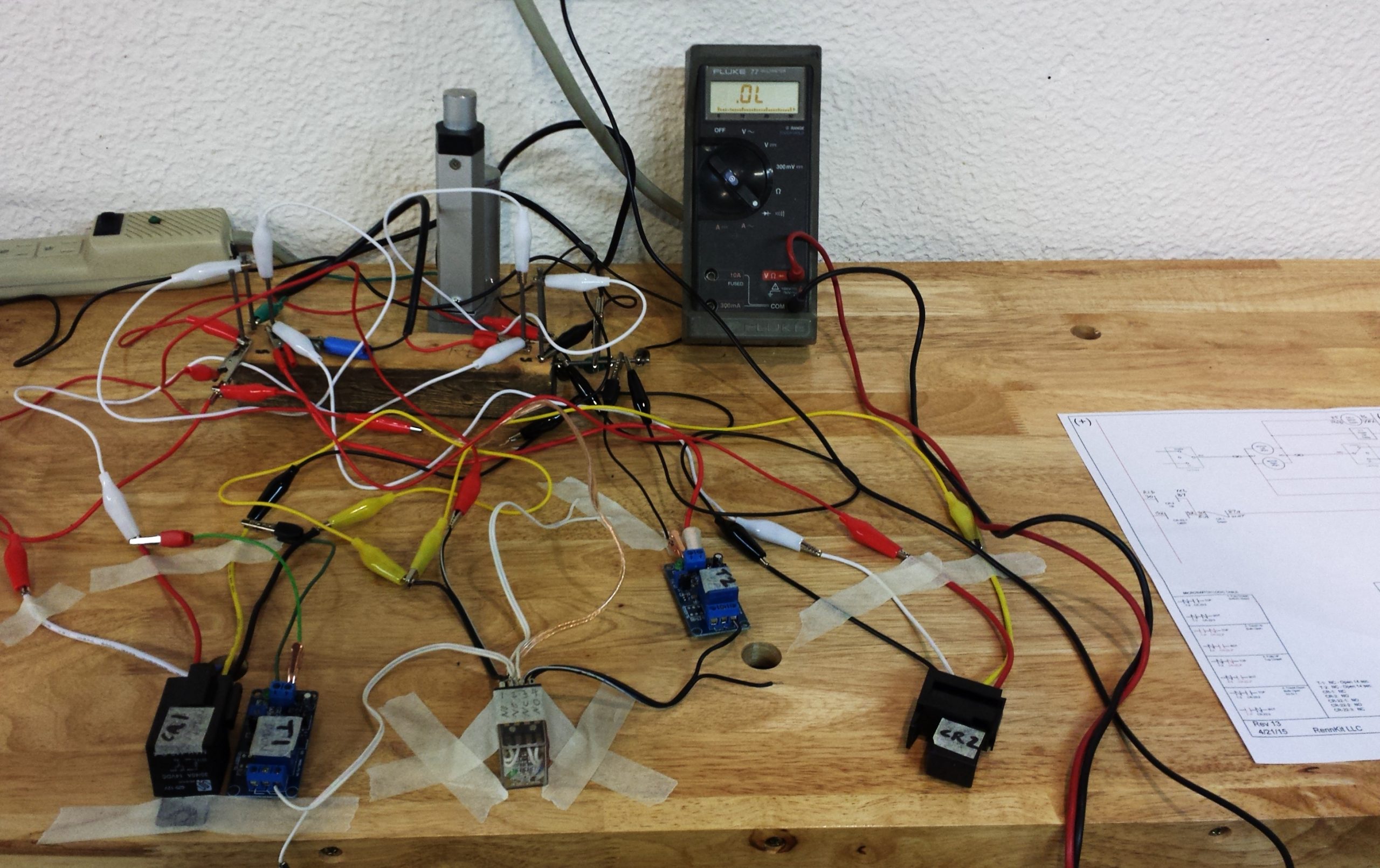 Early in 2015, Rennkit™ LLC was created to build and market the all-electric bolt on system for the wing hydraulics.  The first "eRam Kit™" was installed on my 996 Turbo during March, 2015.  Many popular threads on the forum about dead wing hydraulics prompted me to create a thread titled "Beta Testers Needed".  Over 24 beta testers and early adopters contacted me to purchase and test the first eRam Kits™.  All of them helped prove our concept "A Simpler Form, Follows Function".  This enforced a real need for such a product. The owners of an eRam Kit™ are proud of it and their installation skills.  You can read their testimonials here.
In 2019 we were granted a patent for our novel electric wing elevator system: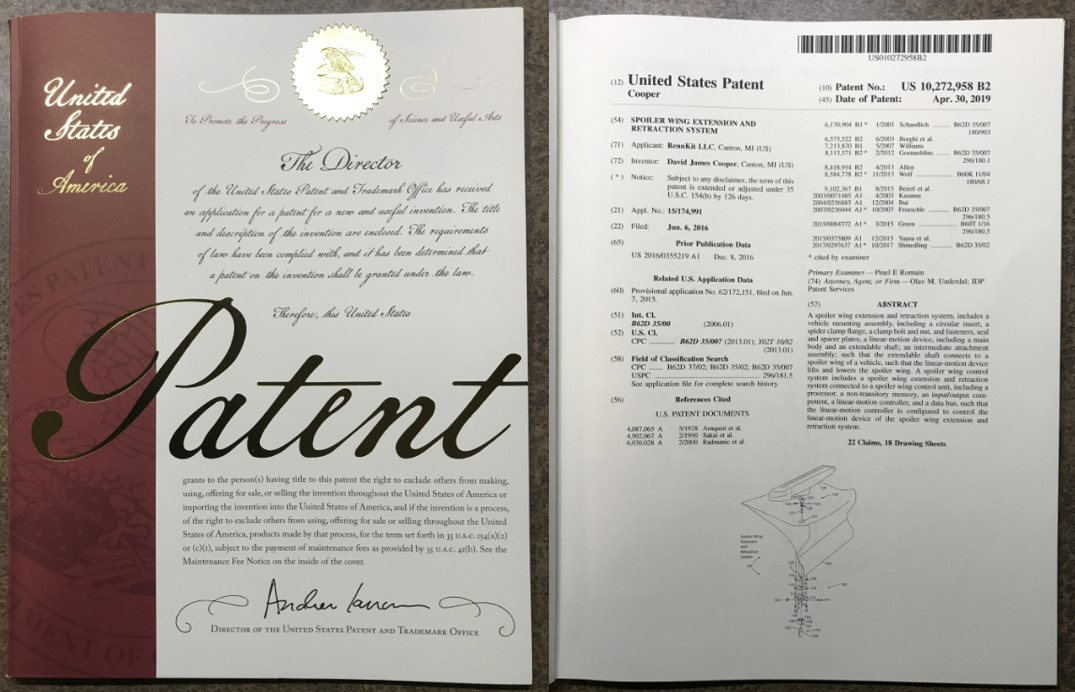 As a fellow PCA club member put it:  "This is how Porsche® should have done it".  Our motto is NO MORE HYDRAULICS!™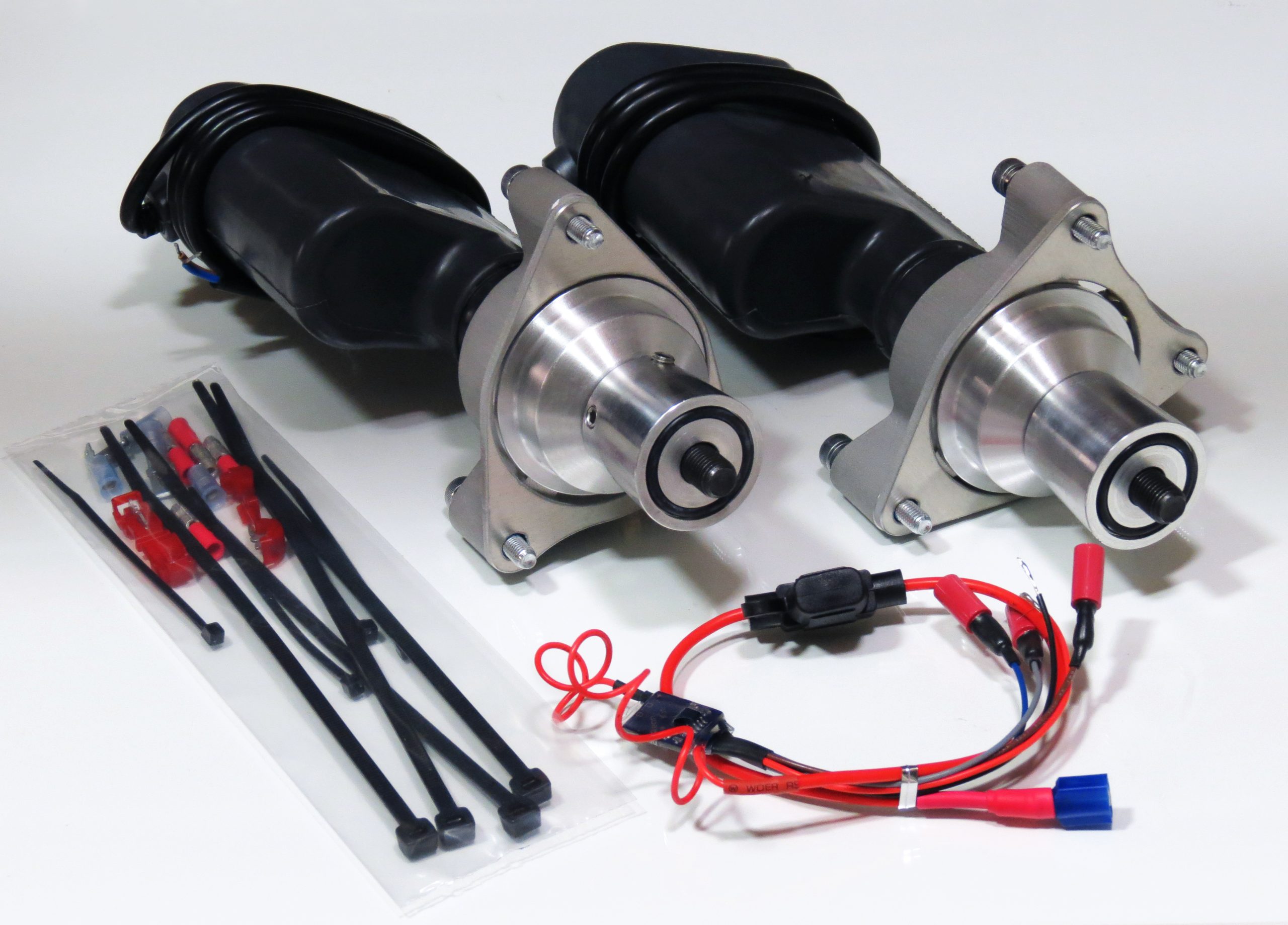 We created a company, website and online store, then thought what is next…  Turns out some Porsche owners like to have their car fixed at a local independent Porsche shop (like me).  Shops began calling for the eRam Kit™.  So, we created a preferred shops page to bring independent Porsche repair shops together with turbo owners.
Then what happened next was a pleasant surprise. We began to get inquiries from Porsche dealerships wanting to install the eRam Kit™.  Though a surprise, it was not unexpected. They also recognized a better solution to a common problem they had encountered over and over.
Why stop there?  We have found other entrepreneurs with specialty products for the specific models supported.  We began adding more unique items to our catalog.  There are many products for these models that we would like to develop and have a backlog of parts to be designed.  We recently added the Cal*Cool™ brake cooling product, BTR-2 Bluetooth Retrofit Kit™, Airbox Clips, etc.
Looking Back…
I have had a great love for all things Porsche® since I was 15.  My first Porsche® was a '72 914, bought in 1979.  Rusty of course… but after a summer of learning body work, brazing and applying 17 coats of black lacquer at my parents' house in St. Clair, Michigan, it looked great and I was a proud owner.  I drove the little 914 from Michigan to Florida and Oklahoma:
I moved to Tulsa, OK for 6 months in 1982 in order to earn money to complete a Chemical Engineering degree at Michigan State University.  I sold the 914 in Tulsa in 1981 making a tidy profit.
---
In 1985 while living in Tyler, Texas (first engineering job), I purchased my dream, a 1974 gold 911 Targa with 2.7 liter motor (lots of issues…).  It had the odd Sportomatic transmission and a shade-tree mechanic's jerry-rigged (sorry Mr. Seinfeld) 4-BBL carb!  I stripped the body, painted it guards red and installed a set of Webber triple throat carbs: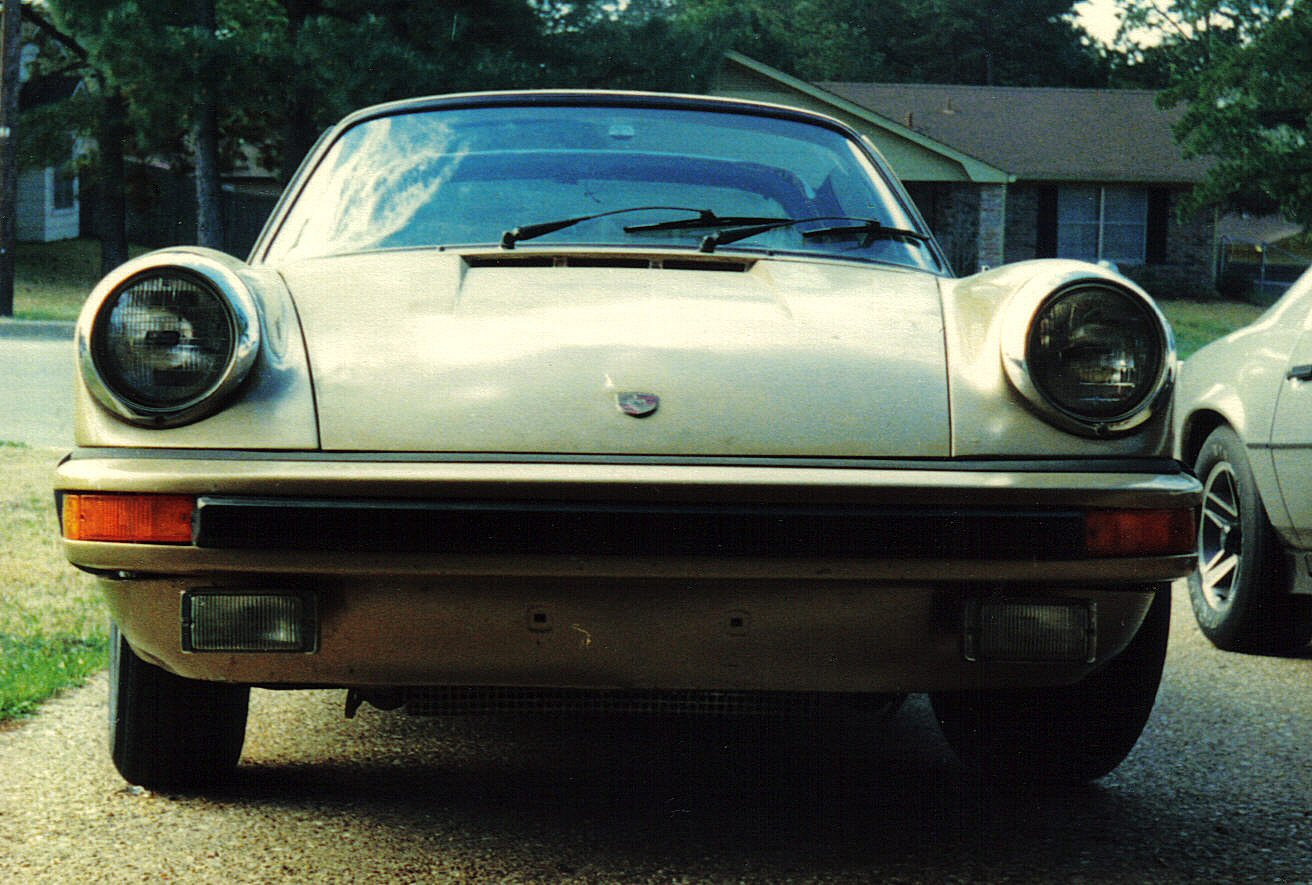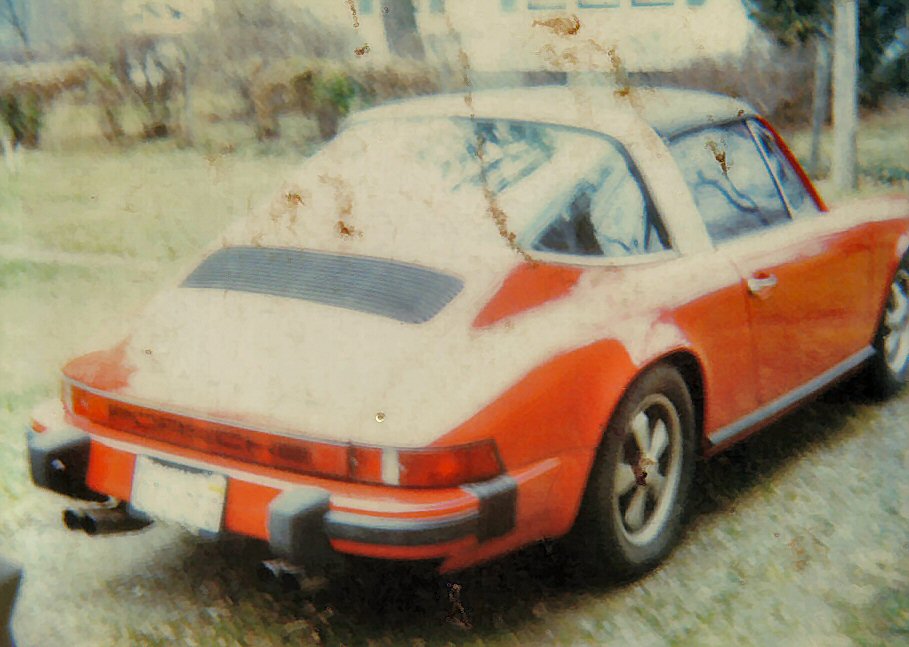 The 911 Targa was sold for a profit before I moved to Burghausen, Germany (in Bavaria) in 1993.  Seeing Porsches on the autobahn was a catalyst for pursuing my dream of owning another 911 one day.
---
Back in the states, after reading all about the significantly updated 964 Carrera 4 in 1989, I was scheming to one day own this variant.  Finally in 2004 I purchased a Guards Red 1989 Carrera 4 for $16,700. It was my first 911 with an electric motorized wing! What a fantastic 911 – with roots back to the 959 Supercar: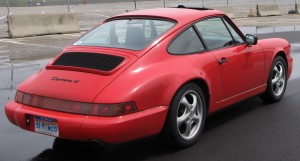 Michigan International Speedway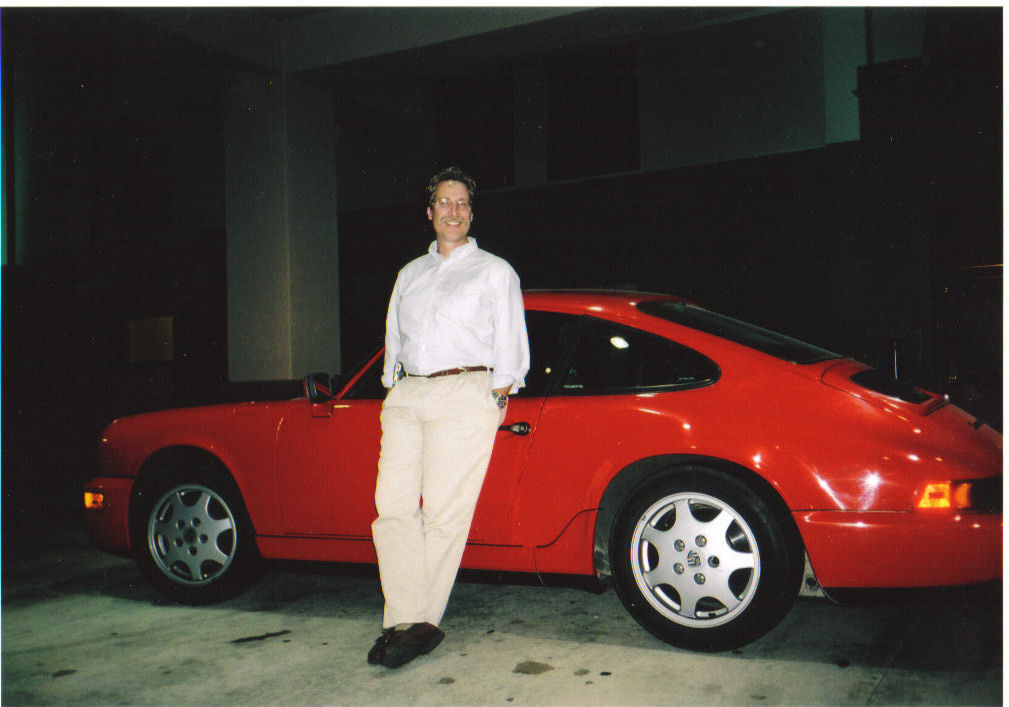 In 2010 as Events Chair for a local PCA club, I led a flight of Porsches onto Michigan International Speedway for a few "hot laps". Sadly the back straight left me underwhelmed, with the dogged 3.6 liter motor struggling.  Long pedal was to the floorboard… but speed crept up far too slowly.  I sold the 964 C4 in 2011.  What a mistake that turned out to be.  Though a modest profit was made, these models now fetch around $50K!
---
In 2005 I was offered the job as Executive Director – Porsche Club of America, the largest car club in the world.  Moving to Washington DC, was a deal breaker… yet I sometimes wonder how different my life would have been, had I accepted.
---
In 2011 I acquired a 2003 Speed Yellow 996 Carrera 4S with 6 speed, 997 GT2 nose and Turbo wheels.  Fast and modern – with a cold A/C system.  My second Porsche® with a motorized wing: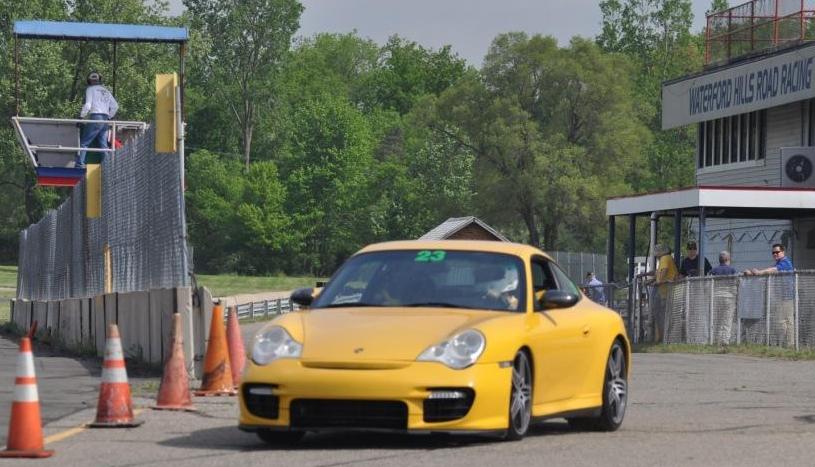 Waterford Hills Race Track, MI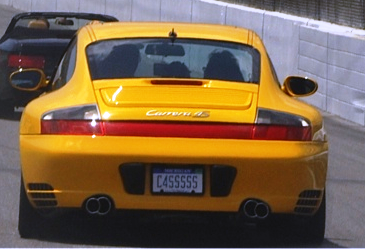 Michigan International Speedway
Though it was my favorite Porsche® to date and first DE track car, I reluctantly decided to sell it in order to move up to a 996 Turbo to get even more speed.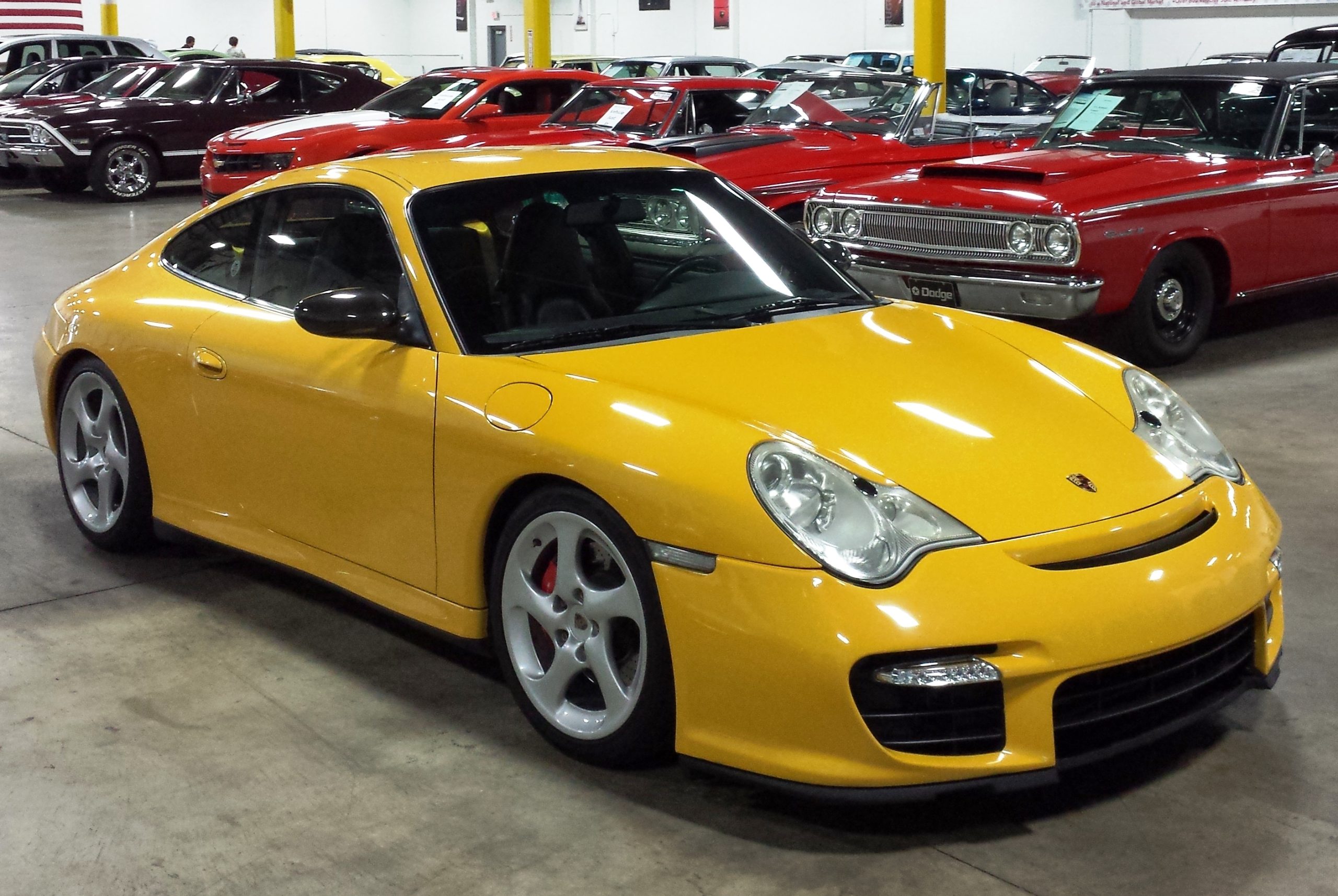 ---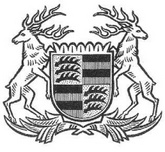 FUN FACT:  My wife's great grandfather's name was Willhelm Porsche. From birth records we know they lived in Zsombolya (Jimbolia), Romania when their daughter (my wife's grandmother) was born.  They eventually relocated to the Innsbruck, Austria area.  Could we actually be related to Prof. Ferdinand Porsche's family?  That would be an interesting ancestry search one day.
---
An unanticipated Porsche® came into my life in 2013, my uncle's horribly neglected 1955 356 Continental coupe.  As a kid, I remember playing in my grandparents' barn – and seeing this forlorn little car.  Stripped of interior, engine and paint in the 60's, it sat neglected and rusting away.  The barn roof actually collapsed on top of it.  My uncle had used it as a track car, traveling the midwest and racing at some of the tracks I now run on, including Road America!  Extracting it was an all day job: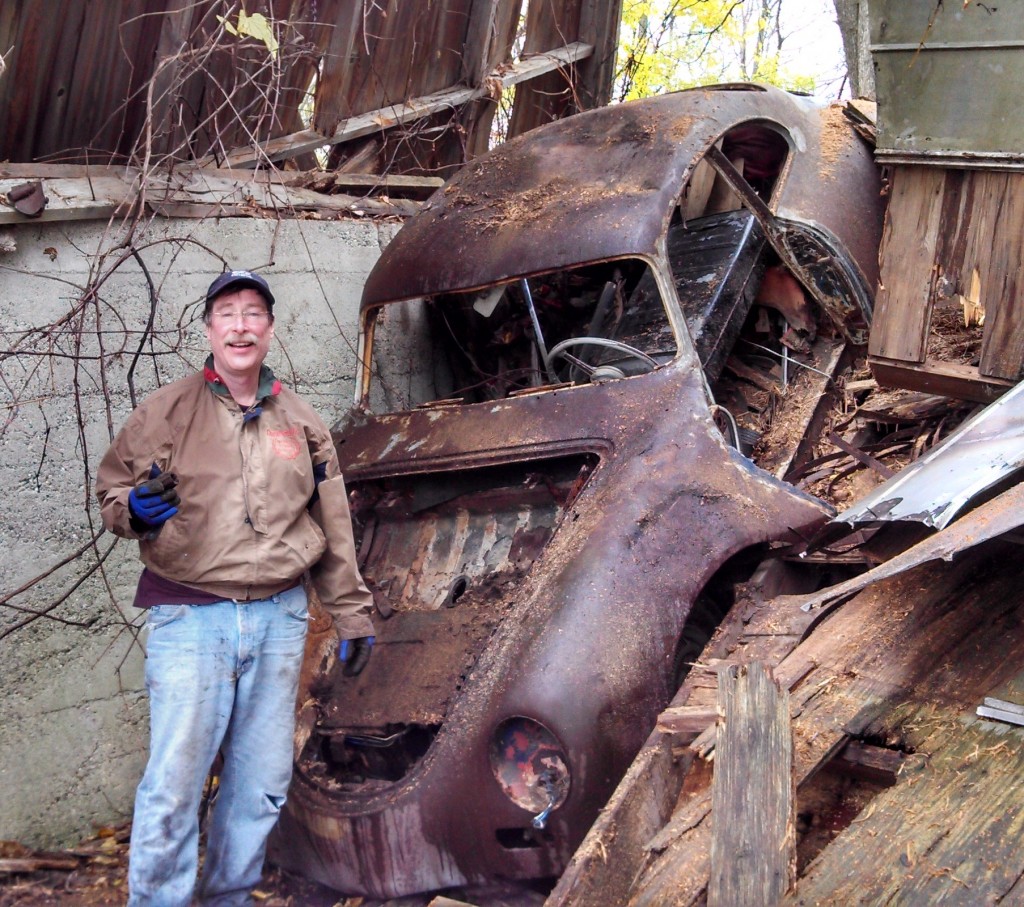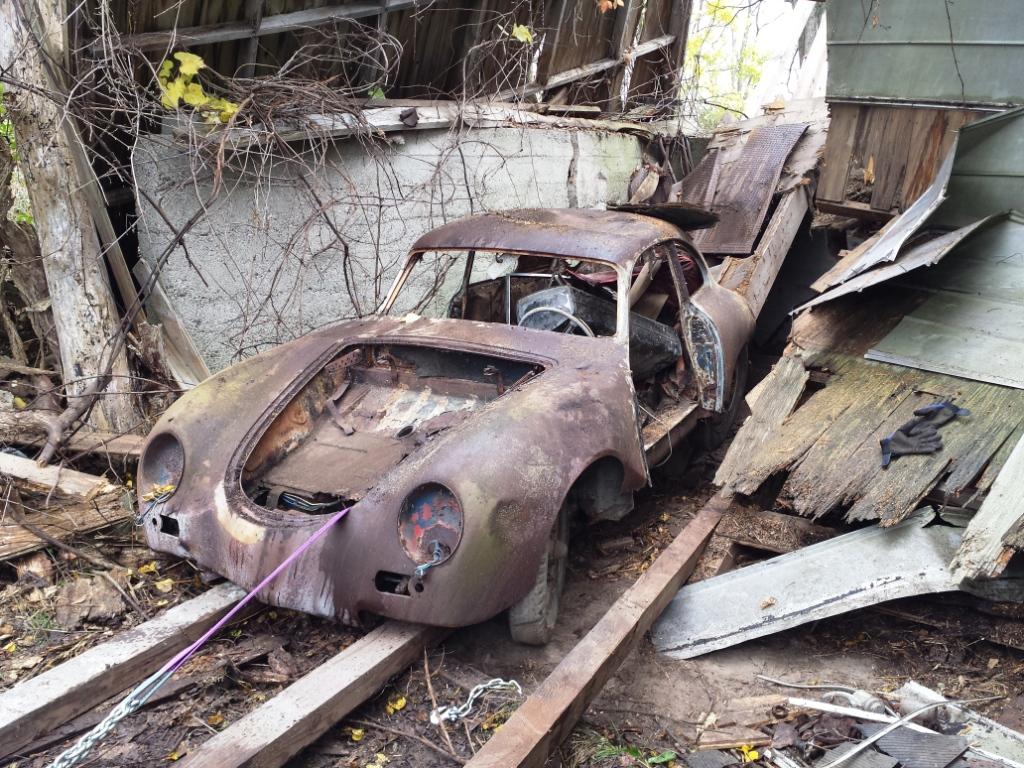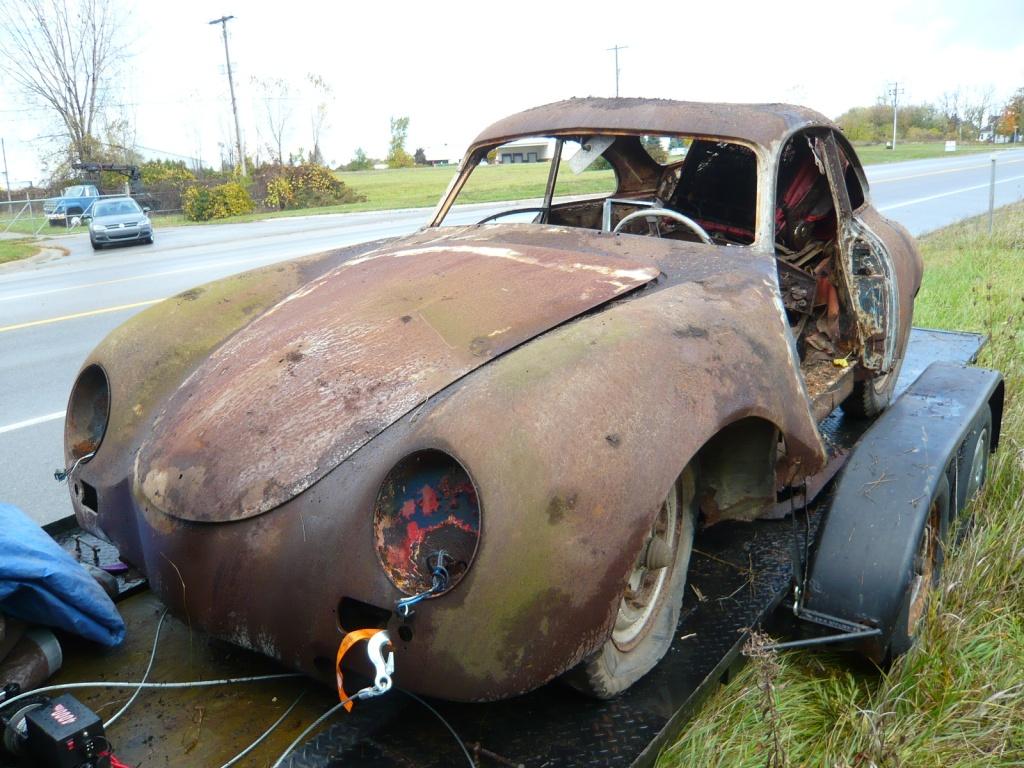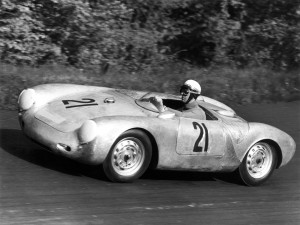 I contacted the original owner of the 356 "Conti", an acquaintance of my uncle.  Though well into his 80's, he mentioned that my aunt's brother owned a Porsche® 550 Spyder!  He reminisced about the time they were nearly run off the road by the barn while doing 100 MPH back in the late '50s!  I've been searching for evidence of the 550 Spyder in 8mm home movies.  I was told the spyder may reside in Colorado.
Wish it was in the barn…
---
Turning to the 996 Turbo purchased in 2014:  A beautiful, unmolested 2002 Basalt Black 996 Turbo with factory short shift kit and 6 speed transmission.  It now boasts a 4 3/4″ eRam Kit: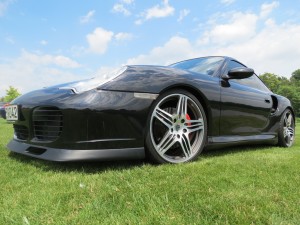 Wing Testing:  Grattan Raceway back straight, Belding, MI
Not having time to restore the 356 Continental, I sold it to a restoration company in the Czech Republic and added a 2009 987.2 Guards Red Cayman S with 6 speed transmission, SSK, LSD, and PASM to the mix: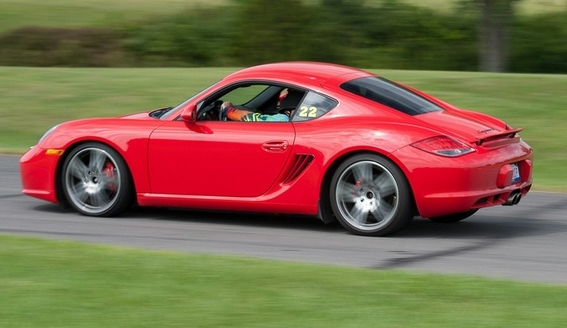 Swamp turn in at Waterford Hills, MI
Of course I had to justify another Rennkit fleet vehicle, so I developed a CAYMAN WING EXTENSION kit to raise the little factory wing 1″ higher: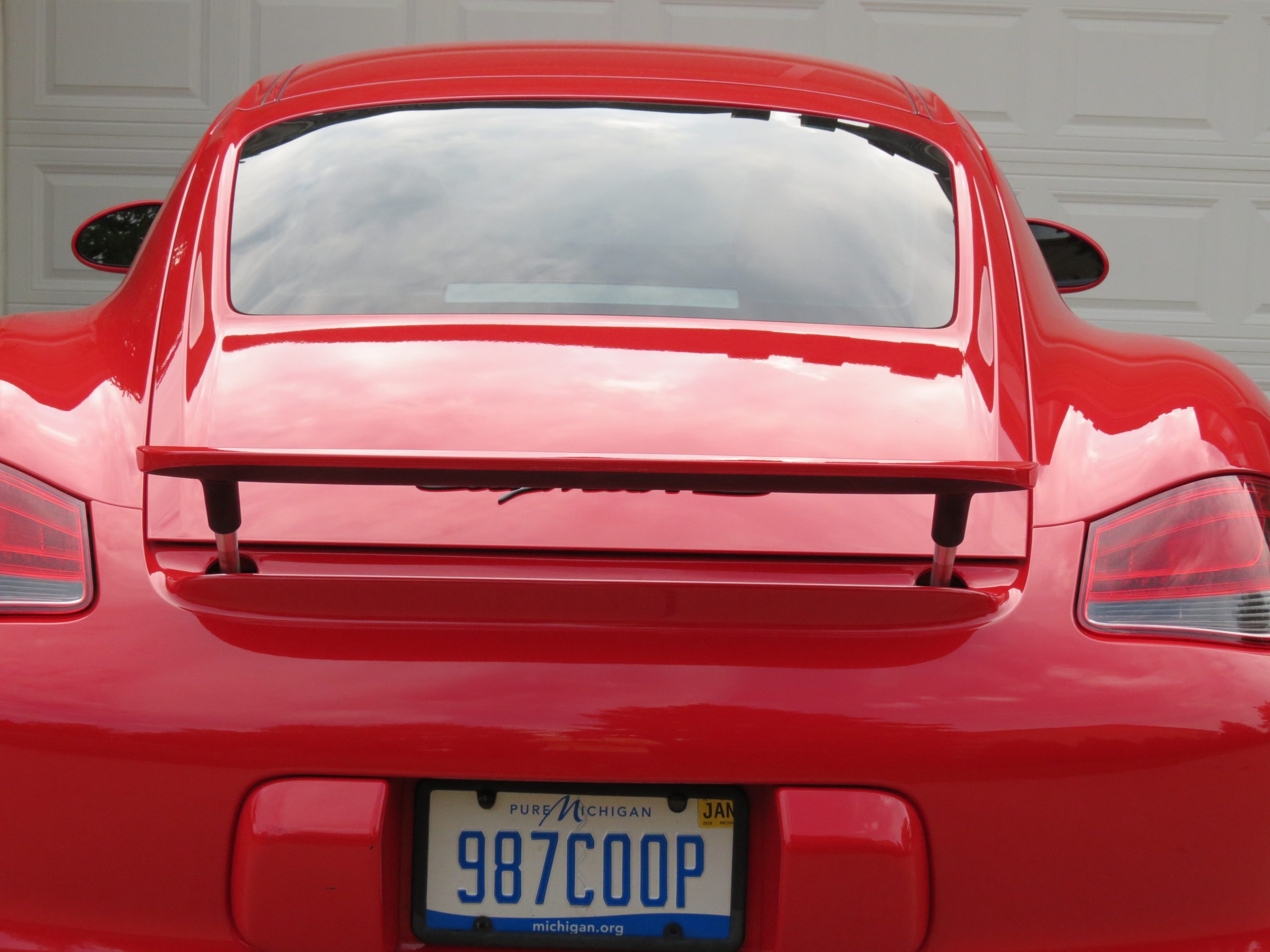 I thought the Cayman S would be a great track car, but alas, I was hooked on turbos and sold it in 2019.
Feb. 2017:  I found a clean 997.1 Turbo with PCCB, Sport Chrono, Bilstein Coil Overs, Sport Exhaust, 6 speed manual, pinned coolant lines… and of course a dead wing! Once I removed the hydraulics, I could tell they hadn't worked for years…
Both of these black beauties have the 4-3/4″ SuperFast™ eRam Kit™ with protective boots.  Twin Turbos…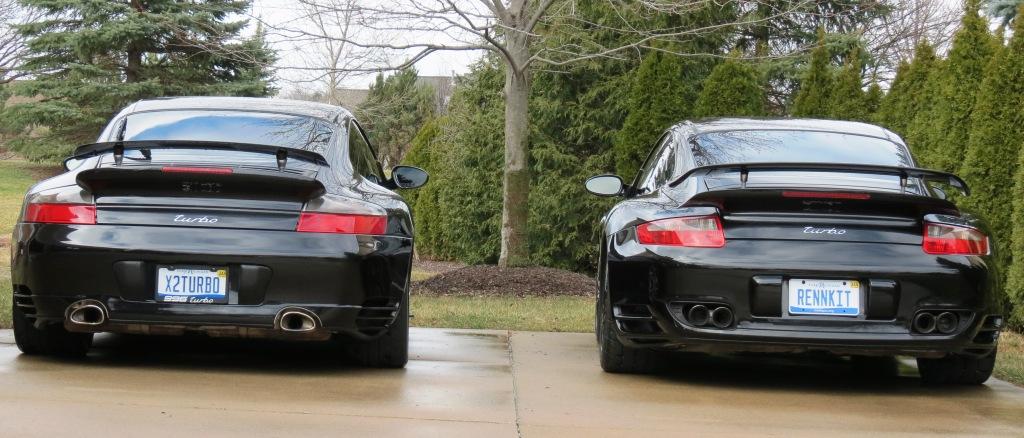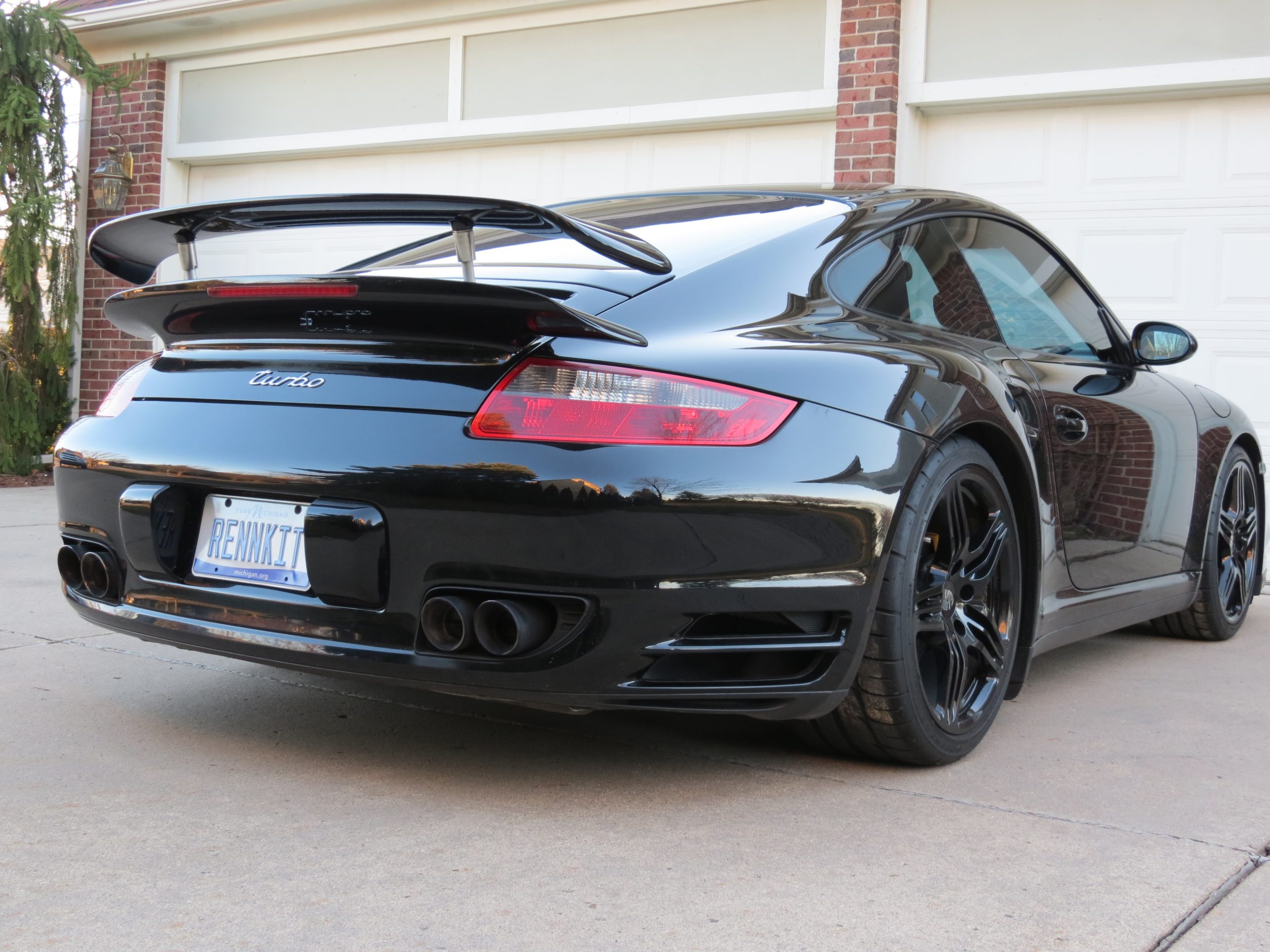 Later, I discovered for the first time that a 996 Turbo can be outfitted with a 997 Turbo wing: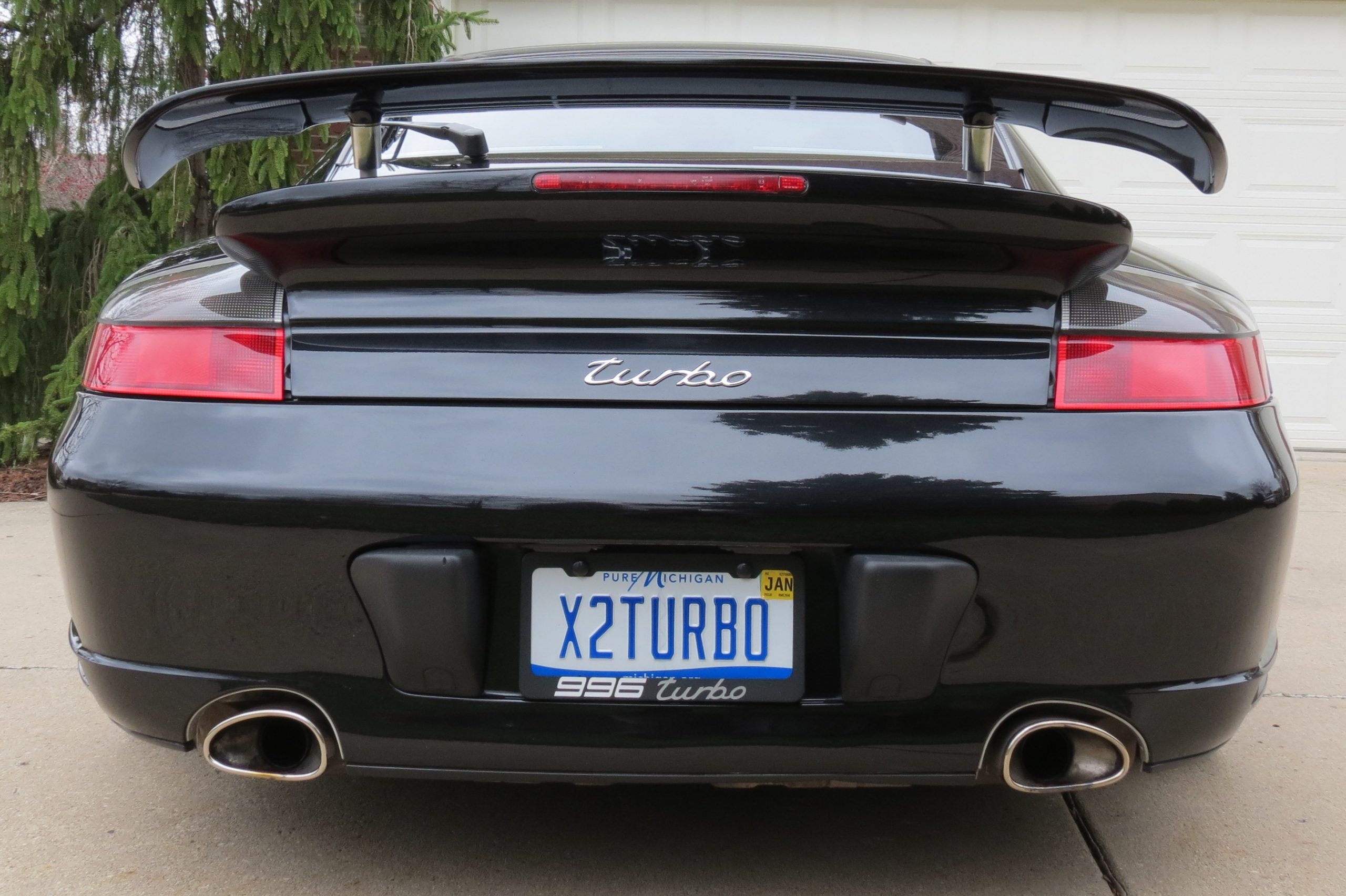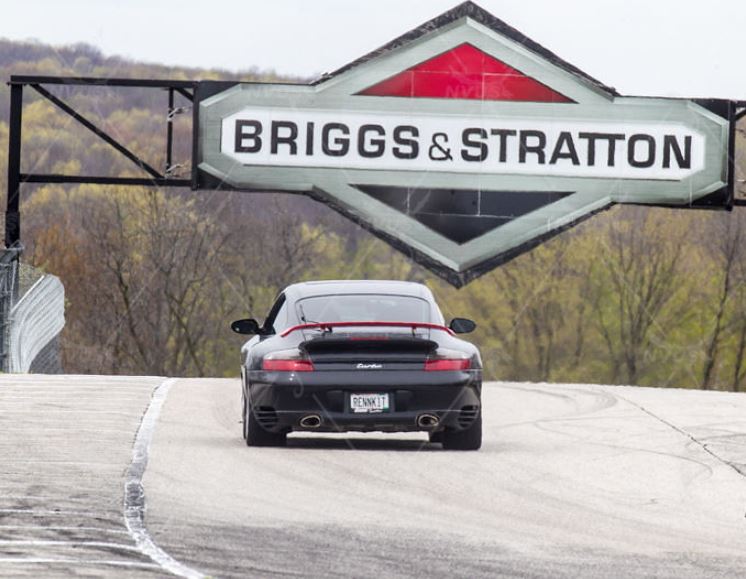 "Red Wing Black Bird" cresting a hill at Road America, WI
We moved to Madison, Wisconsin in 2018 and added another test mule, a 2011 Turbo S with our 4 3/4″ SuperFast eRam Kit™:
My second 911 with automatic (remember the Targa with Sport-O-Matic?)
Getting the itch for the ultimate Cayman, in 2021 I acquired this beauty from a loving owner in Indianapolis: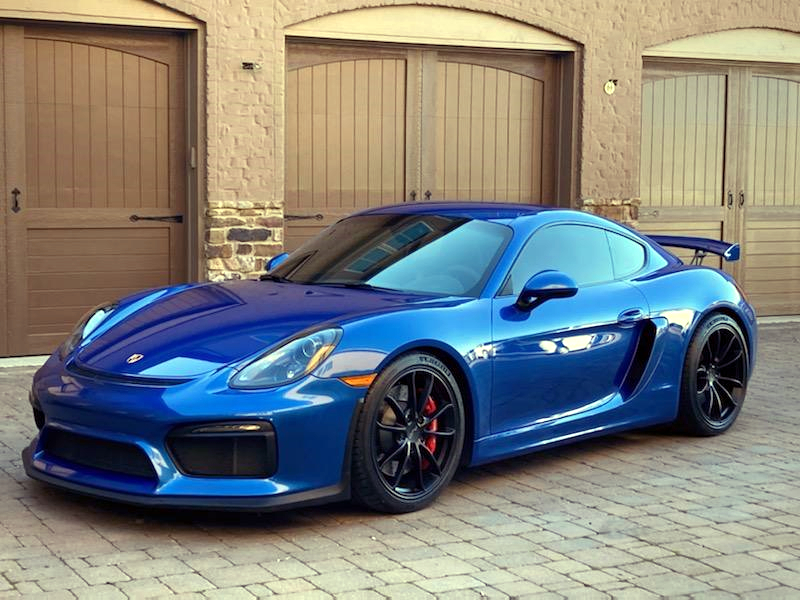 ---
This site is in no way associated with Porsche Cars North America, Inc.
Porsche is a registered trademark of Dr. Ing. h.c. F. Porsche AG.