Girodisc 2-Piece Rotors
for the 996 / 997 / 991 Series Porsches®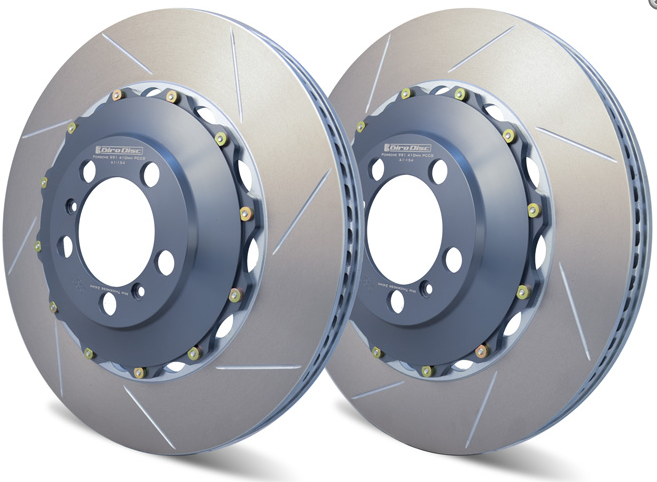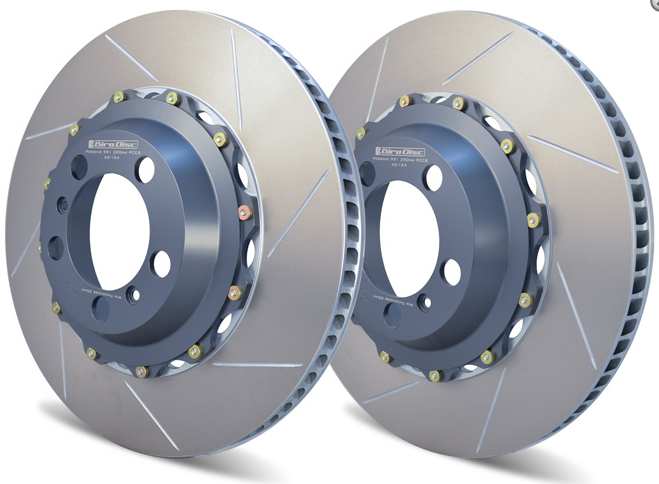 There are great reasons to upgrade to Girodisc rotors on your high-performance Porsche 911:
Replace your current 1-piece iron rotors with the lighter weight Girodisc 2-piece unit.
Go to larger diameter rotors (e.g. 996 Turbo)
Replace PCCB ceramic rotors with less expensive iron rotors
Get serious with your braking upgrade – for street or track. The central hat section is made 6061-T6 aluminum.  The disc is made from a proprietary cast iron and machined from start to finish in house at Girodisc.  The rotor utilizes a curved vane design, developed in racing to act as a centrifugal pump to force cooling air through the disc. Drilled holes are not used as they tend to crack under heavy use such as at the track.
The rotor and hat have a floating mount system, which utilizes 8 or 10 high strength alloy steel drive pins, manufactured to Girodisc specifications with cadmium plating for a long lasting corrosion protection. These pins take the load from braking actions while maintaining the axial and radial float between the hat and disc. The pins are secured by grade 12 cap screws with hardened washers. To keep the rotors from making noise when cold, the pins are mounted with anti-noise spring washers on the rotor side which allow the rotor to grow with heat expansion but eliminate the rattle and noise associated with floating rotors. This float also allows the rotor to self center between the pads.
Once the Girodisc system is in place, simply replace the cast iron rotor when the iron portion is worn below suggested limits.
PRICE TABLE


for an invoice with pricing including shipping.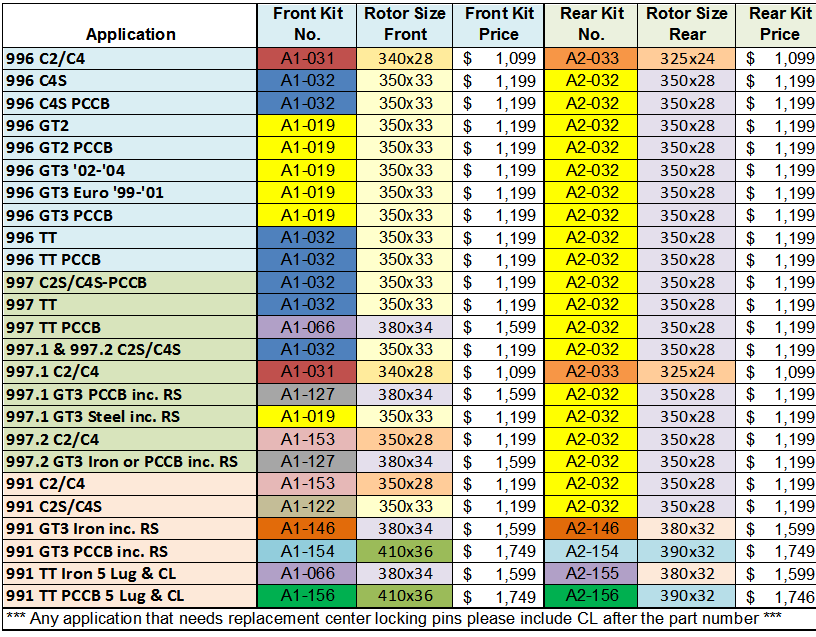 ---
This site is in no way associated with Porsche Cars North America, Inc.
Porsche is a registered trademark of Dr. Ing. h.c. F. Porsche AG.